SSB Interview OIR Test Sample PDF Download
The SSB Interview is one of the toughest Interviews in India at the 10+2 level. A person who has a dream of becoming an officer in the Indian Armed forces. It is mandatory to clear the SSB Interview. This Interview is five days long and each day the candidate has to appear for different types of tests (Verbal- Non Verbal tests). The candidate will be given marks and at last, the best candidates who would have scored well will qualify.  here in this article. I will discuss the OIR (Officers Intelligence Rating) by which they give marks to the students. SSB Interview OIR test, OIR Test sample PDF Download, etc.
2000+ Most Important Questions for SSB Interview – Click to Read
SSB Interview OIR Test Sample PDF Download
When the candidate appears for the SSB interview, the very first day, candidates appear for the verbal, and non-verbal Intelligence test and in this, around 70- 75% of candidates get rejected.  This is called as OIR (Officer Intelligence test). This way the Interviewer checks the capability and intelligence of the candidates. Let's discuss the OIR (Officer Intelligence)test In detail:

OIR (Officer's Intelligence Rating) Test
This test has two sections, one is a Verbal test and another one is Non- A verbal test each section consists of approximately 40 questions and the candidate will get around 22 minutes and 17 minutes respectively.
The questions which are asked are easy as compared to the other Competitive exam but the time duration is less for this and even taking watch is not permitted inside,  the candidates have to give a quick reaction to each question. there is no negative marking in this paper.
The topics of OIR (Officer's Intelligence Rating ) are:
SSB OIR Verbal Tests
Sentence Completion
Analogies
Spelling
Grammar
World Groups
Instruction
Critical Reasoning
Verbal Deductions
Number Quiz
Blood Relation Test
Letter Series
Problems on Ranks
coding Decoding
Direction Sense Test
Related Links:
Non-Verbal Test
Figure Analogies
Classification
Choosing the Odd Figure
Choosing Similar Figures
Grouping of Identical Figures
Series
Figure Matrix
Paper Cutting and Folding
Spotting the embedded Figure
Problems on Cubes
Visualizing Pattern
Spatial Ability
Problems on Dice
The Marks of the candidates in this test will be rated as OIR 1 and OIR 2 etc. It will be rated till OIR 5 and here the OIR 1,2,3,4 and 5 means:
OIR-1  Outstanding
OIR-2  Excellent
OIR-3  Above Average
OIR-4 Average
OIR-5 Below Average
These are the five grades by which the candidates get rated. these ratings are very important for your selection, they calculate your overall perforces through this. After this round, the candidate will appear for PPDT (Picture Perception and Discussion Test).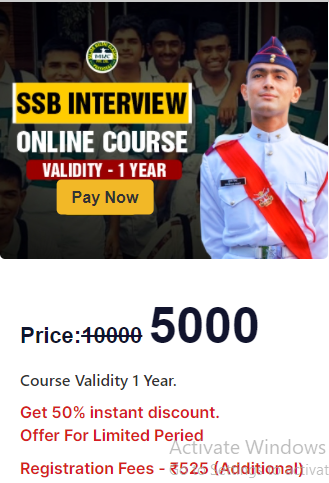 PPDT (Picture Perception and Discussion Test)
After completing the writing phases, the group task officer takes your tests further and gives you instructions for the next test and the Psychologist, Interviewing officer and group task officer take the decision whether you will be selected or not.
In this, the candidate will be given the grades which would be like, N, D & Y. here these grades mean:
Both tests are by which the interviewers or examiner check the candidate's OIR (Officer's Intelligence rating). Both tests will be done on Day 1 and only the qualified candidates will stay in the academy for the four days of the Interview.
The Procedure for the next Four days  of the SSB Interviews would be like
Day 2-
On the 2nd day, you will have to clear a few more tests also, remember each test and each round is very important for your selection, a few tests of these rounds would be written and a few would be verbal, so prepare for the best.
Thematic Apperception Test
Word Association Test
Situation Reaction Test
Self Description Test
Day 3-
GTO (Group Testing Officers) In this you will have to do group activities with your partners. you will be given a chest no. and you have to perform each activity with your partner/group.
Group discussion
Group planning exercise
Progressive group task
Half group task
Individual obstacle task
Command task
Group obstacle task
Remember this is a group activity, so perform with your group, and never try to show that you are the best. Always move with your group. so your teamwork in this. SSB interview basically selects the all-rounder candidate, who performs in every activity. Never feel shy and hesitate.
Day 4- Personal Interview
This is an important round for your selection in which they can ask any question from the subjects or about your personal life. People usually hesitate and feel nervous about this round. Just be honest with yourself. They actually do not care what you have done in your past, they only check how's your mentality towards your future and what can you do in your future. To clear this phase of the interview, you do not have to prepare anything, just be honest with yourself and answer each question gently with a little bit smile on your face.
Day 5-Conference
You will be shown your results and qualified candidates will be congratulated and disqualified candidates will be told, why they could not qualify. If you get rejected after the 5 days of the interview, remember you are not one of them who got rejected on the 1st day. You can reappear for an interview after 6 months. you will be given some relaxation also.