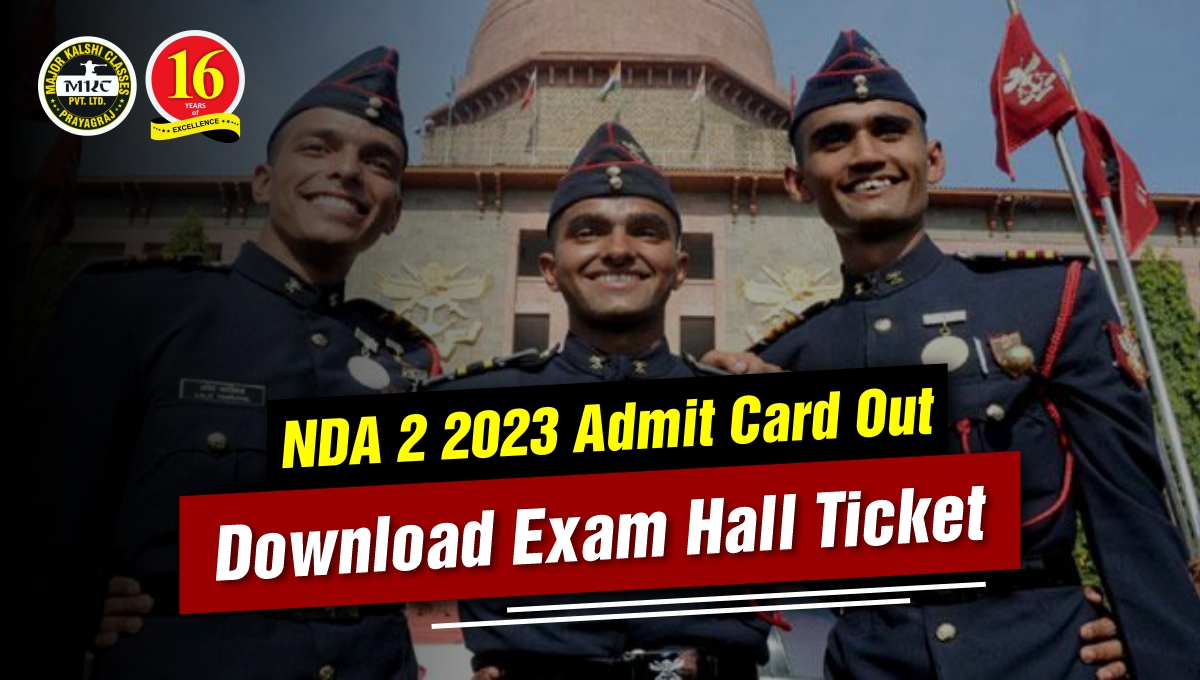 UPSC NDA 2 2023 Admit Card Out , Download NDS 2 2023 Exam Admit Card
The highly anticipated moment has arrived for all aspiring candidates of the UPSC NDA 2 2023 examination. The release of the admit card marks a significant milestone on your journey towards joining the esteemed National Defence Academy. This guide will walk you through the process of downloading your NDA 2/2023 Admit Card, ensuring a smooth and stress-free experience. In this article, we delve into the details of the UPSC NDA 2 2023 admit card release and what candidates need to do next. For NDA Exam Preparation , Join Major kalshi classes – Best NDA Coaching in India .
Download NDA 2 2023 Admit Card
The Download NDA 2 2023 Admit Card is your golden ticket to the highly anticipated National Defence Academy (NDA) examination. This article is your ultimate resource, offering a comprehensive guide on how to effortlessly obtain your admit card, key dates to remember, essential information, and expert insights that will propel you towards success. So, let's dive into the details and ensure you're well-prepared for this exciting opportunity.
Step-by-Step Guide: How to Download NDA 2 2023 Admit Card
Obtaining your admit card is a simple process that can be completed in a few easy steps:
Visit the Official Website: Head to the official UPSC website[upsc.gov.in] and navigate to the admit card download section.
Navigate to the 'Examinations' tab and select 'Active Examinations' from the dropdown menu.
Look for the 'National Defence Academy Examination (II), 2023' link and click on it.
Find the 'e-Admit Card' link and click on it.
Enter your registration ID/roll number and date of birth to log in.
Your UPSC NDA 2 2023 admit card will appear on the screen.
Download and save the admit card, and also take a printout for examination day.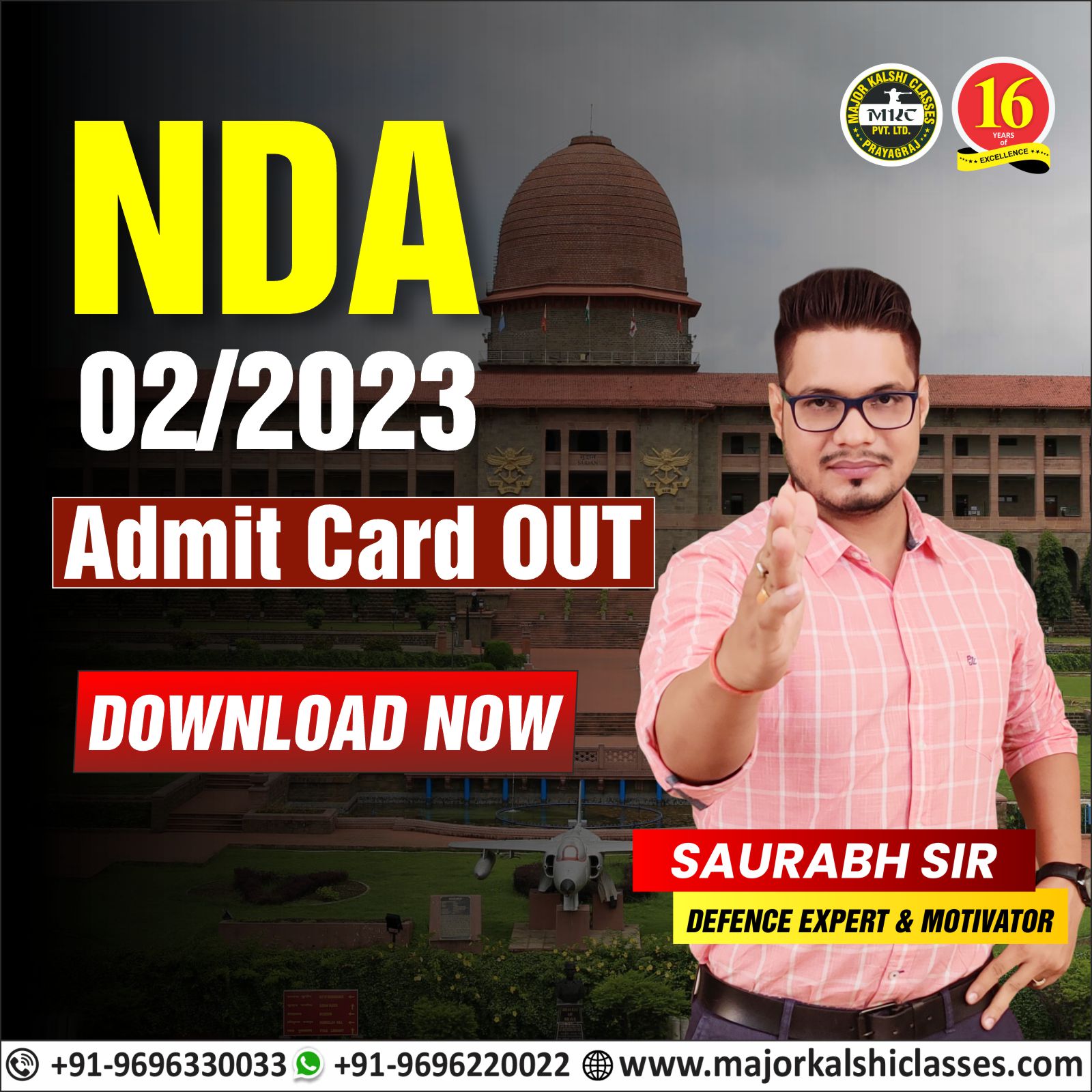 Important Details on NDA 2 Admit Card 2023 :-
Candidate's Name and Photograph
Roll Number and Registration ID
Examination Center and Address
Date and Timing of the Examination
Reporting Time and Entry Guidelines
Instructions for the Examination Day
Key Dates to Remember for NDA 2 2023Exam :-
Mark these important dates on your calendar to stay on track:
Admit Card Release: [ 11th August 2023 ]
NDA 2 2023 Examination: [3rd September 2023 ]
Result Announcement: [In the month of October ]
Documents to Carry at NDA 2 2023 Exam Centre :-
Certainly, here's a list of documents you should consider carrying with you to the NDA (National Defence Academy) 2 2023 exam center:
Admit Card: Make sure you have the printed copy of your NDA 2 2023 Admit Card. It is a mandatory document for entry to the exam center.
Photo Identification: Carry a valid photo ID such as Aadhar card, Passport, Voter ID, Driving License, or any other government-issued ID for verification purposes.
Passport-sized Photographs: Carry a few recent passport-sized photographs as they might be needed for documentation and identification.
Blue or Black Ballpoint Pens: Most exams require you to use either a blue or black ballpoint pen for filling in the OMR sheets or writing responses.
Water Bottle: It's a good idea to carry a clear water bottle to stay hydrated during the exam.
Transparent Pouch or Bag: Some exam centers might require you to carry your belongings in a transparent pouch or bag for security reasons.
COVID-19 Essentials: Considering the ongoing pandemic, carry essentials like a mask, hand sanitizer, and any other protective gear as per the guidelines at that time.
Watch: A wristwatch can be helpful for keeping track of time during the exam.
Directions and Contact Information: Have a copy of the exam center address, directions, and contact information handy in case you need assistance.
Personal Medications: If you have any specific medical requirements, carry your necessary medications along with a prescription.
Calculator (if allowed): Check the exam guidelines to see if calculators are allowed for the specific exam you are appearing for.
Preparation Strategy for NDA 2 2023 Exam :-
Understanding the NDA 2 2023 Exam
Crafting a Well-Structured Study Plan
Leveraging Learning Resources
Test-Taking Strategies
Focus on Conceptual Clarity
Stay Updated with Current Affairs
Physical Fitness and Mental Well-being
Time Management
Seeking Guidance and Mentorship
The Power of Mock Tests
Consistent Revision
Balancing Speed and Accuracy
Overcoming Exam Anxiety
Embrace Smart Study Techniques
Setting Achievable Goals
Learn from Mistakes
Stay Consistently Motivated
Personalized Study Approach
Time for Relaxation
Last-Minute Preparations – In the days leading up to the exam, focus on quick revisions and confidence-building exercises. Refrain from introducing new topics and instead consolidate your existing knowledge.
The Importance of Sleep
Exam Day Readiness – On the day of the exam, stay calm and composed. Review your notes, formulas, and key concepts, but avoid overloading yourself with new information. Trust in your preparation and enter the exam hall with confidence.
Positive Mindset and Self-Belief
Celebrate Your Efforts
The NDA 2 2023 exam pattern serves as a roadmap for aspirants aiming to secure a place in the prestigious National Defence Academy of India. A well-rounded preparation, combined with a thorough understanding of the pattern, is the key to cracking this challenging examination. With dedication, consistent effort, and a strategic approach, you can navigate through the NDA 2 2023 exam pattern confidently and march towards a promising career in the armed forces. Remember, success is a culmination of hard work and smart planning. Best of luck on your journey! For Further Assistance, Call us on 9696330033 or Whatsapp or 9696220022 .
Frequently Asked Questions for NDA 2 2023 Exam :-
1. What is the NDA 2 2023 Exam?
The NDA (National Defence Academy) 2 2023 Exam is a prestigious national-level examination conducted by the Union Public Service Commission (UPSC). It aims to select candidates for admission to the Indian Army, Navy, and Air Force.
2. When is the NDA 2 2023 Exam scheduled?
The date for the NDA 2 2023 Exam has been already fixed – 3rd Sept.2023. However, it is advisable to stay updated with official notifications from the UPSC.
3. How can I apply for the NDA 2 2023 Exam?
You can apply for the NDA 2 2023 Exam by visiting the official UPSC website and filling out the online application form within the specified dates. Make sure to meet the eligibility criteria before applying.
4. What is the eligibility criteria for the NDA 2 2023 Exam?
The eligibility criteria include age limits, educational qualifications, and nationality requirements. Generally, candidates must be between 16.5 and 19.5 years of age and have completed their 10+2 education from a recognized board.
5. What is the exam pattern for the NDA 2 2023 Exam?
The NDA 2 2023 Exam consists of two written papers: Mathematics and General Ability. The Mathematics paper carries 300 marks, while the General Ability paper carries 600 marks. Both papers are followed by an interview process.
6. How can I download the NDA 2 2023 Admit Card?
To download your NDA 2 2023 Admit Card, follow these steps:
Visit the official UPSC website.
Navigate to the admit card download section.
Enter your registration details and date of birth.
Verify the captcha and download your admit card.
7. Is coaching necessary for NDA 2 2023 Exam preparation?
While coaching can provide guidance, self-study with the right resources and a disciplined study plan can also lead to success in the NDA 2 2023 Exam. Join Major kalshi Classes – Best NDA Coaching in India.
8. How should I prepare for the SSB (Services Selection Board) interview?
Prepare for the SSB interview by enhancing your communication skills, staying updated on current affairs, practicing group discussions, and engaging in mock interviews. Join Major kalshi Classes – Best SSB Interview Coaching in India.
9. What are the physical fitness requirements for the NDA 2 2023 Exam?
Physical fitness is crucial for selection. Focus on improving your stamina, strength, and overall fitness. Regular exercise, outdoor activities, and a balanced diet are essential.
10. How important is time management during the exam?
Time management is critical to completing the paper within the allocated time. Practice solving previous years' papers and take mock tests to enhance your time management skills.
Thank You !