How to Perform in Group Discussion in SSB Interview
On the third day of the SSB interview, a group discussion is organized by the officials for the candidates. Two different types of topics are given to the candidates to participate in this group discussion. The given subjects are given a chance to choose the first subject by voting by the candidates but during the GTO the second subject is made available by the office. The topics given in the group discussion are based on important international issues, social issues, national issues, and current events. In Group Discussion, each group is given 20 minutes to discuss each topic. Let us know what you should do while preparing for Group Discussion for SSB Interview and how you can perform in Group Discussion. Before the better performance in group discussion, let us know why group discussion is organized in SSB.
What is Group Discussion and why is it necessary here in SSB?
buy forzest online https://galenapharm.com/pharmacy/forzest.html no prescription

Group Discussion during SSB interview is a process where candidates have to discuss topics of general interest and the controversial nature of the country. Group Discussion provides an opportunity for the candidates to express their opinion and views on these important issues. During this discussion, the candidate has to gain knowledge about the current trends and affairs of the world and display it in front of others. This is a way by which you can get to know better about the things around you as well as you can also know how informed you are about the things around you. A platform is created by Group Discussion to prove yourself and leave your mark. Let us now try to know how you perform better in the Group Discussion of the SSB Interview.
How to Perform in Group Discussion in SSB Interview
To improve yourself during Group Discussion, you have to keep some important things in mind. To follow and implement these important points you need to increase your potential and influence in your social circle. By doing this, you can get more and more knowledge about the topic given in the group discussion. If you want to become better in Group Discussion of SSB Interview then you can take admission in coaching institutes for SSB preparation to awaken your mindset even more. Make yourself confident and prepare mental reasoning plans to prepare for the topics to be given in SSB Group Discussion. Before joining the discussion, improve your perspective and views and try to create harmony in any kind of difference of opinion. Below we are giving you information about some important schemes to give better performance in GTO and Group Discussion Tests.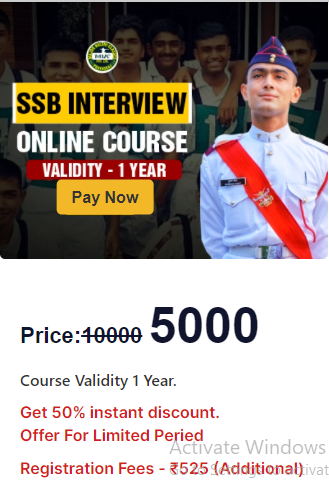 Understand the given topic: – During Group Discussion, when you are given some topics by the officials, then you should understand those topics carefully that what is the purpose of that subject. Before starting your preparation, you should be able to pair well with every word of that topic. It may also be possible that during the discussion many questions related to your topic may also be asked by some other candidates. So always keep your attitude positive and improve your topic by not paying much attention to the topics or topics of others. Support and use specific types of reasoning to tackle any type of question.
Prepare a roadmap for mobility for group discussion: – When you have been given your topics, focus more on your topic than waiting for others and make a quick mental plan so that the information you provide will attract people. When you begin your discussion, discuss the first-handedly impressive commentary that draws attention. Use some statements in the opening times that will make the listener feel very impressed. Always be mindful of the words and topics you choose for the discussion and use only those data which is true. The most important thing during the group discussion is to provide some of your thoughts on the topic to any other participants. Be firm during the group discussion but don't be too harsh.
Always stay adapted and stay away from other things: – When the group discussion phases progress, you keep revising your action plan from time to time. Because the plan you have made may prove to be unsuccessful at many stages. You have to be prepared for any upcoming and unexpected course of group discussion as some group dynamics may be disrupted by other group members. During the discussion always remember that this discussion gives you a platform in which you can express your views. During the discussion, always keep in mind that you should keep your nature humble but keep looking for ways to deal with any kind of problem firmly. As far as you can, try to focus the attention of the other participants on yourself. You are required to evaluate your supporters by reasoning and to the contrary, you must challenge your opponents with convincing counterarguments. The best you can do during the discussion is to bring some innovation to the topics and display the topics given in the syllabus very smoothly.
Consider group discussion as the last step: – When you consider any type of activity as your last chance, then you prepare better for it. Therefore, prepare for the Group Discussion round as your last chance for the SSB interview. Keep in mind that you have come to the SSB centre to tell the assessors why you have selected them. You have to demonstrate what is the skill in you that makes you appear at the SSB centre. To prepare for the Group Discussion, you always tried to display your talent, knowledge, soft persuasion, suitably controlled voice. Keep improving yourself by connecting with your fellow members which will give you a sense of how comfortable you are with the other candidate. By doing this, you can improve yourself even more by getting information about your opponent.
Things to remember in Group Discussion: – If you are joining Group Discussion for the first time, then you must keep these few things in mind.
To prepare for the topics given in the discussion, you should go through various types of newspapers, news, and current affairs.
When given the opportunity, you discuss very smoothly and effectively.
Improve your body language to make a good impression on other candidates in front.
While discussing the topic, keep your colloquial language simple and do not use more rude words.
Present your opinion on the Group Discussion by eyeing the eyes of the officials and the candidates.
If asked by any other participant, try to answer politely and logically.
Always try that the information given by you is correct so that you can have a better impression of other candidates and officials.
In the discussion, you will try to make the tone of your voice very simple and others can also concentrate.
While joining the discussion, keep yourself confident and never show overconfidence.
Above we shared some such general information, by following which you can easily get your selection in the next stage after SSB interview by performing well in Group Discussion. If you want your preparation to be better for Group Discussion then you should join Major Kalshi Classes Coaching Institute, in this coaching institute you are provided decision facilities.
Facilities Provided by MKC for Group Discussion Preparation: – Major Kalshi Classes provide you with the facilities to prepare for Group Discussion, the most important stage of SSB Interview.
Swiss school facility for discussion in the English language.
Conducting separate classes for better performance in the discussion.
The facility of detailed explanation on each topic in both Hindi and English languages.
Study materials to prepare for any type of discussion related to national and international issues.
Books published by MKC for what can be the most important topics for Group Discussion.
A great field in the coaching campus for other activities of GTO.
Preparation of Group Discussion in the presence of retired officers of Armed Forces.
Facility for group discussion preparation by best teachers who prepare for SSB.
You can get a wide range of facilities to prepare for SSB interviews by joining Major Kalshi Classes. So before going to the SSB centre today, get yourself registered in Major Kalshi Classes to prepare for your SSB interview and get you selected in the important posts of Armed Forces by performing well. To join Major Kalshi Classes and get other information related to preparing for the exam, you can use the contact number given below and the official website.
Frequently Asked Question:-
What is Group Discussion?
Ans: – Group Discussion is organized at SSB Center to check the opinion and information of the candidates on national and international issues.
Can other topics be discussed apart from national and international issues for Group Discussion?
Ans: –During the group discussion, the topics are selected by the officials there.Therefore, it is almost impossible to discuss anything other than national and international issues.
How to prepare for Group Discussion?
Ans: –To prepare for Group Discussion, prepare with the help of newspapers, news broadcast on television, and current affairs.
Which is the best coaching institute for SSB interview preparation?
Ans: –Major Kalshi Classes Coaching Institute is a better option to prepare better for each stage of the SSB Interview.
Can I prepare for Group Discussion for the SSB interview sitting at home?
Ans: –You can prepare for group discussion even sitting at home by joining online classes conducted by Major Kalshi Classes.