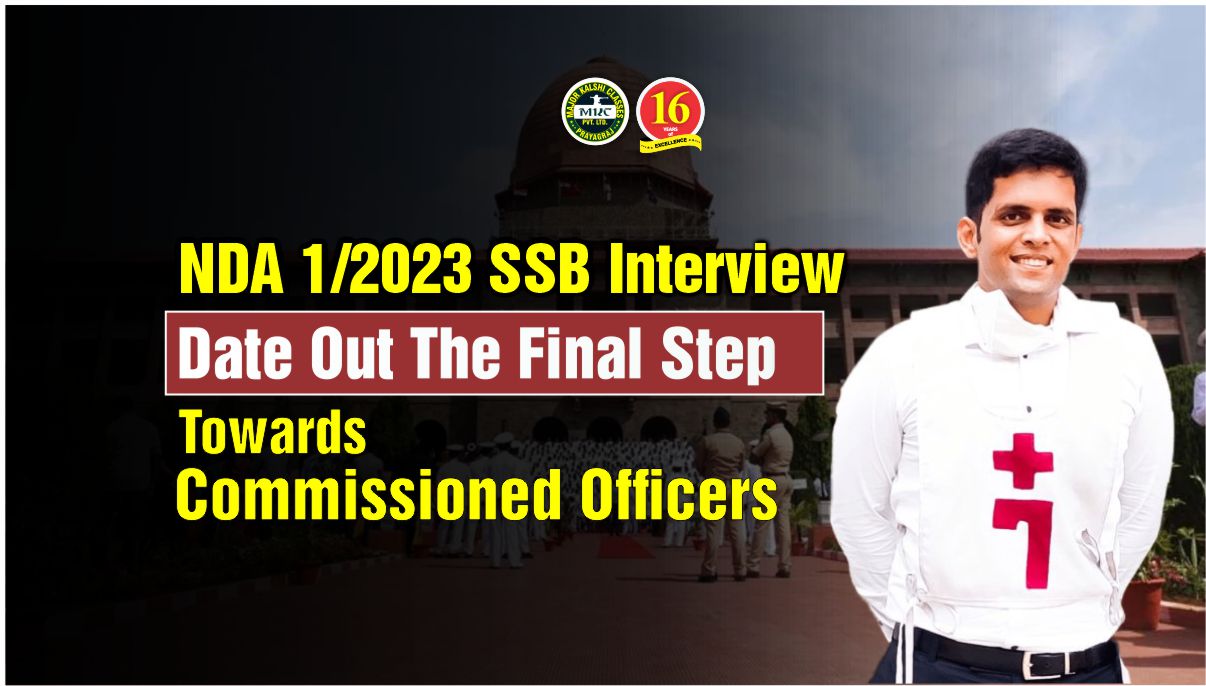 NDA 1/2023 SSB Interview Date:-Great news for all the aspiring candidates who have cleared the NDA 1/2023 written examination! The Service Selection Board (SSB) has officially announced the interview dates for NDA 1/2023. This crucial step in the selection process will determine whether you have what it takes to become a Commissioned Officer in the Indian Armed Forces. So, mark your calendars and start your preparations because the journey toward your dream career is about to reach its pinnacle.
NDA 1/2023 SSB Interview Date Out
The NDA (National Defence Academy) is one of the most prestigious institutions in India that trains young individuals for entry into the three wings of the Indian Armed Forces: the Army, Navy, and Air Force. Every year, thousands of passionate and motivated candidates appear for the NDA examination, which consists of a written test followed by an SSB interview.
The SSB interview is a comprehensive evaluation process designed to assess the candidates' potential, aptitude, and personality traits required for a career in the Armed Forces. It consists of a series of tests, including the Intelligence Test, Psychological Tests, Group Testing Officer Tasks, and Personal Interview. These assessments gauge the candidate's leadership qualities, communication skills, problem-solving abilities, and overall suitability for a life of service and commitment.
Now, let's delve into the eagerly awaited details. The duration of the interview process can vary from 5 to 6 days, depending on the number of candidates and the stages involved. It is essential for all candidates to be present throughout the entire duration of the interview, as each stage holds significant importance in the final selection.
How to select NDA SSB date:-
Selecting the NDA SSB interview date is an important step in your preparation process. Here's a step-by-step guide on how to select your NDA SSB interview date:
Check the Official Announcement: Keep an eye on the official website of the National Defence Academy (NDA) or the relevant recruitment authority for the announcement of the SSB interview dates. They will usually publish a notification with the dates and details of the interview.
Review Your Availability: Take a look at your personal schedule and commitments to determine your availability for the interview. Consider factors such as exams, academic commitments, and any other significant events that might clash with the interview dates.
Prepare a List of Preferred Dates: Once the official notification is out, prepare a list of preferred interview dates based on your availability. Prioritize the dates that align best with your schedule and give you ample time to prepare.
Contact the Selection Board: Get in touch with the SSB selection board through the contact details provided in the official notification. This could be a phone number or an email address. Reach out to them and inquire about the process for selecting your interview date.
Follow the Instructions: The selection board will provide you with specific instructions on how to select your interview date. It may involve submitting an online form, sending an email with your preferred dates, or making a phone call to the designated authority.
Submit your Preferred Dates: Follow the provided instructions and submit your preferred interview dates as per the given deadline. Ensure that you provide accurate and complete information.
Confirmation and Admit Card: After submitting your preferred dates, you will receive a confirmation from the selection board. They will provide you with an admit card containing your final interview date, time, and venue. Keep this admit card safe as you will need it for the interview.
Prepare Accordingly: Once you have your interview date, start preparing for the SSB interview. Familiarize yourself with the interview process, practice the required tests, improve your general knowledge, and work on your physical fitness and communication skills.
Remember, the availability of interview dates may be limited, so it is advisable to act promptly and select your preferred date as soon as possible. Be flexible in your scheduling, but also make sure it aligns well with your personal commitments and allows you enough time for preparation.
How to Prepare for NDA 1/2023 SSB Interview:-
As you know NDA 1/2023 SSB Interview Date out so , to excel in the SSB interview, candidates should focus on a well-rounded preparation strategy. Here are some key areas that should be emphasized during your preparations:
Physical Fitness: Physical fitness plays a crucial role in the Armed Forces. Ensure you are in good physical shape by following a regular exercise routine, maintaining a healthy diet, and practicing endurance activities such as running, swimming, and outdoor sports.
General Knowledge and Current Affairs: Stay updated with the latest national and international events, current affairs, and developments in the field of defense and security. Read newspapers, magazines, and online resources to enhance your knowledge.
Communication Skills: Effective communication is vital for success in the SSB interview. Practice verbal and non-verbal communication skills, work on your body language, and improve your ability to express your thoughts clearly and concisely.
Leadership and Teamwork: The Armed Forces seek individuals with strong leadership qualities. Engage in group activities, participate in team sports, and develop your leadership skills by taking initiative and organizing events within your community.
Self-Reflection and Personality Development: The SSB interview focuses on assessing your personality and character. Reflect on your strengths and weaknesses, work on self-improvement, and develop a positive attitude towards challenges and adversity.
Lastly, remember to stay confident, be yourself, and show genuine dedication towards serving the nation. The SSB interview is not just an evaluation; it is an opportunity to showcase your potential and passion for the Armed Forces.
To all the candidates who have qualified for the NDA 1/2023 SSB interview, congratulations on reaching this crucial stage. Put in your best efforts, stay determined, and embrace the challenges that lie ahead. The Indian Armed Forces are waiting to welcome the next generation of leaders, and you could be one of them.
Good luck to all the aspirants, and may your journey towards becoming a Commissioned Officer be fulfilling and rewarding. Serve the nation with pride, honor, and unwavering dedication!