Instructions to Develop Speaking Skills for SSB Interview
To join the Indian Armed Forces, candidates must have excellent speaking skills. As you know, during the SSB interview, the officials check your communication skills by interacting with the Testing Officers and candidates. Your speaking language and speaking skills reflect the power of your expression and your intelligence. To become a better type of speaker, you have to improve or develop your speaking skills.
buy doxycycline online buy doxycycline no prescription
Good communication skills provide a different boost to the candidates in the SSB interview. Before appearing in the SSB interview, it has been observed in many candidates that they are exceptionally good and skilled. But it has also been seen that such students do not have a better communication medium due to which they are expelled from SSB interviews.
In today's article, we are going to give you information that how you can develop you're speaking skills during your SSB interview and get good marks in the SSB interview. Before going through the instructions on how to develop English speaking skills, let us know why you are asked to speak in an SSB interview and its importance.
Importance of English speaking skills in an interview
Conversation in English is important not only in any area of ​​SSB Year Defense but also in any other area of ​​work the English language plays an important role.
All the written and oral exams to be conducted in SSB interviews are conducted in English medium only.
If you want to do well in Armed Forces SSB Interview then you should have good Spoken English.
When you are discussing with an officer, you need to have good knowledge of English so that he can better understand the instructions given by other officers to his soldiers.
You should also have the scale to explain in English the reports given to your superiors from time to time.
A good leader should have a good gift of media so that he can have better conversations with other candidates and his peers.
Within an ideal officer, it is expected that he has the power of cushion expression i.e. OLQ.The English language plays an important role in developing such a quality.
In today's time,the English language has become a global language, so if ever in future you are sent for a foreign mission or bilateral conversation with other countries then knowledge of English will be beneficial for you.
Let us know why most of the candidates are not good at English.
Why most of the students struggle in English: –
It has been seen many times that candidates struggle in the English language when they take admission in any coaching institute to prepare for the armed forces. Let us know what are the facts due to which the English language is not available in the initial period.
The first reason for not being able to converse in English is that students tend to lean more towards their native languages ​​and ignore the basics of English in the initial time.
Another fact that has been observed is that candidates who talk to their friends or relatives in English make fun of them.
Many candidates are born in a family or environment where the English language is less spoken due to which they are unable to converse in English.
Some candidates think their thoughts in native languages ​​and then translate them into English due to which they are not able to speak English fluently.This happens because of the default brain setting.
Due to the lack of importance of the English language in the early stages of any professional career, I do not perform well in the English language.
Above are some of the reasons which are considered to be one of the main reasons why you are not fluent in English. Let us know how you can develop speaking skills for the SSB interview.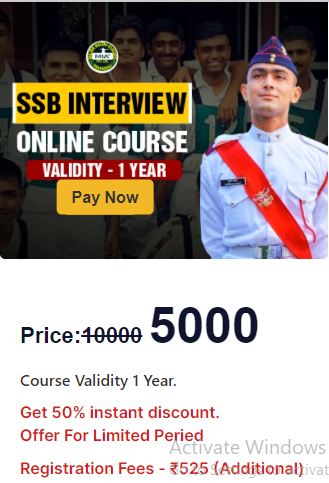 Instructions to Develop Speaking Skills for SSB Interview
To improve our English school during the SSB interview we will try to learn it in three different processes. Let us know which procedures you can follow to improve your speaking skills for the SSB interview.
Reading:-
To improve English skills, you develop your interest and start reading newspapers published daily or some novels or stories which are written in English languages.
Whenever you come across a new word while reading, underline it, write it down in your notes and try to figure out where else the word can be used.
Make sure you set aside 30 minutes each day for the reading process.During this time you will have to learn the art of using the new words you find, either in writing or orally.
By writing English languages:-
The best medium to learn English skills is to write the English language.By doing this you can easily memorize English language words in the future.
You can also repeat many questions asked in the SSB interview multiple times.By doing this it is ensured that you can easily answer any question of that type.
Click on the link given below to know the common questions asked in Rapid Fire Round in SSB Interview.
When you are writing your thoughts using English languages, then identify the related grammatical errors and write the sentences of a better type of English.
You also need to consider the topics of general knowledge in the SSB interview and keep trying to write them continuously.By doing this your language will also improve and at the same time, your knowledge will also increase.
Listening to Languages:-
Some candidates can easily learn the English language or any language by listening to it.
Listening to languages ​​helps us to improve the pronunciation of those words.
Speaking properly with phonetic skills makes a good impression on other listeners.
You also learn to use a variety of English words appropriately by listening.
You can also improve your English language with the help of English-language news, movies, songs, and English documentaries.
By speaking in English:-
If you keep using English languages ​​continuously, then even with many efforts, you can easily improve this English language game.When we speak all the things that we read, write or listen to, then we get better knowledge.
Consistent speaking practice makes us comfortable in English school and helps us to speak English fluently.
Try to speak aloud the stories of PPDT or for their lectures to be conducted during the SSB interview.By doing this you're speaking can be improved.
Develop a group of friends in which you can discuss only in English languages.
Do not worry in any way about those people who find fun talking to you in English, but try every day to increase your speaking skills.
Admission for English Speaking Course Preparation:-
If your English is very weak and you did not pay much attention to English at the initial time then it may be possible that you may not perform well in the SSB interview. To learn English with a better effort and prepare for your SSB interview under the tutelage of retired army officers, you can enrol yourself in the Swiss School of Major Kalshi Classes. In this school, you get the following facilities.
Newspapers published daily and other news and magazines published in English are easily available.
Any type of words is explained to the candidates in the classroom.
A speaking class of 15 to 20 minutes is conducted daily to develop the speaking skills of the candidates.
These classes are organized under the patronage of retired army officers so that you do not face any kind of problem in the actual SSB interview.
Candidates who want to join online classes for preparation for SSB interviews from remote areas can also easily make use of English Speaking Skills.You can click on the link given below to join the online classes conducted by MKC.
If you want to do an English-speaking course from another state, then Major Kalshi Classes also provides hostel facilities based on Army rules and regulations.
You can easily get the English-speaking course books published by Major Kalshi Classes online.If you want to buy these books then click on the link given below.
In today's article, we have given you information about the importance of English during the SSB interview and how you can improve your English speaking. If you want to do SSB Interview Preparation and Speaking English Course then enrol yourself in Major Kalshi Classes Coaching Institute. You can connect with the coaching institute of MKC you are learning by using the below-given contact number and official website. Apart from this, if you want that you can prepare from home, then use MKC Learning Application or subscribe to YouTube's channel.
Frequently Asked Question:-
Why is an English-speaking course necessary?
Ans: –You can do an English speaking course by doing deep study in English language, it is important in every career place in today's time.
Is there any better coaching institute for learning English?
Ans: –If you want to learn English then Major Kalshi Classes Coaching Institute is a better option.
What are the things to keep in mind while learning English?
Ans: –To learn English, you must have an interest to read books and the ability to ignore other external factors.Only those who try hard and work hard can speak English easily.
Can English be spoken only by reading?
Ans:-No, along with reading you must also know how to pronounce English languages ​​and how to use them are all essential factors for learning English.
Which is the best book to learn English?
Ans: – If you want to learn English then get the Advance English Course Books published by Major Kalshi Classes from the online website of MKC.