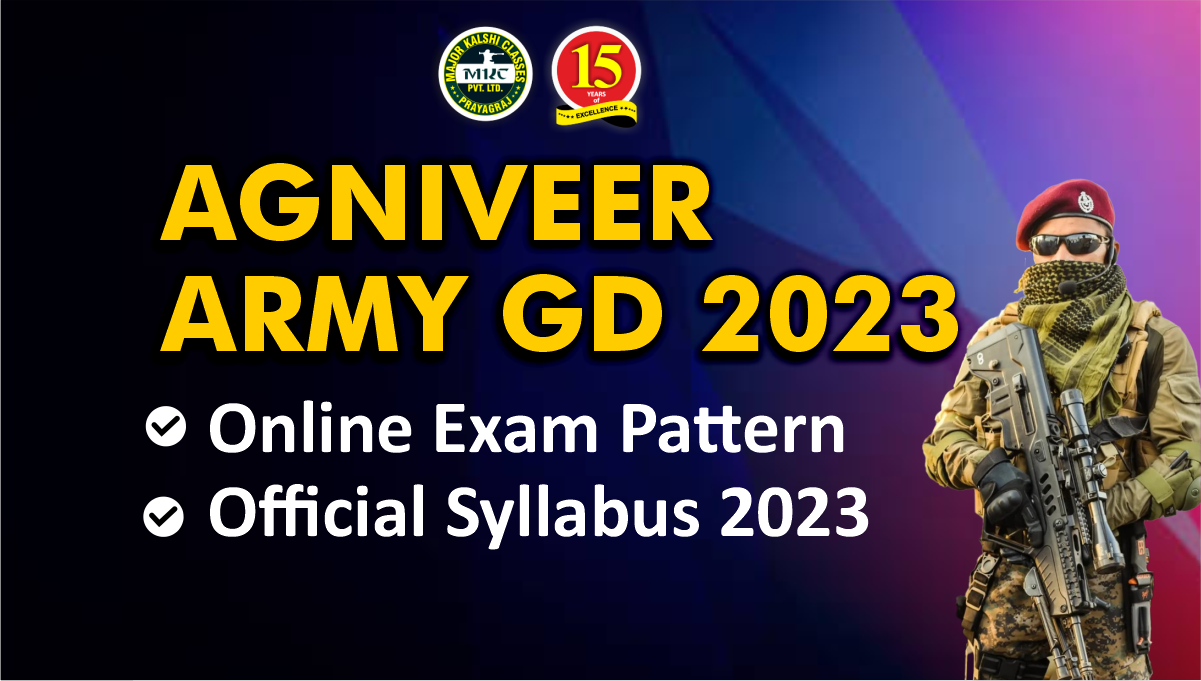 Agniveer Army GD 2023 Exam Pattern and Official Syllabus
The Army General Duty (GD) is a popular entry-level recruitment program for the Indian Army through Agniveer entry. Successful candidates are then selected for training at one of the Indian Army's training centers. The training is designed to prepare candidates for their role as a soldier in the Indian Army. Here we are providing Agniveer Army GD 2023 Exam Pattern and Official Syllabus.
Agniveer Army GD Selection Process 2023:-
The recruitment process for this particular program is divided into two phases. The first phase involves an Online Common Entrance Exam that will be conducted at Computer Based Test Centers located throughout India. The second phase is a Recruitment Rally that will be held at the respective Rally Venue. After the Rally, there will be Document Verification and Medical Examination of the selected candidates. Finally, the Merit List will be prepared based on the candidate's performance in all the stages of the recruitment process.
CEE Exam
Rally
Documents Verification
Medical Exam
Final Merit List
Agniveer Army GD 2023 Exam Pattern:-
The Online Common Entrance Exam will consist of objective Multiple Choice Questions (MCQs). Depending on the category of application, candidates will have to answer either 50 questions within one hour or 100 questions within two hours.
Negative marking of 25% will be applied for every attempted wrong answer, while unattempt questions will not be marked.
Full marks will be awarded for every correct answer.
It is important to note that all questions, regardless of whether they are marked for review or not, will be considered for evaluation if attempted.
| | | |
| --- | --- | --- |
| Subjects | Number of Questions | Marks Allotted |
| General Knowledge | 15 | 30 |
| Mathematics | 15 | 30 |
| General Science | 15 | 30 |
| Logical Reasoning | 05 | 10 |
| Total | 50 | 100 |
Agniveer Army GD Official Syllabus 2023:-
The official syllabus for the Army General Duty (GD) recruitment exam includes the following topics:
General Knowledge: History, Geography, Polity, Economics, and Current Affairs.
General Science: Physics, Chemistry, Biology, and Environmental Science.
Mathematics: Number System, Algebra, Geometry, Trigonometry, and Mensuration.
The level of questions will be of class 10th standard. It is important for candidates to have a clear understanding of the basic concepts of these subjects to perform well in the exam.
General Knowledge Syllabus:-
Abbreviations – National and International.
Sports – National and International.
Awards and Prizes – National awards, Gallantry awards, Nobel Prizes.
History – Important dates & battles in Indian and World History and land marks of Indian History, national
movement.
Geography – Solar System Space exploration, The earth, principal peaks, Deserts, Rivers, Lakes and famous waterfalls, Geographical Tallest, Biggest and Longest etc.
Terminology – Geographical terms, Economic terms, Astronomical terms, Legal terms and Misc terms.
Specific Knowledge about- Indian Armed Forces, Indian Towns, States and Uts. Institutions and Research Stations, International space Stations and Festivals of India and World. Indian News Agencies and Dailies.
Continents and Sub Continents. Inventions and Discoveries. Environment. The Constitution of India. Religious communities and Principal Languages. National and International Days. International Organizations. Books and Authors. The world of Plants and animals. Current Affairs and "Who's Who"
General Science Syllabus:-
Human Body, Food and nutrition, diseases and prevention, vitamins and their uses.
Question of General Science consisting of topic related to Physics, Chemistry and Biology. based on fundamentals and day to day activities. Medical Terms. Scientific Terms. Scientific and Research Institutes in India.
Mathematics Syllabus:-
Arithmetic:- Consisting of numbers, HCF, LCM, Decimal fraction, square roots, percentage, Average,
Ratio and proportion, partnership, profit & loss, unitary method, time work and distance,
simple interest.
Algebra:- Basic operations and factorization, HCF and LCM, quadratic equations.
Geometry:- Lines and angles, triangles quadrilaterals, parallelograms and circles.
Mensuration:- Area and perimeters of Squares, rectangles parallelograms and circles, volume and
surface area of cube, cuboids, cone, cylinders and sphere.
In addition to the above topics, candidates should also focus on improving their physical fitness, as the recruitment process includes a Physical Fitness Test (PFT) and Medical Examination. The PFT includes running, push-ups, and pull-ups.
It is recommended that candidates refer to MKC study materials and previous year question papers to prepare for the exam.