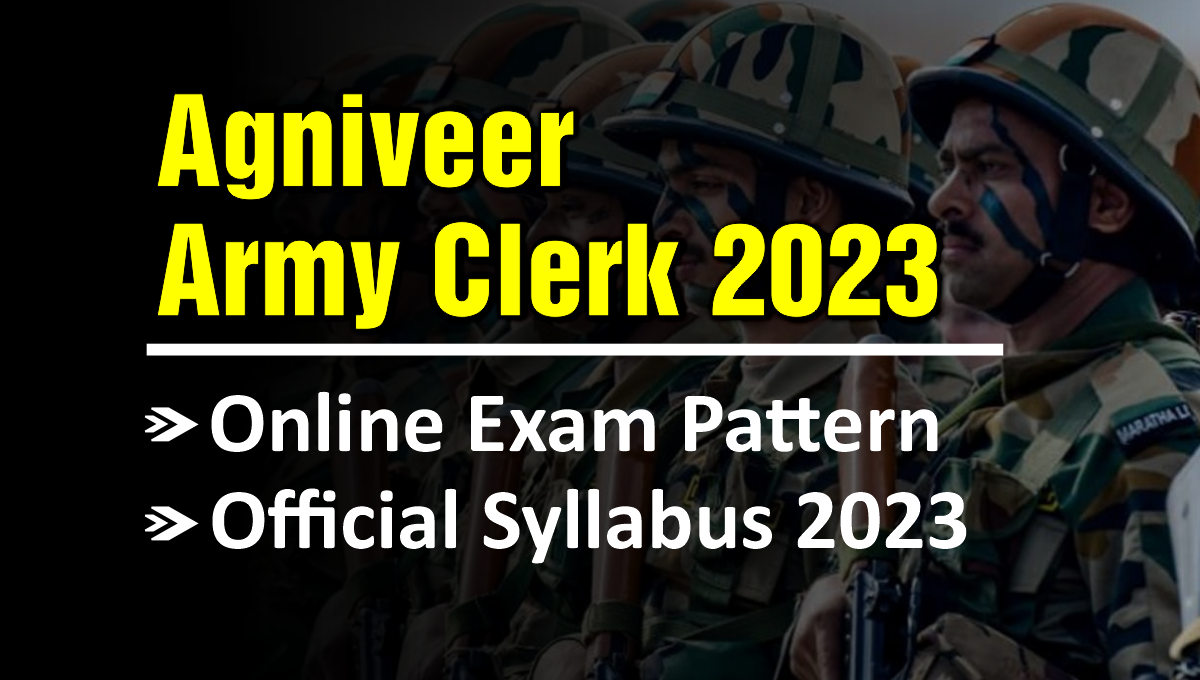 Agniveer Army Clerk 2023 Exam Pattern and Official Syllabus
An army clerk is a military personnel who is responsible for administrative and clerical duties in the military. They perform a range of tasks that include maintaining records, preparing reports, processing paperwork, and providing support to other military personnel. Army clerks play an important role in ensuring that the military runs smoothly and efficiently. Here we are providing Agniveer Army Clerk 2023 Exam Pattern and Official Syllabus.
Agniveer Army Clerk Selection Process 2023:-
The selection process for an Army Clerk in the Indian Army typically involves the following stages:
Written Exam: Candidates must appear for a written examination, which consists of multiple-choice questions in subjects such as general knowledge, mathematics, English, and general intelligence. The exam is conducted by the Indian Army and is usually held twice a year.
Physical Fitness Test: Candidates who qualify the written exam are required to undergo a physical fitness test. This includes running, push-ups, and sit-ups. The test is designed to assess the candidate's physical fitness and endurance.
Medical Examination: Candidates who pass the physical fitness test are required to undergo a medical examination. This is done to ensure that the candidate is medically fit to serve in the Indian Army.
Document Verification: Candidates who clear the medical examination are required to submit their original documents for verification. This includes educational certificates, age proof, and other relevant documents.
Merit List: Based on the performance in the written exam, physical fitness test, and medical examination, a merit list is prepared. Candidates who score high in the merit list are called for training.
Training: Selected candidates undergo training at the Army Training Centers. The training is designed to equip candidates with the necessary skills and knowledge required for the job of an Army Clerk.
Agniveer Army Clerk 2023 Exam Pattern:-
The exam is worth a total of 200 marks.
The exam duration is 60 minutes or 1 hour.
The exam is divided into two parts: Part 1 and Part 2.
Each part is worth 100 marks and contains 25 questions.
To pass, a candidate must score at least 32 marks in each part and a combined total of 80 or more.
Each question is worth 4 marks.
There will be negative marking: 0.5 marks will be deducted for each wrong answer.
No marks will be deducted for leaving a question unanswered, so candidates may skip any questions they are unsure of.
AGNIVEER Clerk & Store Keeper Technical
Part I
Subject
No. of Questions
Marks
Pass Marks
General Knowledge
5
20
32
General Science
5
20
Maths
10
40
Computer
5
20
25
100
Part II
General English
25
100
32
Agniveer Army Clerk 2023 Official Syllabus:-
General Knowledge
History
Culture
Geography
Abbreviations
Sports
Awards and Prizes
Terminology
Indian Armed Forces
Continents and Sub Continents
Inventions and Discoveries
The Constitution of India
International Organizations
Books and Authors
Knowledge of Important events that have happened in India and at the world level in recent years,
Current important world events
Prominent personalities, etc.
General Science
Physics
Chemistry
Biology
Mathematics
Algebra
Basic algebraic problems
Fundamental Arithmetical Operations
Natural numbers
Integers, fractions
Rational/irrational numbers
Decimal fractions
HCF & LCM
Square root
Ratio and proportion
Percentages
Averages
Profit & loss
Simple and compound interest
Geometry
Familiarity with elementary geometric figures and facts
Mensuration
Triangle
Quadrilaterals
Regular Polygons
Circle etc
Trigonometry
Trigonometry
Trigonometric ratios
Complementary angles, height and distances etc
Computer
Computer System,
Concept of Memory,
Input / Output Devices,
Basic concept of an Operating System and its functions,
Introduction to Windows,
MS Word,
MS PowerPoint,
MS Excel
English
Comprehension
Parts of Speech.
Article.
Noun and Pronoun.
Adjective. (ad) Preposition.
Conjunction and models.
Verbs
Tenses
Present/past forms.
Simple/continuous form.
Perfect forms.
Future time reference
Sentence Structure
Type of Sentences
Affirmative/interrogative sentences.
Use of Phrases.
Direct and Indirect speech.
Active and Passive Voice