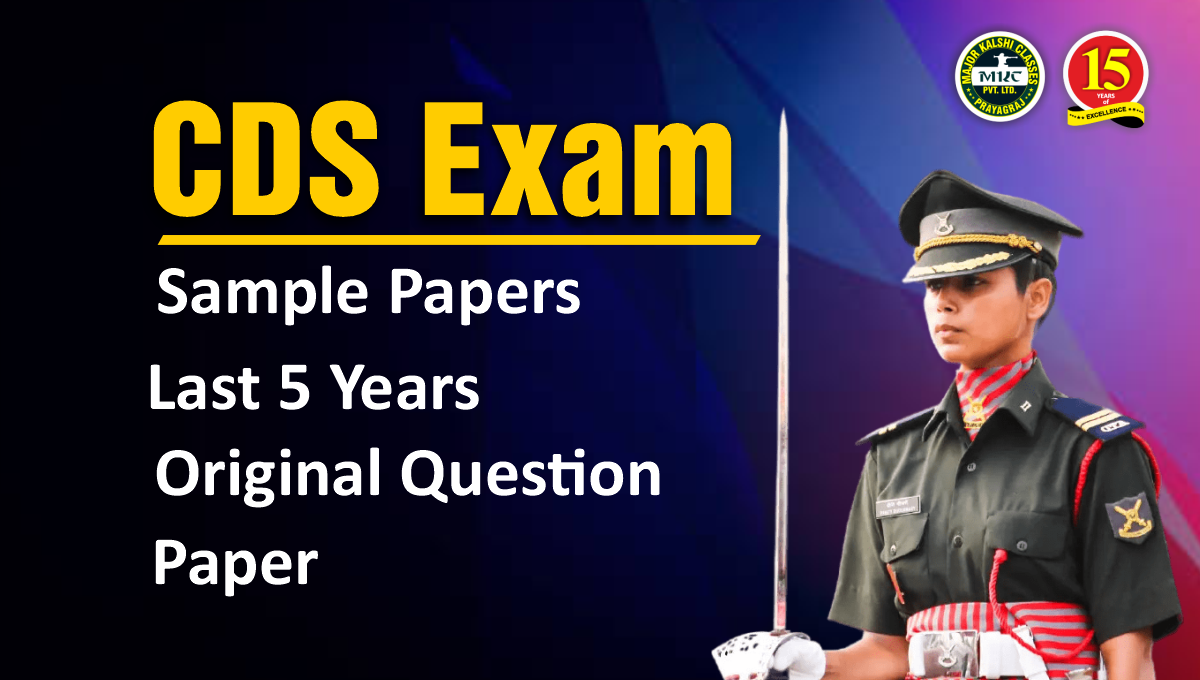 CDS Sample Paper 2023 with last 5 year question paper pdf download
The UPSC conducts the Combined Defence Service Examination (CDS) twice a year. Graduates from any field are eligible to appear for the exam, and the eligibility details are listed below. In this article, we are sharing CDS sample paper 2023, along with Last 5 previous year papers, and model papers for the CDS 2023 exam in PDF format. You can easily download these CDS Sample papers for your preparation.
CDS Sample Paper 2023:-
CDS 2023 Model question papers or sample question papers are designed to give you a complete understanding of the exam paper. The officials generally design the model question papers, and you can find them on the exam's official website. Coaching institutes usually create sample question papers for their students to prepare for the next level. The sample papers are designed by analyzing the previous year's question paper to provide the students with a better understanding of the exam pattern. Sample papers can also be referred to as guess question papers. Experienced teachers who have comprehensive knowledge of the exam and its pattern design the sample papers for exam practice.
At Major Kalshi Classes, our primary focus has always been to assist our candidates in their preparation for NDA exams. To this end, we have produced NDA sample paper PDFs for your convenience. These PDFs provide you with all the requisite questions, answers, and solutions in one location, allowing you to access all of the resources you need in one go. Our website is the ideal place to find these resources with just one click, ensuring that you have everything you need to prepare for the exam effectively.
CDS Last 5 Year Question Paper pdf Download:-
CDS 2 2022 Question Papers:-
CDS 1 2022 Previous Year Papers
CDS 2 2021 Previous Year Papers
The UPSC CDS previous year's question paper PDF is available for downloading below.
CDS 1 2021 Previous Year Papers
The UPSC CDS 1 2021 previous year question paper links are provided with the help of links provided below.
CDS 2 2020 Previous Year Papers
CDS 1 2020 Previous Year Papers
CDS 2 2019 Previous Year Papers
Here is the direct download link to the CDS previous year's question papers.
CDS 1 2019 Previous Year Papers
Important Tips related to CDS Examination: –
It is important to note that some candidates may have attempted the Combined Defense Services examination multiple times. However, first-time candidates who are preparing for the exam should consider the following points regarding the examination center.
You must reach the center given on the admit card 1 hour before the scheduled time.
While going to the examination center, you must carry a blue and black pen and you admit card with you.
For your identity, you should carry any one of the identity cards like Aadhar Card, DL, or High School Certificate with you.
After reaching the examination center, carefully search for your class according to your roll number.
While giving the exam, do not bring unwanted thoughts to your mind by thinking negatively.
While solving questions during the exam, you should attempt only those questions in which you are right.
Before solving the question paper, you should read the entire question paper and solve whatever are necessary and easy questions.
You can give last-minute answers to the questions whose answers you are not sure about.
Keep in mind that you should answer only those questions otherwise; your marks may get affected due to negative marking.