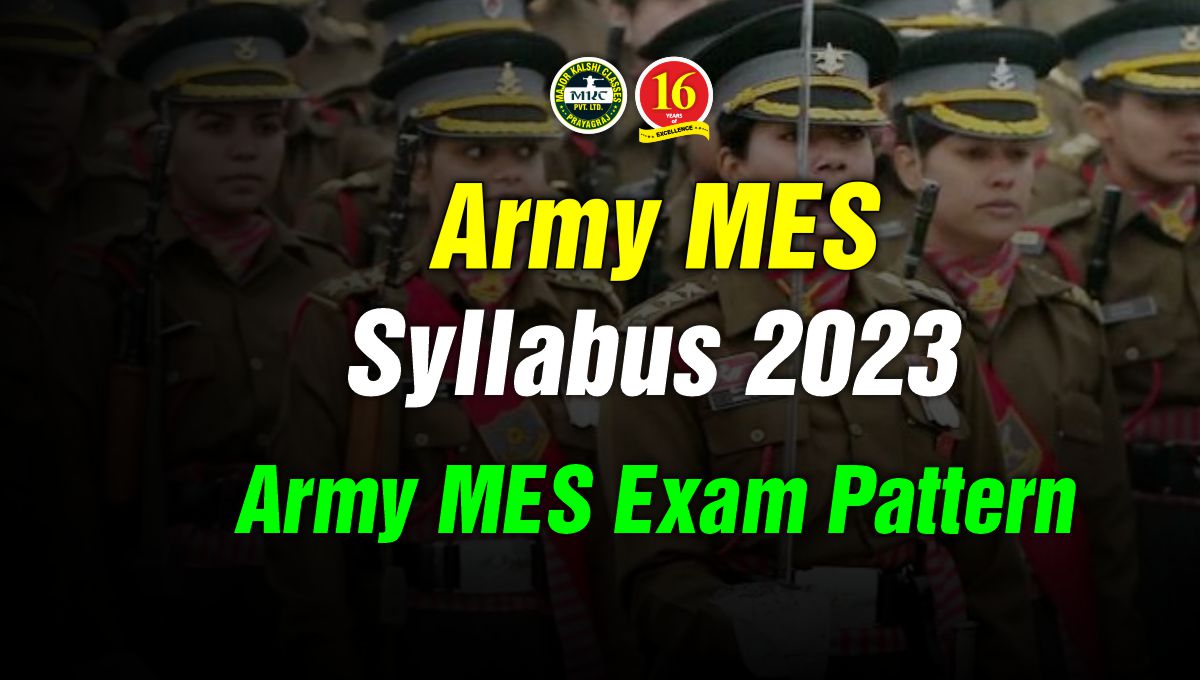 Army MES Syllabus 2023 | Army MES Exam Pattern
The Military Engineer Services (MES) is a vital and prestigious organization that provides engineering support to the Indian Armed Forces. To ensure the selection of capable and skilled personnel, the MES conducts the Army MES Exam. The MES exam is highly competitive, and aspiring candidates need to be well-prepared to excel in this recruitment process. As the year 2023 approaches, it is essential for candidates to familiarize themselves with the Army MES Syllabus and Exam Pattern to plan their preparation effectively.
Army MES Syllabus 2023
Overview of Army MES Exam:
The Army MES Exam is conducted to recruit personnel for various technical and non-technical posts in the Military Engineer Services. It is a national-level examination that attracts candidates from all over the country who wish to serve in the Indian Army. The exam is structured to assess the candidates' knowledge, aptitude, and technical proficiency related to the respective posts they are applying for.
| | |
| --- | --- |
| Number of Vacancies | 41822 |
| Post Name | JE, MTS, LDC, UDC, MATE, CMD, etc |
| Category | Defence Job |
| Location | All India |
| MES Official Website | www.mes.gov.in |
Army MES Exam Pattern:
The MES Exam pattern typically consists of two stages:
1. Written Examination:
The written examination is the initial stage of the selection process.
It is an objective-type test (multiple-choice questions).
The questions are asked in both English and Hindi languages.
The paper may be conducted online or offline, depending on the discretion of the exam authorities.
The subjects covered in the written examination generally include General Intelligence & Reasoning, Numerical Aptitude, General English, and General Awareness for non-technical posts. For technical posts, questions related to the specific discipline or trade are included.
Here's the MES Exam Pattern 2023 presented in a table format:
Subject
Number of Questions
Marks
Duration
PWD (Persons with Disability) Duration
General Intelligence & Reasoning
25
25
120 minutes
2 hours 40 minutes
Numerical Aptitude
25
25
General English & General Awareness
25
25
Specialized Topics
25
50
MES Syllabus 2023:
The syllabus for the Army MES Exam may vary depending on the specific post candidates are applying for. However, the following topics are generally covered:
1. General Intelligence & Reasoning:
Verbal and Non-Verbal Reasoning
Analogies
Similarities and Differences
Spatial Visualization
Spatial Orientation
Problem-Solving
Analysis and Judgment
Decision Making
Visual Memory
Discrimination
Observation
Relationship Concepts
Arithmetical Reasoning
Arithmetic Number Series
2. Numerical Aptitude:
Number Systems
Whole Numbers
Decimals and Fractions
Percentage
Ratio and Proportion
Average
Interest
Profit and Loss
Discount
Time and Distance
Time and Work
Mensuration
Data Interpretation
3. General English:
Comprehension Passage
Spot the Error
Fill in the Blanks
Synonyms/Antonyms
Spelling/Detecting Mis-spelt words
Idioms & Phrases
One Word Substitution
Improvement of Sentences
Active/Passive Voice
Direct/Indirect Speech
4. General Awareness:
Current Affairs (National and International)
History and Culture of India
Geography (Physical, Political, World)
Indian Polity and Governance
Economic and Social Development
Environmental Issues
General Scientific and Technological Developments
Sports and Games
5. Technical Subjects (for technical posts only):
Candidates applying for technical posts must prepare for technical subjects related to their respective disciplines or trades. This may include topics from Civil Engineering, Electrical Engineering, Mechanical Engineering, and other specific fields.
It is essential for candidates to refer to the official MES notification for the specific syllabus pertaining to their desired post as the syllabus might be subject to change or modification.
Preparation Tips:
Understand the Exam Pattern: Familiarize yourself with the exam pattern and syllabus to plan your preparation strategy accordingly.
Create a Study Plan: Develop a well-structured study plan, allotting sufficient time for each subject based on your strengths and weaknesses.
Practice Previous Papers: Solve previous years' question papers and mock tests to understand the exam pattern and improve your time management skills.
Stay Updated: Keep yourself updated with current affairs and the latest developments in your technical field (if applicable).
Revision: Regular revision is crucial to retaining the information and concepts you have learned.
Join MKC for MES 2023 exam preparation:-
Joining MKC (Major Kalshi Classes) for MES 2023 exam preparation can be a beneficial step for aspiring candidates. MKC is a well-established coaching institute that specializes in providing guidance and training to candidates preparing for various defense-related examinations, including the Military Engineering Services (MES) exam.
The Army MES Exam 2023 is a gateway for aspirants to join the prestigious Military Engineer Services. With a systematic and dedicated approach to preparation, coupled with a thorough understanding of the syllabus and exam pattern, candidates can maximize their chances of success in this highly competitive examination.