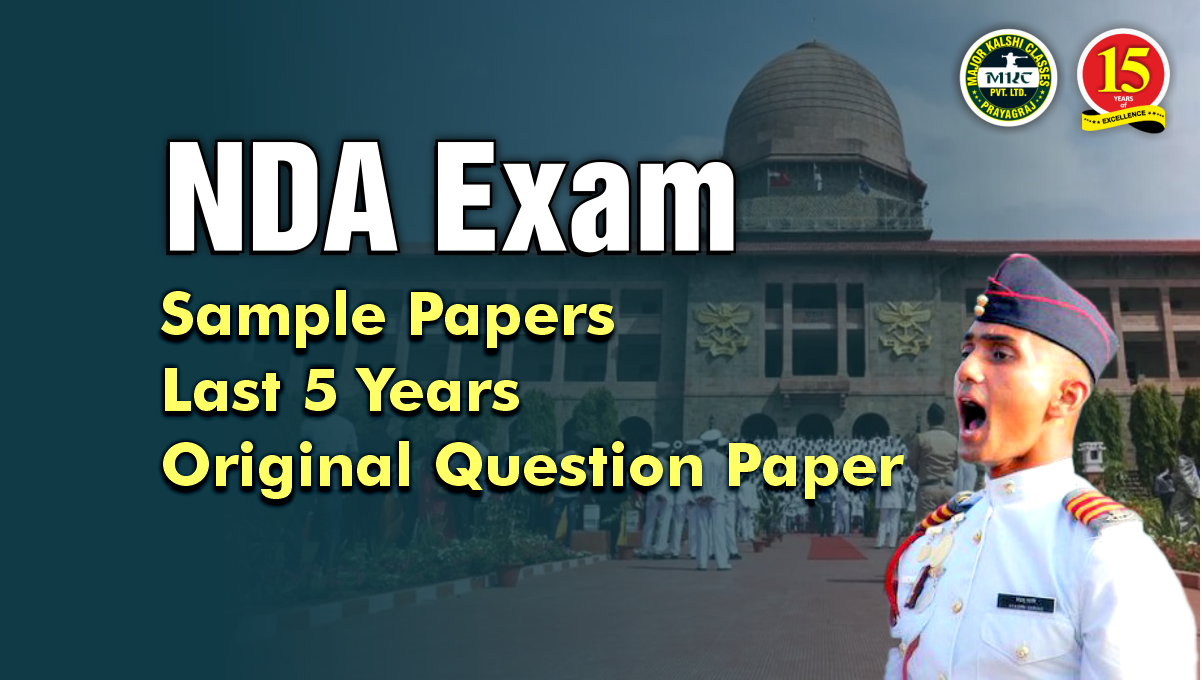 NDA Exam Sample Paper 2023 with Last 5 Year Question paper Pdf Download
The Union Public Service Commission conducts the National Defence Academy (NDA) and Naval Academy (NA) exams twice a year for candidates who aspire to join defence academies and pursue a career as officers in the Indian Army, Indian Air Force, or Indian Navy. To aid in your exam preparation, we are providing a NDA sample paper 2023 for the exam. Practicing with this sample paper will help you familiarize yourself with the exam pattern and perform better in the actual examination.
NDA Exam Sample Paper 2023:-
MKC Coaching institutes designed sample papers for their students, which are aimed at taking the preparation to the next level. The sample papers are prepared by analyzing the previous year's question papers and are sometimes referred to as guess question papers. Experienced teachers with a thorough understanding of the exam and its pattern design these papers for practice purposes.
NDA Sample Papers PDF Download:-
Major Kalshi Classes is providing you today, all the links and required material for your upcoming dream i.e. NDA examination. Prepare well for it. Hope you Succeed. Because we never help in vein.
NDA Sample Paper Pdf-1- Download
Sample Paper pdf-2- Download
Download Answer Key- Click Here
Answer Key Download- Click Here
Benefits of the NDA sample papers PDF:-
We would like to highlight the reasons why you should consider joining our platform and utilizing our sample papers. Major Kalshi Classes has always been dedicated to providing the best services and resources to our clients.
Our top priority has always been our candidates' preparation, which is why we have created NDA sample paper PDFs for your convenience. By reading these PDFs, you will have access to all the necessary questions, their answers, and the corresponding solutions in one place. This resource is easily accessible with just one click on our website, making it the most suitable place for your preparation.
Candidates preparing for the upcoming NDA examination should be well equipped with the correct information and should be well prepared.
While solving the different papers in the Mock exams you will get to know the pattern of the real paper.
The sample papers help you to get notified of your weak and strong points in the examination paper of NDA.
The time management techniques and the phenomenon of practicing for speed test will be great for the preparation perspective.
NDA Last 5 Year Question Paper Download:-
NDA 2 2022 Paper
NDA 1 2022 Paper
NDA 2 2021 Paper
The National Defence Academy and Naval Academy's previous years' question papers for NDA 2 2021 have been provided below.
NDA 1 2021 Paper
The NDA 1 2021 question papers for GAT and Mathematics are provided below in form of PDFs.
NDA 2/2020 Paper
NDA 2 2019 Paper
The NDA 2 2019 previous year question papers are provided below in the form of a PDF. Download them now and practice to score more in the written exam.
NDA 1 2019 Paper
NDA 2 2018 Paper
The direct links to download NDA 2 2018 question papers are provided for ease of the NDA aspirants.
NDA 1 2018 Paper
The NDA 1 2018 Previous year papers are provided below for the candidates. They can solve these papers and work at their speed.
NDA 2 2017 Paper
NDA 1 2017 Paper
How to prepare for NDA 2023 Examination:
The NDA examination syllabus is quite extensive and can be challenging to cover entirely. It requires a high level of discipline and comprehensive preparation to cover the syllabus thoroughly. However, the NDA exam's difficulty level is primarily due to its broad syllabus, and the actual level of questions is not particularly tough. Any candidate who has studied diligently up to the 12th standard can easily clear the exam.
It's essential to build a solid foundation in the basics before progressing to advanced levels, especially when preparing for the NDA exam. If you begin your NDA preparation after class 10th, you will need to put in a significant amount of effort. You must prepare for your academic studies while also preparing for the NDA exam. Here are some important points to keep in mind while preparing for the NDA exam.
Make proper time management.
Give equal time to each subject.
English is one of the easiest portions, you can score maximum in this.
Prepare your English better, so that you could attend the maximum question.
Try to solve the maximum previous year question paper for better practice.
You can also appear for the Mock test which is conducted by many institutes for the practice.
Read Newspapers every day for current affairs.
For the rest of the syllabus, individual books are available in the market, you can buy them
Do proper preparation of each subject, solve at least 5 sample papers of each subject.
Solve NDA Exam Sample Paper 2023,