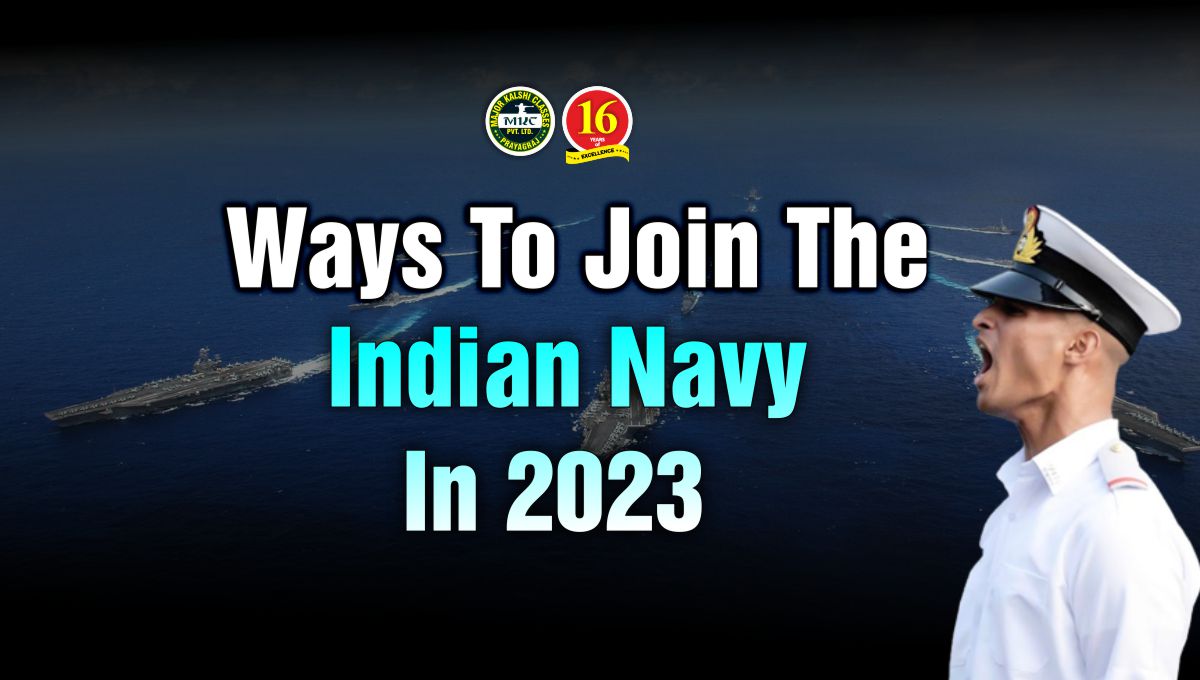 Ways to Join the Indian Navy in 2023
The Indian Navy is one of the most prestigious branches of the Indian Armed Forces, offering exciting career opportunities and a chance to serve the nation with honor and pride. If you aspire to join the Indian Navy in 2023, there are several entry routes and career paths available for you. In this article, we will explore various ways through which you can join the Indian Navy and embark on a rewarding and fulfilling career.
Ways to Join the Indian Navy:-
National Defence Academy (NDA): The National Defence Academy is one of the prominent ways to join the Indian Navy. Candidates can appear for the NDA examination conducted by the Union Public Service Commission (UPSC) after completing their 10+2 education. Successful candidates undergo training at the National Defence Academy and subsequently join the Indian Naval Academy for specialized training.
Naval Academy (10+2 B.Tech Entry): The 10+2 B.Tech Entry is another entry option for candidates who have completed their 10+2 education with Physics, Chemistry, and Mathematics as core subjects. This entry allows candidates to join the Indian Naval Academy and pursue a B.Tech degree in various disciplines such as Mechanical Engineering, Electrical Engineering, and Naval Architecture.
Indian Navy Entrance Test (INET): INET is a dedicated entrance examination conducted by the Indian Navy for the recruitment of officers in various branches, including Executive, Technical, and Education. Candidates with a graduate or postgraduate degree can appear for the INET examination and compete for officer-level positions based on their performance in the written test, physical fitness test, and personal interview.
Short Service Commission (SSC) and Permanent Commission (PC): Candidates can also join the Indian Navy through the Short Service Commission and Permanent Commission options. Under the SSC entry, candidates serve for a predetermined period (typically 10 years) and can choose to extend their service. The PC entry offers a long-term career in the Indian Navy until retirement.
Sports Quota Entry: For candidates who have excelled in sports at the national or international level, the Indian Navy provides special entry through the Sports Quota. Candidates with exceptional sporting achievements can apply for officer-level positions in the Indian Navy under this category.
Special Naval Forces: The Indian Navy also offers opportunities to join special forces such as the Marine Commandos (MARCOS) and the Naval Armament Inspection (NAI) cadre. These forces require candidates to undergo rigorous training and possess specific skill sets.
Joining the Indian Navy in 2023 offers a gateway to an adventurous and rewarding career. Whether you choose to join through the NDA, 10+2 B.Tech Entry, INET, SSC, PC, Sports Quota, or Special Naval Forces, each entry option provides a unique pathway to serve the nation and contribute to maritime security.
It is important to carefully consider your interests, eligibility criteria, and passion for serving in the Indian Navy when selecting your preferred entry route. Prepare diligently, stay updated with the latest notifications, and believe in your abilities to achieve your dream of joining the Indian Navy and upholding the values of courage, integrity, and dedication.
Benefits of joining Navy:-
Joining the Navy offers a range of benefits and advantages, both personal and professional. Here are some key benefits of joining the Navy:
Job Security: The Navy provides a stable and secure career with regular promotions and opportunities for growth. Once you join, you can expect a steady income, comprehensive benefits, and job stability throughout your service.
Pride and Honor: Serving in the Navy is a matter of immense pride and honor. You will have the opportunity to protect and defend your country's maritime interests, contribute to national security, and be part of a noble profession dedicated to serving the nation.
Adventure and Travel: The Navy offers unique opportunities for adventure and travel. As a naval personnel, you may be stationed in different parts of the country or even abroad. You can explore diverse cultures, visit new places, and experience different environments while serving your duties.
Training and Skill Development: Joining the Navy provides access to world-class training and skill development programs. You will receive specialized training in areas such as navigation, weapon systems, engineering, logistics, aviation, and leadership. These skills are not only valuable during your service but can also be beneficial for future career prospects.
Educational Opportunities: The Navy emphasizes education and offers various opportunities for personal and professional development. You can pursue higher education through distance learning programs, participate in military-sponsored courses and workshops, and even receive financial assistance for pursuing advanced degrees.
Healthcare and Insurance: As a naval personnel, you and your family are entitled to comprehensive healthcare benefits. The Navy provides medical and dental care facilities, insurance coverage, and access to specialized medical professionals. This ensures that you and your loved ones are well taken care of in terms of healthcare needs.
Retirement Benefits: The Navy offers attractive retirement benefits and pensions for personnel who complete their service. After serving a specified number of years, you can retire with a pension, allowing you to lead a comfortable life post-retirement.
Comradery and Teamwork: Joining the Navy means becoming part of a close-knit community that fosters a sense of camaraderie and teamwork. You will work closely with fellow naval personnel, develop lifelong friendships, and forge bonds with people who share similar values and dedication.
Skills Transferability: The skills and experiences gained in the Navy are highly transferable to civilian careers. The Navy provides training in various technical, managerial, and leadership skills, making it easier to transition into a civilian job after your service.
Personal Growth and Discipline: Serving in the Navy instills discipline, self-confidence, and personal growth. The Navy's structured environment and rigorous routines help develop qualities such as time management, adaptability, resilience, and leadership skills.