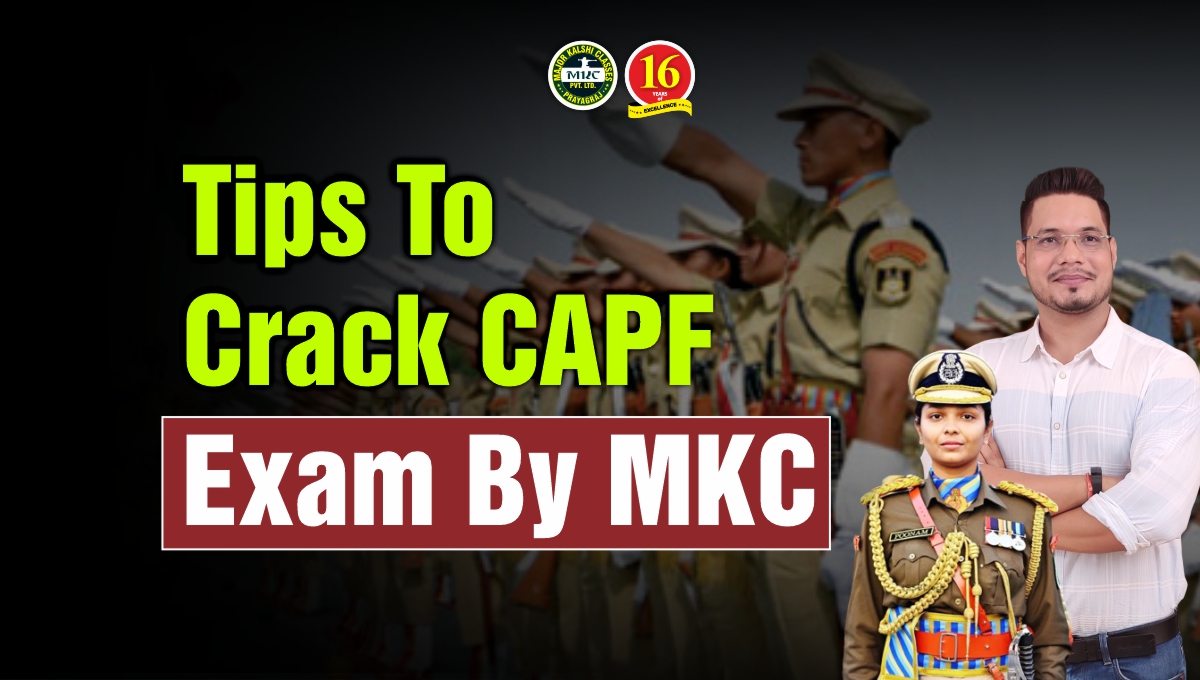 Tips to Crack CAPF Exam by MKC
The Central Armed Police Forces (CAPF) examination is a highly competitive and prestigious exam conducted by the Union Public Service Commission (UPSC) to recruit officers for various paramilitary forces in India. Clearing the CAPF exam requires meticulous preparation, dedication, and a strategic approach. Major Kalshi Classes (MKC), renowned for its expertise in defense exam preparation, offers valuable insights and tips to crack the CAPF exam. In this article, we will highlight some effective tips provided by MKC to help aspirants succeed in this challenging examination.
Exam Pattern of CAPF 2023:-
The CAPF examination consists of two stages: the Written Examination and the Physical Efficiency Test (PET) followed by the Medical Standards Test and Personal Interview.
Written Examination:

Paper-I: General Ability and Intelligence (Objective type questions, 250 marks)
Paper-II: General Studies, Essay, and Comprehension (Descriptive type questions, 200 marks)

Physical Efficiency Test (PET):

Physical Standards Test (PST): Height, Weight, and Chest measurements will be checked as per the specified standards.
Physical Efficiency Test (PET): Includes events like Race, Long Jump, and Shot Put.

Medical Standards Test:

Candidates will undergo a medical examination to ensure they meet the required medical standards as specified by the CAPF.

Personal Interview:

Candidates who qualify the written examination and PET will be called for a Personal Interview. It carries 150 marks.
CAPF Syllabus 2023:
The CAPF examination syllabus covers various subjects and topics. Here is a broad overview of the syllabus:
Paper-I: General Ability and Intelligence

General Mental Ability
General Science
Current Events of National and International Importance
Indian Polity and Economy
History of India
Indian and World Geography

Paper-II: General Studies, Essay, and Comprehension

Essay Writing
Comprehension
Precis Writing
Counter-Argument
Grammar and Language Skills
General Studies including Indian Polity, History, Economy, Science, and Technology
Note: The questions in Paper-II are subjective and require descriptive answers.
Physical Efficiency Test (PET):
The PET consists of events to assess physical fitness. The specific requirements may vary, but common events include:
100-meter Race
800-meter Race
Long Jump
Shot Put (7.26 kg for men, 4 kg for women)
Candidates must meet the specified standards for each event.
Tips to Crack CAPF Exam by MKC:-
Understand the Exam Pattern: Start by thoroughly understanding the CAPF exam pattern. Familiarize yourself with the various stages, including the written examination, physical efficiency test, medical examination, and interview. Understand the weightage of each section and focus your preparation accordingly.
Create a Study Plan: Develop a well-structured study plan that covers all the subjects and topics included in the CAPF syllabus. Allocate specific time slots for each subject, giving more time to areas that require additional attention. A disciplined study routine will help you cover the entire syllabus systematically.
Master General Awareness: General Awareness is a crucial section in the CAPF exam. Stay updated with current affairs, both national and international, by reading newspapers, magazines, and reliable online sources. Make a habit of noting down important events and revising them regularly. MKC recommends practicing mock tests and quizzes to improve your speed and accuracy in this section.
Focus on English Language: English Language is another significant component of the CAPF exam. Enhance your vocabulary by reading newspapers, novels, and English-language publications. Improve your grammar and comprehension skills through practice. MKC emphasizes the importance of solving previous years' question papers to understand the exam pattern and identify commonly asked topics.
Sharpen Your Reasoning and Quantitative Aptitude: The Reasoning and Quantitative Aptitude sections require a logical and analytical approach. Practice solving a variety of questions, including puzzles, series, and numerical problems. Learn shortcuts and time-saving techniques to improve your speed and accuracy. MKC suggests regular practice and taking online mock tests to build confidence in these areas.
Physical Fitness Preparation: Physical efficiency is a vital aspect of the CAPF exam. MKC emphasizes the significance of regular exercise, including cardio, strength training, and endurance-building activities. Dedicate time to practice running, long jump, high jump, and other physical activities specified in the exam. Develop a routine that includes a balanced diet and adequate rest for optimal performance.
Mock Tests and Revision: MKC stresses the importance of regular practice through mock tests and timely revision. Solve mock tests and previous years' question papers to assess your progress and identify areas that require improvement. Analyze your performance, understand your strengths and weaknesses, and work on enhancing your weaker areas. Revision plays a crucial role in reinforcing concepts and boosting confidence.
Seek Guidance and Coaching: Consider enrolling in a reputable coaching institute like MKC that specializes in defense exam preparation. Expert guidance and comprehensive study material can significantly enhance your chances of success. Joining a coaching institute provides structured learning, personalized attention, and access to experienced faculty who can provide valuable insights and strategies.
Engage in Group Discussions: Join study groups or participate in group discussions with fellow CAPF aspirants. Sharing knowledge, discussing concepts, and exchanging ideas can deepen your understanding of different topics and offer fresh perspectives.
Analyze Previous Years' Question Papers: Analyze and identify the patterns, recurring topics, and important areas from previous years' question papers. This will give you insights into the exam's focus areas and help you prioritize your preparation accordingly.
Time Management Techniques: Develop effective time management strategies to optimize your study schedule and allocate sufficient time to each subject and topic. Use techniques like the Pomodoro Technique (working in focused 25-minute intervals with short breaks) to improve productivity and prevent burnout.
After the exam you can download fastest CAPF Answer Key 2023 with all sets at MKC.