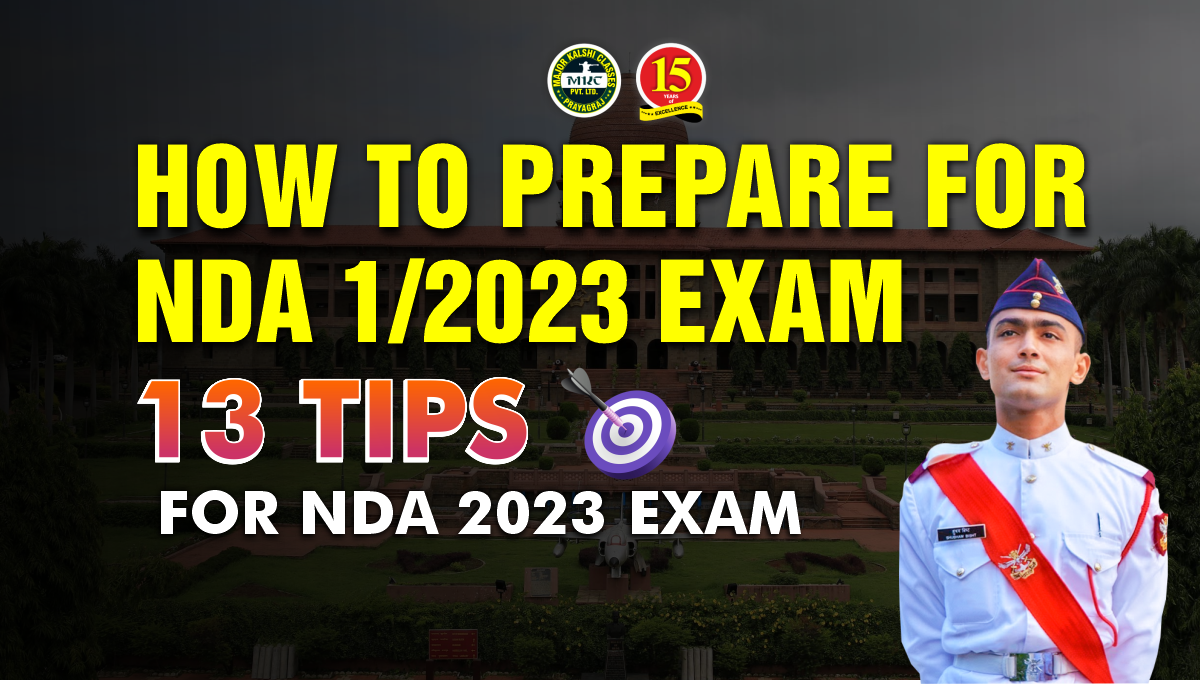 How to Prepare for NDA 1/2023 Exam | 13 Tips for NDA 2023 Exam |
The National Defence Academy (NDA) exam is a highly competitive exam that is conducted twice a year by the Union Public Service Commission (UPSC) to select candidates for admission to the Indian Army, Navy, and Air Force. Here how to Prepare for NDA 1/2023 Exam with 13 Tips for NDA Exam.
Tips for NDA 2023 Exam:-
1. Understand the Exam Pattern: First, familiarize yourself with the NDA exam pattern and syllabus. The NDA exam consists of two papers – Mathematics and General Ability Test (GAT). The Mathematics paper consists of 120 multiple-choice questions, while the GAT paper consists of 150 multiple-choice questions. The GAT paper covers topics such as General Knowledge, English, Physics, Chemistry, History, Geography, and Current Events.
2. Make a Study Plan: After understanding the exam pattern and syllabus, make a study plan that covers all the topics that you need to prepare for the exam. Make a schedule that is realistic and achievable, and allocate sufficient time for each topic.
3. Refer to Study Material: Collect study material from reliable sources such as NCERT textbooks, previous years' question papers, and online resources. Joining coaching classes can also be helpful in understanding the concepts and gaining insights into the exam.
4. Practice Regularly: Practice is crucial for success in the NDA exam. Solve as many previous years' question papers and mock tests as possible to familiarize yourself with the exam pattern and improve your speed and accuracy.
5. Stay Updated: Keep yourself updated with current affairs and developments in different fields. Read newspapers, magazines, and online news portals regularly to stay informed.
6. Stay Healthy: Take care of your health and well-being. Get enough sleep, exercise regularly, and eat a balanced diet to stay mentally and physically fit.
7. Time Management: Manage your time effectively during the exam. Allocate sufficient time for each question and do not spend too much time on any one question.
8. Improve Your English Language Skills: The NDA exam includes an English Language section in the GAT paper, which tests your proficiency in English. To improve your English language skills, read English newspapers, books, and magazines regularly, and practice writing essays, letters, and reports in English.
9. Develop a Strategy: Develop a strategy to approach the exam. For example, you can start with the easier questions and move on to the tougher ones, or you can first attempt the questions that you are confident about and then move on to the ones that require more time and effort.
10. Revise Regularly: Revision is crucial to retain the information that you have learned. Set aside time for regular revision of the topics that you have covered.
11. Focus on Weak Areas: Identify your weak areas and focus on improving them. Spend more time on the topics that you find difficult, and seek help from teachers or mentors if required.
12. Stay Confident: Believe in yourself and stay confident. Stay positive and do not let anxiety or stress affect your performance. Maintain a calm and composed demeanor during the exam.
13. Mock Interviews: If you qualify for the NDA written exam, then you will have to appear for an interview by the Services Selection Board (SSB). Prepare for the interview by participating in mock interviews and practicing your communication and interpersonal skills.
Remember, the NDA exam is a highly competitive exam, and success requires consistent effort and dedication. Stay focused, stay disciplined, and keep working towards your goal. Good luck!
Best NDA Coaching in India
The candidates who are preparing for the National Defence Academy examination must enroll themselves with Major Kalshi Classes – the Best NDA Coaching in India. Join the Coaching Institute so you can get the training and education you need to pass the written exam on your first try. Additionally, self-study and consistent practice are also important factors in achieving success in the NDA exam.
The Major Kalshi Classes, which instruct students in an accessible and efficient manner, are the Best NDA Written Exam Coaching in India. It is well acknowledged that the Major Kalshi Classes offer the best instruction and preparation for the NDA Exam. With our help, getting well-prepared for the exam is simple.