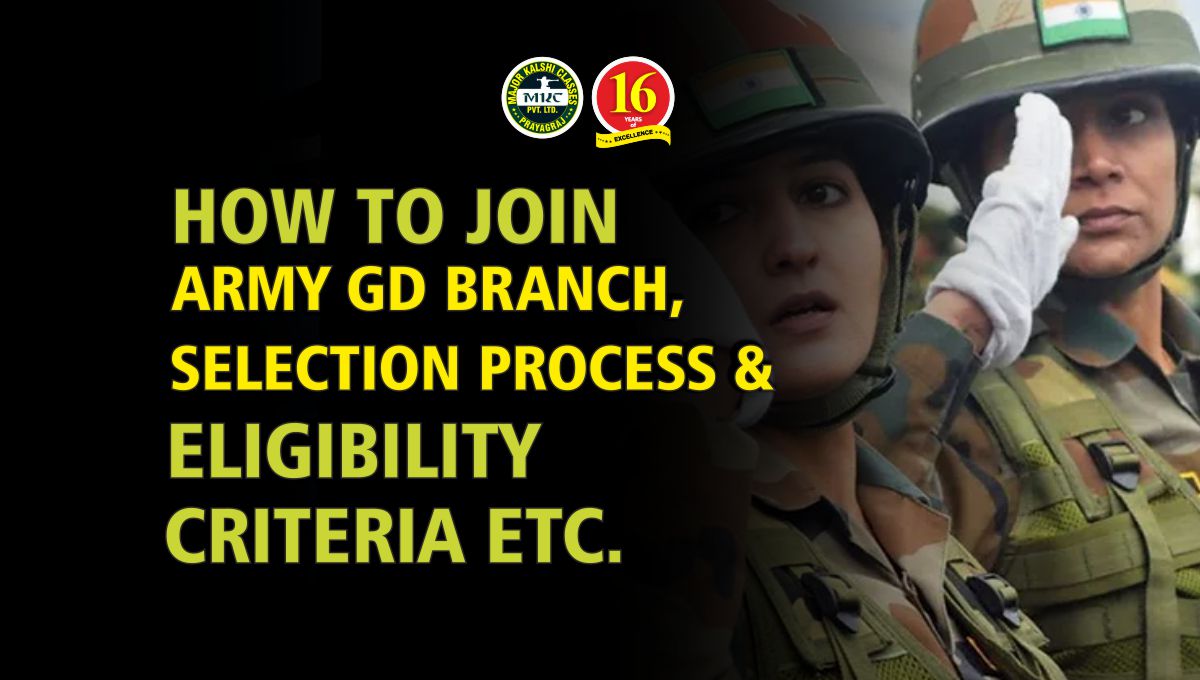 How to Join Army GD Branch, Selection Process & Eligibility Criteria etc
The Indian Army is one of India's most prestigious and respected institutions, and joining the General Duty (GD) branch allows individuals to serve their country with pride. This blog aims to provide you with a comprehensive guide on how to join the Army GD branch, including the selection process, eligibility criteria, job profile, and pay and allowances. Well, there are many other ways to join the Indian Army but here we will focus more on the GD (General Duty) Branch entry.
What is the Indian Army GD Branch?

The Indian Army GD (General Duty) branch refers to the category of soldiers within the Indian Army who serve in various operational roles. These soldiers are responsible for combat operations, security tasks, and disaster relief efforts. They are the backbone of the Indian Army, performing a wide range of duties in diverse environments.
The General Duty soldiers in the Indian Army are trained to be versatile and adaptable to different combat situations. They undergo rigorous training that prepares them for combat operations, security tasks, and other operational roles. The GD branch encompasses soldiers who serve in infantry regiments, mechanized infantry units, and other combat arms units. The primary role of soldiers in the GD branch includes:
Combat Operations
Security Operations
Disaster Relief
Soldiers in the GD branch are known for their dedication, discipline, and courage. They work in teams, following a hierarchical structure, and follow the orders and commands of their superiors. Here are the details about the required criteria that one needs to have to apply to join Army GD Branch.
Read More: How to Prepare for Army Vacancies after 10th
Eligibility Criteria to Join Army GD Branch:
To be eligible for the Indian Army GD branch, Here are the criteria that one needs to have to apply for the vacancy related to the Indian Army Soldier's Entry.
Nationality: Candidates must be Indian citizens.
Age Limit: The age limit for GD soldiers is generally between 17.5 to 21 years. Age relaxation is applicable for specific categories.
Educational Qualifications: Candidates should have completed the 10th or 12th standard from a recognized board. Specific educational requirements may vary, so it is advisable to check the official notifications.
If the candidate has passed class 10th or class 12th and having aged between 17 to 21 years old can apply for the vacancies to join the Army GD Branch. Now let's see the details about the Selection Procedure that one has to clear.
Selection Process:
The selection process for joining the Indian Army GD branch consists of several stages and it is mandatory to clear each stage of selection.
Physical Fitness Test (PFT): The PFT evaluates a candidate's physical fitness through activities like running, push-ups, and pull-ups. The standards vary for different age groups and genders.
Written Examination: Candidates need to clear a written examination that includes subjects such as General Knowledge, Mathematics, and General Science.
Medical Examination: A thorough medical examination is conducted to ensure that candidates meet the physical and medical standards required for military service.
Document Verification: Selected candidates need to produce all the required documents, including educational certificates, identity proof, and other relevant documents, for verification.
The final merit list is prepared based on the candidate's performance in the physical fitness test, written examination and medical examination etc.
Read More: What is the NCC Special Entry Scheme in the Indian Army, Relaxations and Criteria?
Job Profile of Army GD Soldiers:
As a General Duty soldier in the Indian Army, you will be responsible for various tasks that completely depend on the type of training you have received and your overall physical capacity etc. But in general, it includes:
Combat Operations: Participating in combat operations during wartime, including engaging in ground combat, patrolling, and providing support to fellow soldiers.
Security Operations: Assisting in maintaining law and order, guarding installations, and carrying out counter-insurgency operations.
Disaster Relief: Providing assistance during natural disasters, such as floods, earthquakes, and other emergencies.
Training and Development: Constantly updating and improving your skills through regular training sessions to enhance combat readiness.
Salary and Allowances:
The pay and allowances for Indian Army GD soldiers are based on the recommendations of the 7th Central Pay Commission. The salary structure includes basic pay, grade pay, military service pay, and other allowances such as dearness allowance, transport allowance, and field area allowance.
Additionally, soldiers are entitled to various perks, including free rations, medical facilities, accommodation, and leave benefits.
How to apply for Army GD Vacancy?
It is essential to stay updated with the official notifications for the latest vacancies and guidelines issued by the Indian Army for accurate and detailed information regarding the joining process. A career in the Indian Army GD branch is not just a job but a chance to make a meaningful difference in the lives of millions while upholding the values of discipline, courage, and selflessness. Joining the Indian Army GD branch is a noble and challenging career choice that offers an opportunity to serve the nation and uphold its honour.