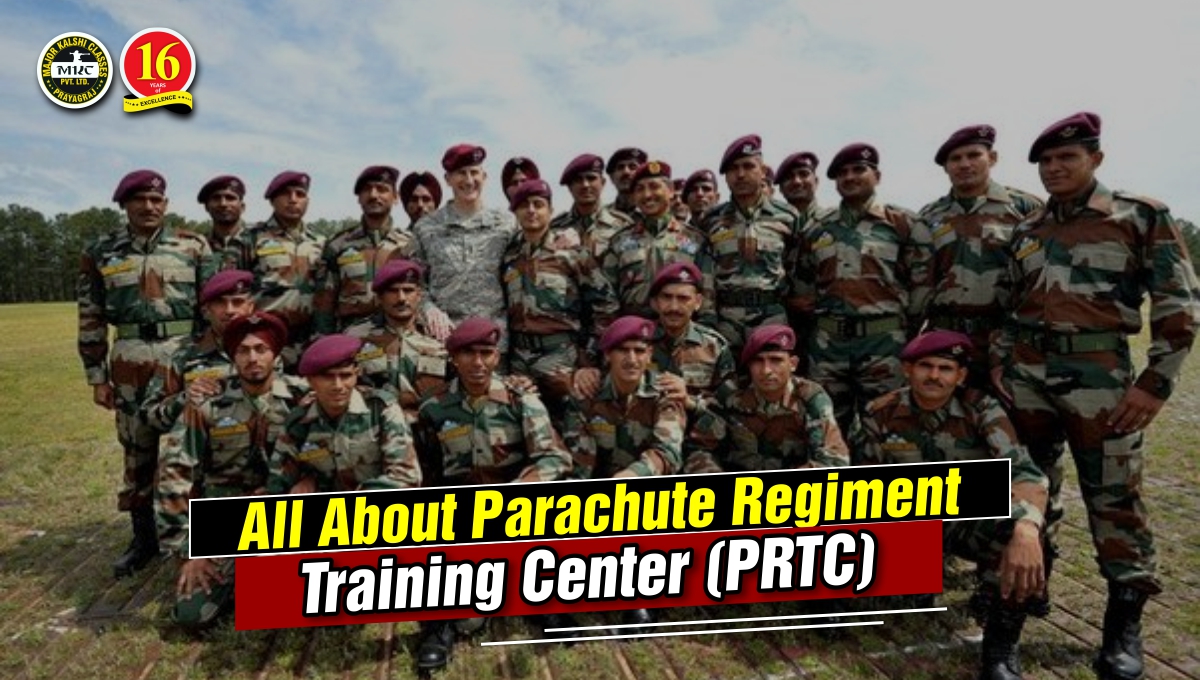 All About Parachute Regiment Training Center (PRTC)
Para Special Forces : The Indian Army is held in high esteem by people in our country, and the respect accorded to its soldiers is unparalleled. However, even among the ranks of the Indian Army, there exists a deep admiration for the elite soldiers of the Parachute Regiment.
The Parachute Regiment is a specialized airborne infantry unit within the Indian Army. Its soldiers are known for their distinct and prestigious uniform, which includes the coveted Para wings badge and a maroon beret. This unique attire not only sets them apart but also signifies their extraordinary capabilities.
The life of a Parachute Regiment soldier is both challenging and enviable. Their training is rigorous, and they are constantly pushed to the limits of physical and mental endurance. These soldiers undergo extensive airborne training, mastering the art of parachute jumps and airborne operations. They are honed to be ready for rapid deployment in any situation, from counter-terrorism missions to covert reconnaissance and unconventional warfare.
The respect and recognition a Parachute Regiment soldier receives are indeed unmatchable. Their commitment to defending the nation from the sky and conducting daring operations earns them a special place in the hearts of their fellow countrymen. They represent the epitome of dedication, courage, and skill within the Indian Army, and their maroon beret and Para wings serve as symbols of their elite status.
In many ways, the soldiers of the Parachute Regiment not only embody the values of the Indian Army but also set an inspiring example of excellence, making them a source of pride and admiration for both their peers and the nation as a whole.
Soldiers of the Para Special Forces battalions earn the prestigious Balidaan badge, featuring an upward-pointing dagger, after their first combat kill. These elite troops are proficient in executing parachute jumps behind enemy lines, allowing them to disrupt vital supply routes and gain a strategic advantage in warfare. Their versatile skill set includes tasks like reconnaissance, sabotage, and surgical strikes deep within enemy territory.
The Parachute Regiment comprises nine Special Forces battalions, five airborne battalions, two Territorial Army battalions, and one Rashtriya Rifles Battalion, collectively forming a formidable and multi-talented force within the Indian Army.
Parachute Regiment Training Center
Recruits of the Parachute Regiment undergo their initial training at the Parachute Regimental Training Center in Bengaluru.
This foundational training program is characterized by demanding physical workouts and intensive drills. It's worth noting that approximately 35-45 percent of recruits do not successfully complete the basic course due to its rigorous nature.
A day in the life of a Para recruit begins at 4 AM, with a mandate to reach the drill ground by 5:30 AM. After an initial half-hour of warming up, trainees engage in exercises designed to strengthen their upper body, arms, lower body, and abdomen. These physical training routines aim to prepare them for operations in diverse terrains, including mountains and deserts.
Also Read : What Is PARA SF And How To Join PARA Special Force
In addition to exercises like rope climbing and crocodile walks, the training regimen covers a wide range of physical activities. These activities play a crucial role in the recruits' overall physical fitness and readiness for demanding operations.
Beyond physical training, the recruits receive instruction in areas such as personality development, weapon handling, and map reading. These components of training are essential in shaping them into well-rounded and proficient soldiers of the Parachute Regiment.
Being a Paratrooper leaves no room for fear. Recruits undergo extensive training to bolster their confidence, overcome the fear of combat, and develop mental and physical agility. As part of this training, recruits engage in what is known as a "confidence walk." This challenging exercise involves walking on high beams while maintaining a forward gaze with full swings of their arms. It's a demanding exercise that aids in building their self-assurance and conquering any apprehensions they may have.
A Para soldier is considered a self-sufficient weapon system, even in the absence of conventional equipment. Rigorous training in unarmed combat and martial arts is an essential component of their preparation. This training ensures that they can accomplish their mission and neutralize the enemy, even when they've exhausted their ammunition or when stealth is crucial.
Following the completion of their basic training, recruits are then dispatched to the Paratrooper Training School in Agra, where they undergo specialized training in parachute jumping. This training equips them with the necessary skills to perform airborne operations, a hallmark of the Parachute Regiment's capabilities.
History :
During the early days following the establishment of the regiment in 1952, the Parachute Regiment Training Wing was formed in Kota, operating under the Brigade of the Guards training center. In 1963, the Parachute Regiment Training Center was established at Agra Fort, with the primary focus on recruiting and providing specialized training to prepare individuals for service in the Parachute Regiment.
In 1992, a significant move took place when the regiment's training center was relocated to Bengaluru, marking a new phase in the history of the Parachute Regiment and its training programs.