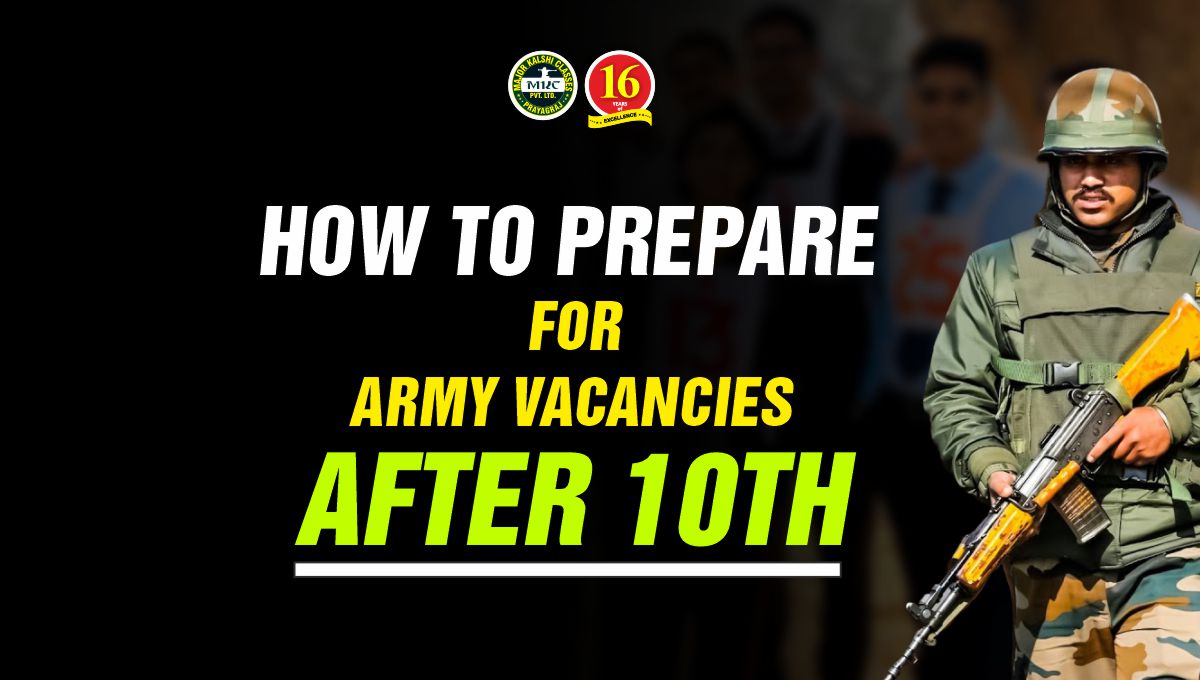 How to prepare for Army Vacancies after 10th
There are tons of coaching institutes for Indian Army vacancy preparation. Everybody claims to be the best as well. If you have plans to join the Indian Army and prepare for Army Vacancies after the 10th. You need to join the Best Coaching which is grounded and offers you the best preparation, guidance and whatever it takes to make you successful.
Major Kalshi Classes is a leading coaching institute known for its excellent guidance and training for defence-related exams. With a strong track record of success and a team of experienced faculty members, MKC has helped numerous aspirants achieve their goals of joining the Indian Army. Our comprehensive approach and personalized guidance make them a popular choice among defence aspirants.
How to prepare for Army Vacancies after the 10th:
Before beginning your preparation, it is crucial to familiarize yourself with the eligibility criteria set by the Indian Army. The basic requirements for joining the Indian Army after the 10th include age limits, educational qualifications, and physical fitness standards.
Ensure that you meet the necessary criteria and understand the specific requirements for the role you are interested in pursuing. Here are some basic steps to follow up:
Understand the Eligibility Criteria
Make yourself Mentally able for the preparation
Look for the right mentor like the Major Kalshi Classes.
Start your preparation with the basics
Once you become used to preparing and prepared for your mental health, jump into hard-core preparation and give your 120% to be successful.
Read More: Best Military Lifestyle Changes to Make to be more successful in Life
How Major Kalshi Classes support their candidates for preparation:
You can start to prepare for Army vacancies after the 10th from home as well. But the competition is too much in this field. preparation from home will not make you able to clear the selection stages. Join the Major Kalshi Classes and get the best possible preparation and be able to clear the selection stages:
Comprehensive Physical Fitness Training:
Physical fitness is of paramount importance when it comes to joining the Indian Army. Major Kalshi Classes recognizes this and offers a specialized physical fitness training program.
Under the guidance of experienced instructors, you will engage in rigorous workouts, endurance training, and drills that are designed to improve your stamina, strength, and overall fitness levels.
The physical fitness training program at Major Kalshi Classes will help you meet the demanding physical standards required for the Indian Army.
Personalized Guidance:
Major Kalshi Classes provide personalized guidance to each student, recognizing that individual strengths and weaknesses vary.
Their expert faculty members will assess your aptitude, knowledge, and physical fitness levels, and create a customized study plan to help you achieve optimal results.
The personalized guidance ensures that you receive focused attention and support to excel in your preparation for the Indian Army exams.
Read More: Job Opportunities in defence after 10th
Written Exam Preparation:
Preparing for the written exams is a crucial part of your journey towards joining the Indian Army. Major Kalshi Classes offers comprehensive coaching for the written exams, covering all subjects and topics included in the syllabus.
Their experienced faculty members provide in-depth explanations, shortcuts, and tips to help you grasp concepts effectively.
With regular classroom sessions, mock tests, and doubt-solving sessions, Major Kalshi Classes ensure that you are well-prepared and confident when facing written exams.
Personality Development and Interview Guidance:
Joining the Indian Army requires more than just academic knowledge; it demands a well-rounded personality. Major Kalshi Classes understands this and provides personality development classes and interview guidance.
These classes focus on enhancing your communication skills, boosting your confidence, and improving your overall personality.
The interview guidance sessions prepare you for the personal interview round, ensuring that you can effectively communicate your passion for serving in the Indian Army.
Why Major Kalshi Classes:
If you plan to prepare for Army vacancies after the 10th. Remember, It requires dedication, discipline, and the right guidance. Major Kalshi Classes offers a comprehensive training program that includes physical fitness training, personalized guidance, written exam preparation, mock tests, personality development classes, and current affairs support.
We stand for the Best Coaching for Army GD in India. By joining Major Kalshi Classes, you will receive expert guidance, access to quality study materials, and a supportive learning environment that will enhance your chances of success.