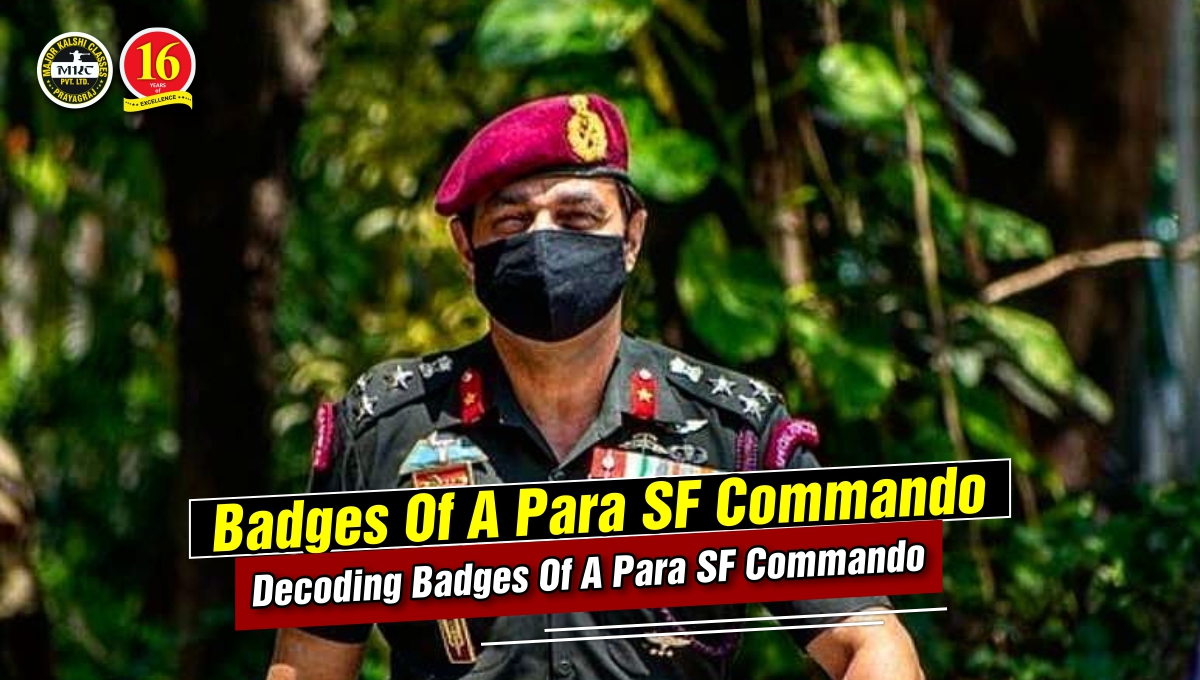 Badges of a Para SF Commando | Decoding Badges of a Para SF Commando
Para SF Commando Badges : The Para Commandos, officially known as Para (SF), are a formidable special forces unit within the Indian Army's Parachute Regiment. They are entrusted with a wide range of challenging and critical missions, including special operations, direct action, hostage rescue, counter-terrorism, unconventional warfare, special reconnaissance, foreign internal defense and security, counter-proliferation, counter-insurgency, seek and destroy, and personnel recovery.
Para Commandos are highly skilled and dedicated soldiers, earning various badges and honors for their exceptional service to the nation. Their motto, "Men Apart, Every Man an Emperor," reflects their commitment to excellence and their role in safeguarding the security and interests of India.
The Indian Parachute Regiment is widely regarded as one of the most prestigious regiments globally. It holds a special place in the aspirations of Indian defense enthusiasts and active military personnel who dream of becoming a part of this elite unit and proudly donning the iconic maroon beret. However, earning the coveted title of "Airborne Soldier" is no simple feat.
The Indian Parachute Regiment boasts the largest share of India's Special Forces and is commonly referred to as the Indian Para Special Forces. This distinguished regiment represents the epitome of valor and skill within the Indian armed forces, attracting those who are willing to go above and beyond in their commitment to serving their nation.
ALSO READ – Reasons Why Women Can't Join Special Forces In India
Let's Talk about the Badges earned by PARA SF Commandos :-
BALIDAAN BADGE : Among the special forces units that are integral to the Parachute Regiment, there exists a unique and revered insignia known as "Balidaan." This insignia features a commando dagger pointed downward, with wings extending upwards from the blade, and a scroll superimposed on the blade with the word "Balidaan" inscribed in Devanagari script. The entire design is rendered in silver metal and displayed on an upright red plastic rectangle. It is important to note that only the Para Commandos are granted the privilege to wear the prestigious Balidaan Badge. This badge is a symbol of their exceptional dedication, skills, and unwavering commitment to their role in the Indian military.
SHOULDER TITLE : Special forces personnel also proudly display a maroon curved shoulder title bearing the embroidered inscription "SPECIAL FORCES" in light blue. This distinctive shoulder title succeeded the "COMMANDO" tab in 2006, which had been in use since the unit's inception.
PARA WINGS : A single airborne brevet is retained, featuring an open white parachute with light blue wings extended from it. This emblem is set against a gray-green drab background. Variants of this brevet have been created for ceremonial and mess uniforms, including one with gold-wired wings on maroon flannel and another with the same design on a scarlet background for the Para Brigade Group (PBG) on their ceremonial tunics. Historically, this emblem was worn on the upper right sleeve, but since 1975, it has been positioned above the right chest pocket alongside the name tag.
REGIMENTAL BADGE : The regimental badge for the Parachute Regiment features an open parachute, partly concealed behind a circular design. At the top of the circle, the word "PARACHUTE" is inscribed, and at the bottom, there is a scroll bearing the word "REGIMENT." Wings extend outward from the circle, and a dagger is superimposed on the parachute and the upper section of the circle. The entire badge is crafted from silver metal, symbolizing the regiment's distinction and honor.
HEADGEAR : Similar to many parachute forces worldwide, the standard headgear for personnel in the Parachute Regiment is the maroon beret. It's worth noting that Sikh personnel have the option of wearing a maroon turban. The maroon beret is widely recognized and celebrated, often referred to as the famous Maroon beret.
JUMP INDICATOR WINGS : In the Parachute Regiment, a small enameled version of the badge is traditionally worn on the left pocket as Jump Indicator Wings. This badge features a white parachute with wings in various colors: blue, yellow, or red. The colors correspond to the number of descents an individual has made, with blue indicating 25 jumps, yellow for 50 jumps, and red for 100 jumps. More recently, this small enameled badge has been replaced by a brass badge. The new badge features stars at the bottom of the parachute, where one star represents 25 jumps, two stars denote 50 jumps, and three stars signify an impressive 100 jumps.
DIVING BADGE : Some of the trainees within the Parachute Regiment undergo specialized training in various modes of infiltration and exfiltration. This includes air-based techniques such as combat freefall and sea-based methods like combat diving. Those who choose to pursue combat diving training earn the Diving badge. The Diving badge is a testament to a soldier's readiness to undertake missions both on land and at sea. It signifies a versatile skill set that is vital for special operations. Diving badges are a common feature in Special Forces units, as they typically have a diving component integrated into the training curriculum of every squadron or company.
COMMENDATION CARD : All three branches of the military have established a system for granting Commendation Cards. These cards are awarded to individuals in recognition of their "individual acts of gallantry or distinguished service or devotion to duty." These acts may occur in operational or non-operational areas and, while significant, might not reach the level required for a higher gallantry award or may be deemed inappropriate for such an award. These commendation cards are granted for specific instances of bravery, distinguished service, or exceptional contributions. It's important to note that these awards are not given posthumously, meaning they are only bestowed on living recipients. At the highest officer level, the cards are issued by the respective heads of the military branches: the Chief of the Army Staff, Chief of the Naval Staff, and Chief of the Air Staff. The criteria for and the issuance of these cards at lower levels may differ among the services.
COMBAT FREE FALLING BADGE : To successfully complete the free-fall course, participants are required to complete a minimum of 50 jumps from altitudes that can reach as high as 33,500 feet. During this training, individuals are instructed in both HALO (High Altitude Low Opening) and HAHO (High Altitude High Opening) techniques. In addition to the standard parachute badge, individuals who have completed freefall training wear a distinctive gold badge. This gold badge signifies their specialized expertise and competence in freefall operations, highlighting their ability to execute high-altitude jumps with precision and skill.
TIGER HILL BADGE : This badge is awarded to the Para Commandos who played a pivotal role in capturing Tiger Hill during the 1999 Kargil war.
CHAKRATA BADGE : This is a rare badge that is worn over the ribbons and resembles a winged square featuring a dagger enclosed within a lightning design. This badge symbolizes service with the Special Frontier Force, which is stationed in Chakrata, following the 1962 Sino-Indian war.
MEDALS & GALLANTRY AWARDS : In addition to all of these badges, there are also medals that are worn on the left side pocket.
NAME PLATE : The name plate fetches the name of the Para commando.
US PARACHUTE BADGE : The Parachutist Badge, often known as "Jump Wings," is a military badge awarded in the United States Armed Forces. It is earned by PARA SF soldiers who successfully complete their training in the United States.
NSG BADGE : This badge is also earned by PARA SF soldiers who have served in the NSG (National Security Guard).
UNIT'S INSIGNIA : This badge indicates the regiment to which the Para Commando belongs. It is worn on the right side, just below the nameplate.
OTHER BADGES : Para Commandos can earn various other badges upon the completion of specialized courses, such as those for completing an ATGM (Anti-Tank Guided Missile) course or badges awarded when posted to certain training institutes. Additionally, they may receive badges in recognition of their service during significant wars and conflicts.