DRDO conducted a Successful Flight of SMART
The DRDO (Defense Research and Development Organization) has launched a new missile and named it SMART (Supersonic Missile Assisted Release of Torpedo). Here in this article, we will see the complete details of this news and will also get to know the details about the Missiles, etc. To get complete details about the DRDO conducted a Successful Flight of SMART. check-in the article below:
Defence Minister launches DISC (Defence India startup challenge)
DRDO conducted a Successful Flight of SMART:
The Defence Research and Development Organisation (DRDO) has flight-tested SMART, Supersonic Missile Assisted Release of Torpedo. The successful flight test was conducted at 11.45 hours from The Supersonic Missile Assisted Release of Torpedo (SMART) was tested at 1145 hours from the APJ Abdul Kalam Island, earlier known as Wheeler Island, off the Odisha coast. It met all the objectives "flawlessly". The chairman of DRDO, Dr. G Satheesh Reddy, described SMART as a 'game-changer' technology demonstration in anti-submarine warfare.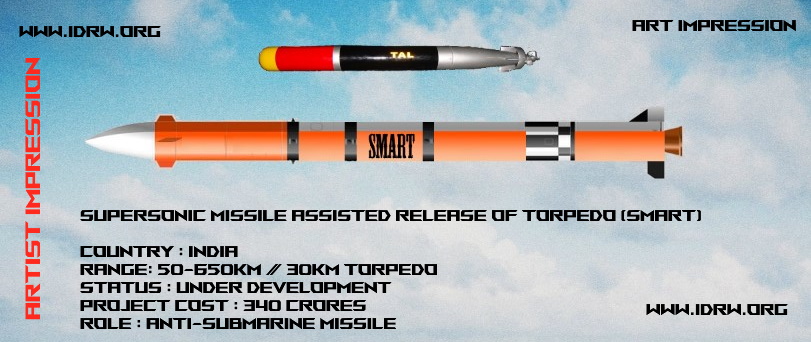 Defense Ministry clears military purchases worth Rs. 2,920 crore, rifles from the USA
The Defence Minister said in the Statement that This will be a major technology breakthrough for stand-off capability in anti-submarine warfare. I congratulate DRDO and other stakeholders for this significant achievement. This SMART is for anti-submarine warfare operations "far beyond the torpedo range".
Pentagon has approved a $90 million sales of spares for India's Super Hercules Fleet.
As per the statement of DRDO, This launch and demonstration of SMART are significant in establishing anti-submarine warfare capabilities. SMART is a missile assisted release of lightweight Anti-Submarine Torpedo System for anti-submarine warfare (ASW) operations for far beyond torpedo range. This launch and demonstration are significant in establishing ASW capabilities. A number of DRDO laboratories, including DRDL, RCI Hyderabad, ADRDE Agra, NSTL Visakhapatnam, have developed the technologies required for SMART.
The events of today were monitored by the tracking stations (Radars, Electro-Optical Systems) along the coast and the telemetry stations including down range ships.
PM Modi to inaugurate Strategic Atal Tunnel
Defense Minister to inaugurate construction of two tunnels at IMA Dehradun
All mission objectives, including missile flight up to the range and altitude, separation of the nose cone, the release of the Torpedo, and deployment of Velocity Reduction Mechanism (VRM), were met perfectly in the flight test. Earlier, this month DRDO had successfully tested Laser-Guided Anti Tank Guided Missile. The test was conducted from MBT Arjun at KK Ranges (ACC&S) Ahmednagar in continuation with the successful trials done on September 22.
What is hybrid Warfare in terms of China India Recent Clash
What is Indian China Border Conflict?
You can Avail our Service:-
For purchasing any books for defense examination- Click Here
For Joining Test Series- Click Here
Visit our YouTube Channel For Free Education:- Click Here
This is all about the DRDO conducted a Successful Flight of SMART. If you guys want to serve for the nation and wanted to clear the Defence examination, can join Major Kalshi Classes, Here we have experienced faculty for all the subjects. For more inquiries, you can call us at 9696220022 and 9696330033 or go to our official website www.majorkalshiclasses.com. Thank you.