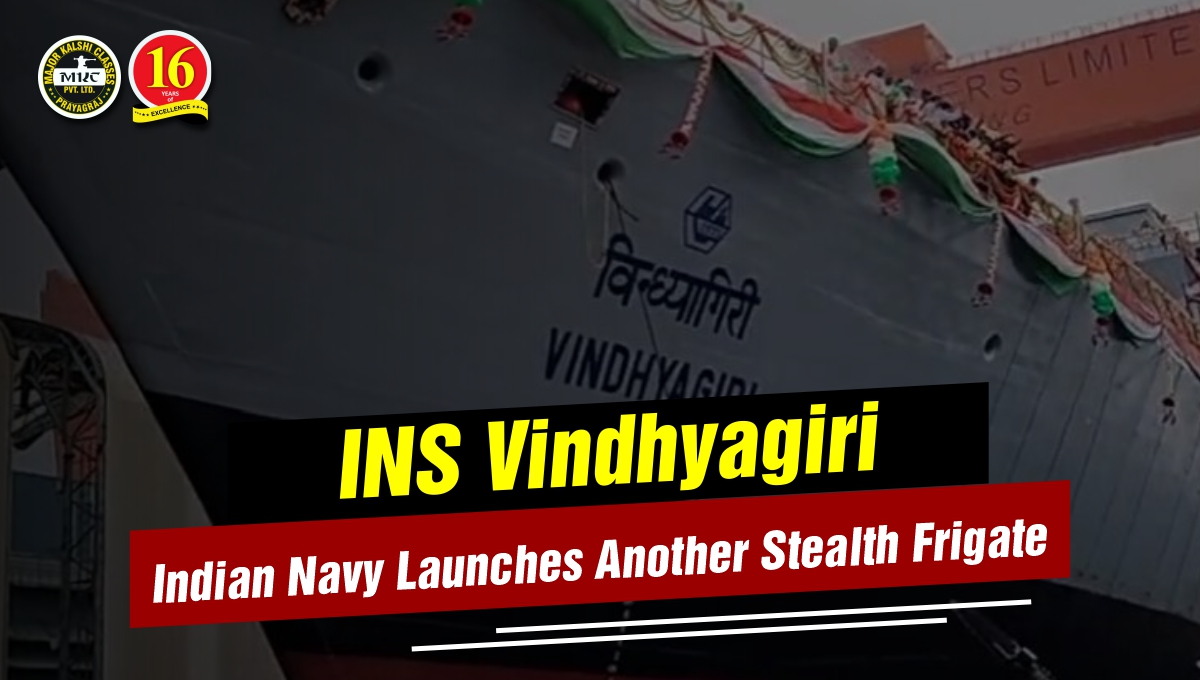 INS Vindhyagiri : Advanced Stealth Frigate Launched by Indian Navy [ Sixth of Project 17A]
The Indian Navy Unveils State-of-the-Art Stealth Frigate INS Vindhyagiri [Sixth Vessel in Project 17A].
In a momentous event, the Hon'ble President of India, Smt Droupadi Murmu, inaugurated INS Vindhyagiri, the sixth Stealth Frigate of Project 17A, which is currently under construction at GRSE. The atmosphere was electric with elation as INS Vindhyagiri gracefully descended into the waters of the Hoogly River.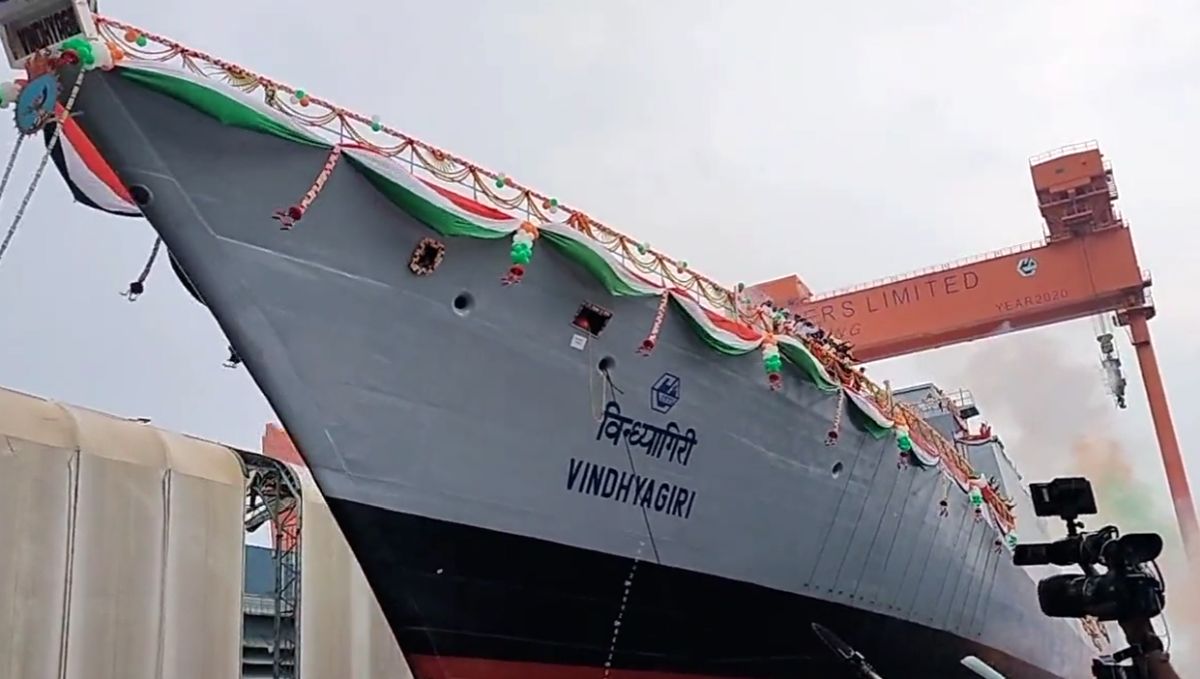 In a significant development, the Indian Navy has proudly introduced the cutting-edge stealth frigate INS Vindhyagiri, marking a major milestone as the sixth vessel within the distinguished Project 17A. This momentous occasion was graced by the presence of the esteemed President of India, Smt Droupadi Murmu, who officially launched INS Vindhyagiri amidst an atmosphere of excitement and pride. The vessel's graceful descent into the Hoogly River was met with a surge of exhilaration from the assembled audience.
The introduction of INS Vindhyagiri is a testament to India's steadfast commitment to naval advancement and technological innovation. As a state-of-the-art stealth frigate, INS Vindhyagiri is equipped with the latest advancements in naval engineering, rendering it a formidable asset for the Indian Navy's fleet. This remarkable vessel embodies a seamless fusion of cutting-edge technology, strategic prowess, and maritime excellence.
Launching ceremony of INS Vindhyagiri :
The unveiling of the warship was met with enthusiastic applause and heartfelt praise from a diverse assembly of attendees. Among those who expressed their admiration were Shri CV Ananda Bose, the esteemed Governor of West Bengal, Ms Mamata Banerjee, the Chief Minister of West Bengal, and Shri Ajay Bhatt. These distinguished individuals joined a gathering of notable figures, including Raksha Rajya Mantri, Admiral R Hari Kumar, Chief of Naval Staff, and several high-ranking officers representing both the Indian Navy and the Ministry of Defence.
The launch ceremony of this impressive vessel showcased a united front of support and recognition for the remarkable efforts invested in its construction. Dignitaries, naval officers, accomplished shipbuilders, and eager spectators came together to acknowledge the exceptional teamwork and dedication that brought the warship to fruition.
The resonating applause that filled the air served as a tribute to the collaborative spirit and unwavering commitment of all those involved in this monumental undertaking. As the warship, christened INS Vindhyagiri, embarked on its maiden journey into the Hoogly River, the resounding cheers echoed the pride and optimism shared by everyone present.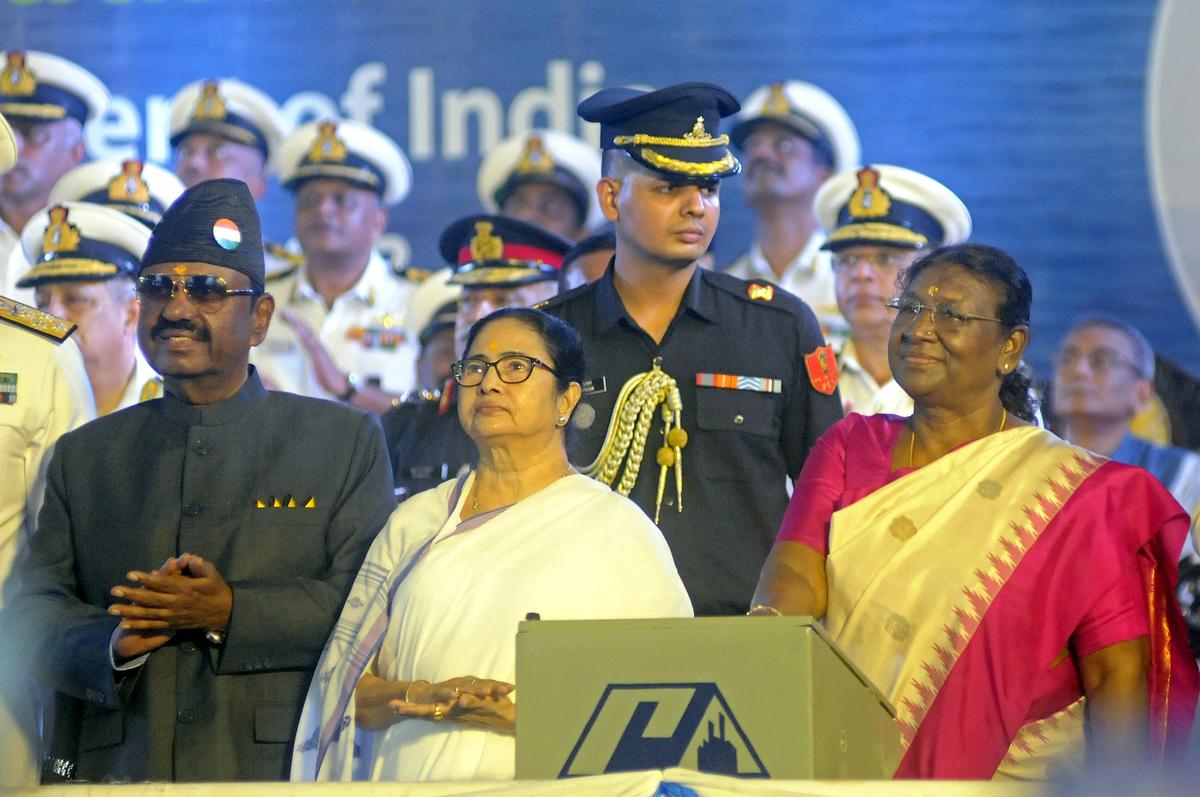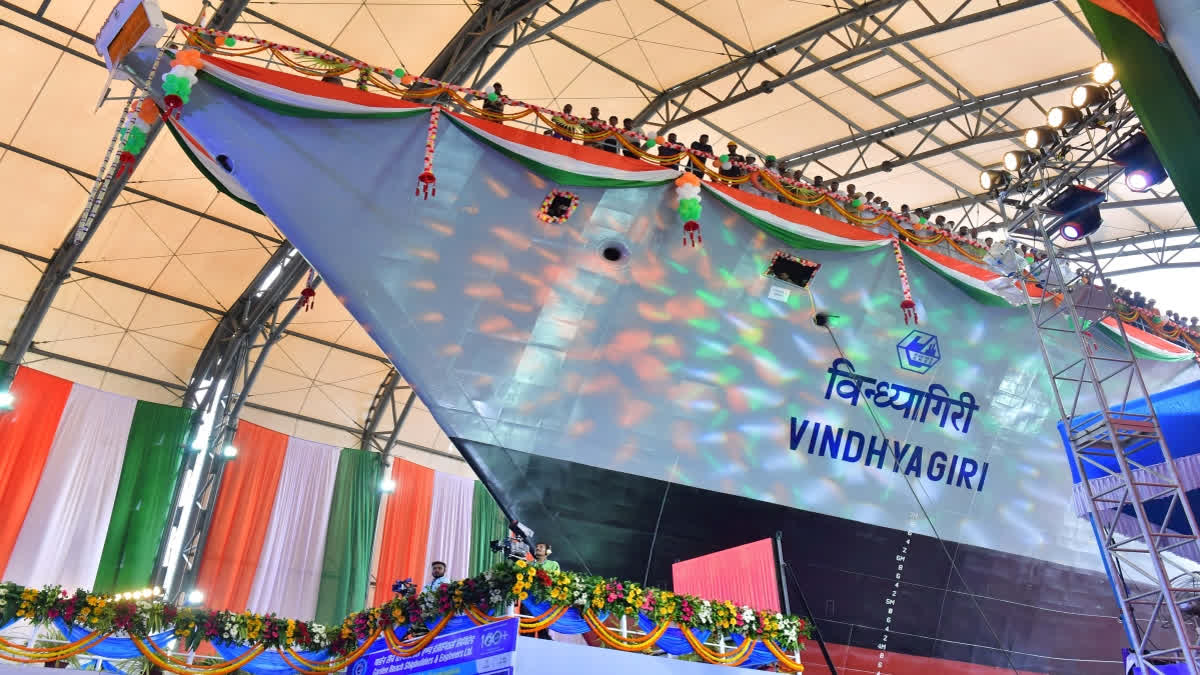 INS Vindhyagiri : Project 17A
The Project 17A initiative stands as a beacon of indigenous shipbuilding prowess, underscoring India's capability to design and construct advanced naval vessels. INS Vindhyagiri, as the latest addition to this prestigious project, exemplifies the nation's dedication to bolstering its maritime capabilities and safeguarding its territorial waters.
Read Here : Deadliest Submarines, Ships And Aircrafts Of The Indian Navy
The Project 17A Frigates represent a remarkable leap forward from their predecessors, the Project 17 (Shivalik Class) Frigates. These next-generation vessels boast superior stealth capabilities, enhanced weaponry and sensor systems, as well as state-of-the-art platform management technologies. The collaborative efforts of Mazagon Dock Shipbuilders Limited (MDL) and Garden Reach Shipbuilders and Engineers (GRSE) have culminated in the ongoing construction of seven Project 17A Frigates, each progressing through various stages of development.
The recent launch stands as a powerful testament to the growth of India's indigenous expertise and engineering capabilities. By bolstering these strengths, the nation's reliance on foreign suppliers is significantly reduced, fostering self-sufficiency and nurturing a robust military-industrial foundation. A remarkable achievement in this trajectory is the allocation of over 75% of Project 17A orders to indigenous enterprises, including Micro, Small, and Medium Enterprises (MSMEs), aligning seamlessly with the Government's vision of 'Aatma Nirbhar Bharat' (Self-Reliant India).
During the momentous occasion, the Hon'ble President of India conveyed her profound delight and extended heartfelt gratitude to the accomplished teams of the Warship Design Bureau and other Naval units. Their collective efforts have brought the nation closer to its objective of achieving self-reliance in warship development. Furthermore, she lauded the dedication and unwavering support demonstrated by Garden Reach Shipbuilders and Engineers (GRSE), emphasizing its pivotal role in the steadfast advancement of warship production.
Advanced Stealth Frigate : INS Vindhyagiri
INS Vindhyagiri, an esteemed member of the Indian Navy's Nilgiri-class frigates, was a vessel of remarkable significance. Her maiden voyage took place on July 8, 1981, marking the inception of a distinguished service tenure that spanned almost three decades. However, a somber chapter unfolded on January 30, 2011, when a collision with a German merchant vessel led to her sinking, concluding a noteworthy era of service.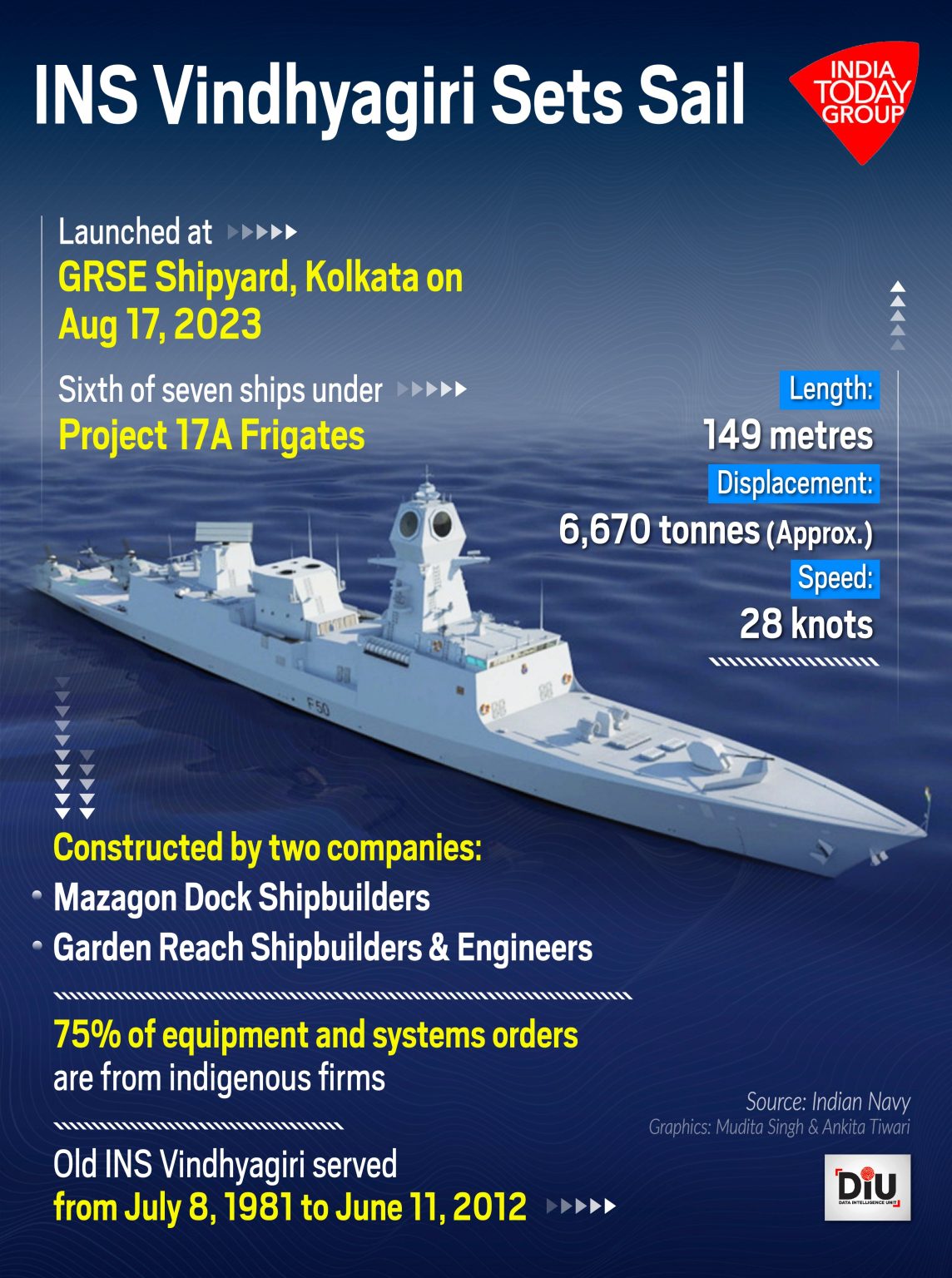 Despite valiant efforts to salvage the vessel, INS Vindhyagiri faced her decommissioning on June 11, 2012— a year prior to her anticipated retirement date. Her service legacy spanned an impressive 31 years, a period during which she even held the esteemed position of flagship for the Western Naval Command.
The Indian Navy, ever forward-looking, now heralds a fresh beginning by christening a new frigate with the same cherished name: INS Vindhyagiri of Project 17A. This renewal pays homage to the legacy of the past while embarking on a path of innovation and progress. The launch of this new vessel reflects the Navy's commitment to upholding its tradition of excellence and embracing the future with unwavering resolve.
Join Major kalshi Classes for Best SSB Interview Preparation :-
Embarking on the path to become an officer in the esteemed Indian Armed Forces through the SSB Interview requires focused preparation and guidance. Our SSB interview live classes offer you an invaluable opportunity to enhance your skills and knowledge, positioning you for success in this crucial phase of your journey. To further empower your preparation, we highly recommend enrolling in our comprehensive SSB INTERVIEW ONLINE COURSE. This course has earned the trust of numerous defense aspirants who have benefited from its insights and expertise.
By choosing our live classes and enrolling in the online course, you gain access to a wealth of resources tailored to SSB interview success. Our proven methods and dedicated instructors are here to support you in honing your abilities, boosting your confidence, and ultimately realizing your aspiration of serving as an officer in the Indian Armed Forces. Join Major kalshi Classes – Best SSB Interview Coaching in India .