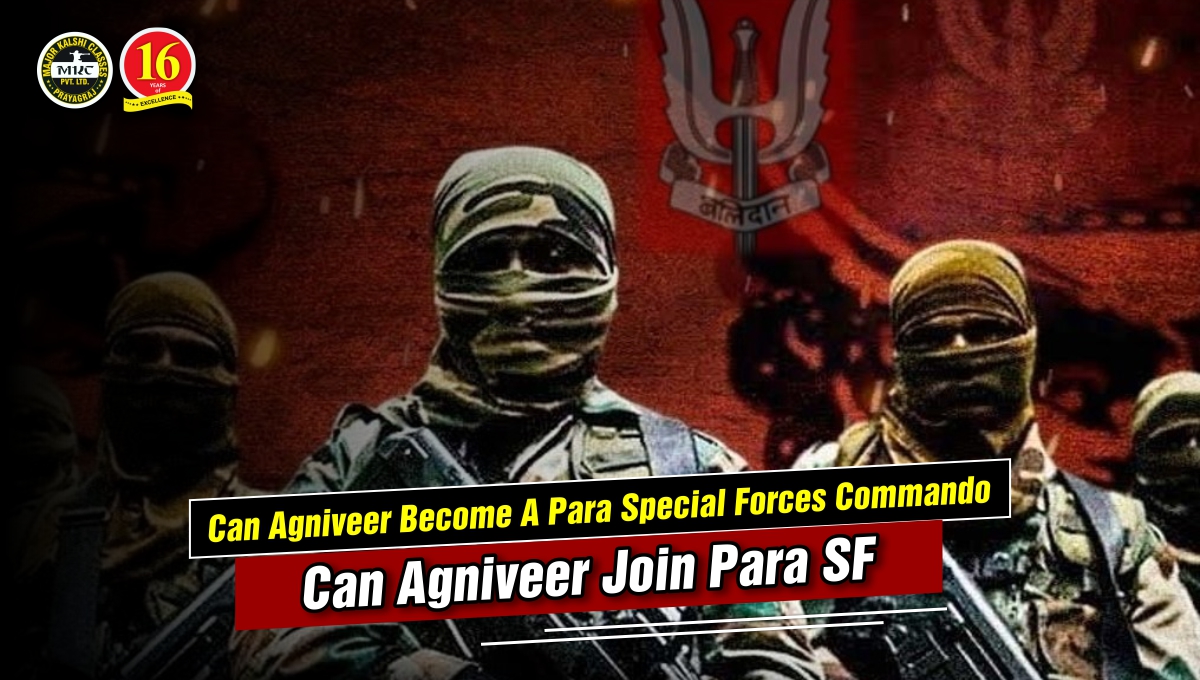 Can Agniveer Become a Para Special Forces Commando | Can Agniveer Join Para SF
Can Agniveer Join Para SF : The Indian Army has released the comprehensive Agnipath Recruitment Scheme Notification 2022 on their official website. Those who aspire to join the Indian Army as an Agniveer for a four-year term can start applying for this program from July 2022 onwards. Major kalshi Classes has already provided detailed coverage of this scheme. In this article, we will focus on the Agnipath scheme and how Agniveers can become part of the parachute regiment or Para Special Forces unit to become Para SF commandos.
Can Agniveer Join Indian Army Parachute Regiment ?
Many candidates have been inquiring whether they can opt for the PARA SF or Parachute regiments after joining the army through the Agnipath Scheme. However, there is no clear indication that one can select a specific regiment through the Agnipath Entry. As per the official notification, "Agniveers can be posted to any regiment/unit and can be further transferred in organizational interest." It is highly unlikely that Agniveers will be directly posted to Parachute regiments or undergo Para SF probation during the 4-year tenure. Nevertheless, there may be a possibility for 25% of permanent Agniveers to apply for the Parachute Regiment.
Also Read – How To Become Para SF Commando In Indian Army
Selection Process for Recruitment into PARA Regiment
Let's begin by discussing the complete recruitment process for the PARA Commando unit, which is currently in practice. Please note that there is no clarity regarding whether the same process will be followed under the Agnipath Scheme.
To recruit motivated and volunteer soldiers into the PARA Regt, the following process is currently in effect:
Successful and eligible candidates, specifically those who achieve 100% marks in Physical Fitness tests and 50% marks in Written tests and are in merit, will be given the option to join the ELITE PARA Regt by AROs (Army Recruiting Offices) just before their deployment.
These volunteer candidates will undergo additional tests to determine their suitability for the PARA Regt.
Candidates who have chosen to join the PARA Regt will have the assurance of returning to their originally allotted Parent Regt if they do not qualify in the special screening tests for the PARA Regiment.
Volunteers will undergo the following special tests:
Test
Std (Candidates have to achieve these Stds to qualify)
PHYSICAL TEST
5 Km Run
20 Mins.
Chin Up
14
Push Up
40 Reps in 1 Min.
Sit Up
80 Reps in 2 Min.
Mtr Shuttle
17 Times in 01 Min.
Selected candidates will be sent to the Parachute Regiment Training Center (PRTC). If these candidates do not meet the necessary training standards at PRTC, they will be transferred to their parent regiment for further training. The tests mentioned above will be administered by the Board of Officers at the PRTC located at the Army Recruiting Office (ARO) location/station. Please note that these are general guidelines and may be further refined as the process unfolds.
Also Read : Difference Between PARA & PARA (SF)
Hope it is clear if one can join the Parachute Regiment during 4-year tenure as an Agniveer through Agnipath entry.
Agniveer Enrolment
Candidates selected under the Agnipath Scheme will be enrolled under the Army Act, 1950 for a service duration of four (04) years, which includes the training period.
These Agniveers will be subject to the Army Act, 1950, and they will be liable to go wherever ordered, whether it's by land, sea, or air.
It's important to note that Agniveers enrolled under this scheme will not be eligible for any kind of Pension or Gratuity.
Agniveer Service
The service of Agniveers will commence from the date of their enrolment. Agniveers will have a distinct rank in the Indian Army, different from any existing ranks.
Leave, Uniform, Pay, and Allowances during their four-year service will be governed by orders and instructions issued by the Government of India (GoI) from time to time. Agniveers will be liable to be assigned any duty in the organizational interest, as decided from time to time.
Personnel enrolled through the Agniveer Scheme will be required to undergo periodical medical check-ups and physical/written/field tests as governed by orders issued. Their performance in these tests will be considered for subsequent offers of enrolment in the Regular Cadre.
Agniveers can be posted to any regiment/unit and may be further transferred in organizational interest.
Agniveer Discharge
All Agniveers will be discharged upon completing four years of service. Upon discharge, they will be provided a 'Seva Nidhi' package to facilitate their reintegration into civilian society for pursuing employment in other sectors.
Agniveers will not be eligible for any pension or gratuity, and they will also not have access to benefits such as the Ex Servicemen Contributory Health Scheme (ECHS), Canteen Stores Department (CSD) facilities, Ex Serviceman status, and other related benefits.
Additionally, Agniveers are prohibited from disclosing any classified information obtained during their service to any unauthorized individuals or sources, in accordance with the Official Secrets Act, 1923.
Agniveer Enrolment for Regular Cadre
In accordance with organizational requirements and established policies, Agniveers who are concluding their four-year engagement period in each batch will have the opportunity to apply for enrollment in the regular cadre of the Indian Army. These applications will be evaluated centrally by the Army, using objective criteria that include the Agniveers' performance during their engagement period. However, no more than 25% of each specific batch of Agniveers will be accepted into the regular cadre of the Indian Army after completing their four-year engagement period.
Agniveers who are enrolled in the regular cadre will be required to serve for an additional engagement period of 15 years and will be subject to the terms and conditions of service applicable to Junior Commissioned Officers and Other Ranks in the Indian Army, as currently in effect (with any amendments made from time to time). It is important to note that Agniveers will not have an inherent right to be selected for the regular cadre; the selection will be at the exclusive discretion of the Indian Army.
With the introduction of this scheme, the opportunity for enrolling soldiers in the regular cadre of the Indian Army, except for technical cadres within the Medical Branch, will be available only to personnel who have successfully completed their engagement period as Agniveers.
Agnipath Eligibility Criteria
Frequently Asked Questions :-
FAQ 1: What is the Parachute Regiment of the Indian Army? Answer: The Parachute Regiment of the Indian Army, commonly referred to as the Parachute Regiment or Para, is a special forces regiment known for its airborne and rapid deployment capabilities. It is a part of the Indian Army's Parachute Brigade and consists of highly trained paratroopers who are capable of conducting a wide range of specialized operations, including counter-terrorism, covert reconnaissance, and unconventional warfare. The regiment is known for its distinctive maroon berets and is one of the most elite and respected units within the Indian Army.
FAQ 2: How can one join the Parachute Regiment of the Indian Army Answer: To join the Parachute Regiment of the Indian Army, one typically needs to follow these steps: Eligibility: Candidates must first meet the eligibility criteria set by the Indian Army, which include age, educational qualifications, and physical fitness standards. Indian Army Entrance Exam: Aspiring candidates usually need to appear for the Indian Army's recruitment exams, such as the Common Entrance Examination (CEE) or Army Recruitment Rally, depending on their region and the vacancy notifications. Selection and Training: Once selected, candidates go through a rigorous selection process, including physical fitness tests, medical examinations, and a written test. Those who qualify then undergo basic military training at an Army training center. Paratrooper Training: After successfully completing basic training, candidates are sent to the Parachute Regimental Training Centre (PRTC) for specialized training in airborne operations. This training includes the coveted Basic Parachute Course, which involves rigorous physical conditioning and parachute jumps. Posting: Upon successful completion of the training, individuals are inducted into the Parachute Regiment and posted to one of its battalions, where they continue to undergo advanced training and gain experience in various special operations.