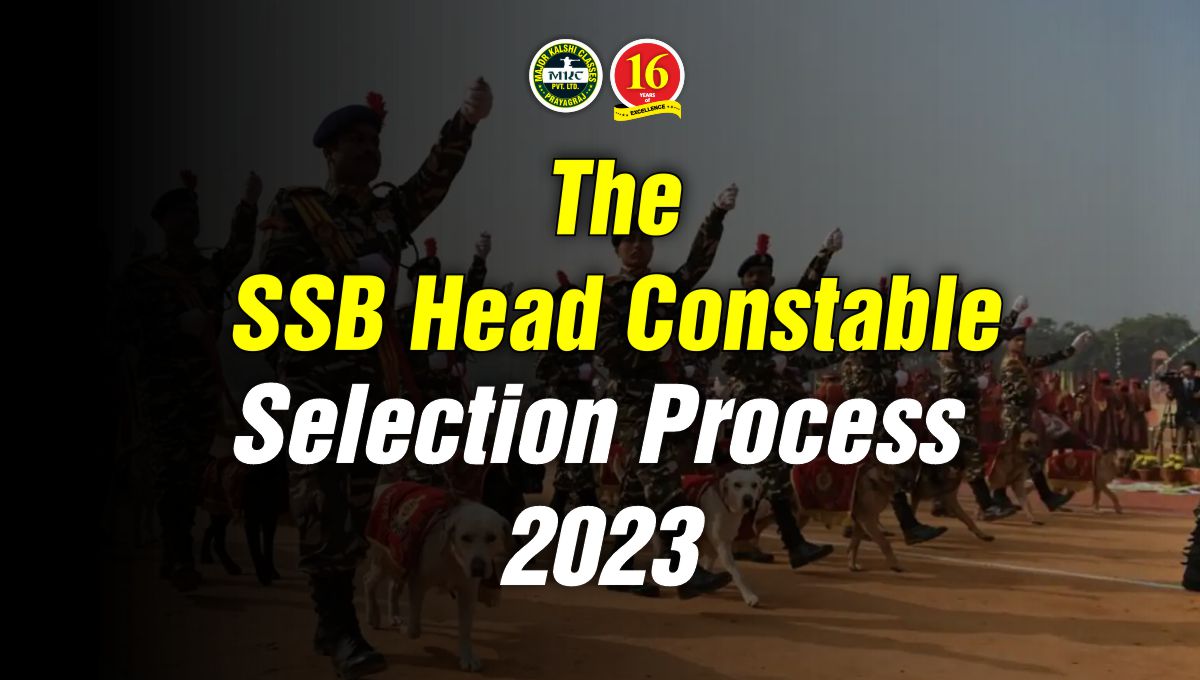 The SSB Head Constable Selection Process 2023
The selection process for the SSB (Sashastra Seema Bal) Head Constable position is a rigorous and competitive procedure designed to identify capable candidates who possess the necessary skills and qualities to serve in this vital role. Aspiring candidates need to understand the selection process thoroughly to enhance their chances of success. In this article, we will delve into the various stages of the SSB Head Constable selection process in 2023, providing valuable insights and guidance for candidates aiming to join the prestigious SSB.
SSB Head Constable Selection Process 2023
Written Exam
Physical Efficiency Test
Skill Test
Medical Examination.
Document
1. Written Examination:
The first stage of the selection process is a written examination that assesses candidates' knowledge, aptitude, and reasoning abilities. The exam typically consists of multiple-choice questions covering subjects such as General Awareness, Numerical Ability, Reasoning, English Language, and Technical Knowledge relevant to the position.
The exam consists of multiple sections covering various subjects, as outlined in the table below:
Sr. No
Section
Marks
Duration
1.
General Knowledge
50
3 hours
2.
Mathematics
3.
Reasoning
4.
General Hindi / English
5.
Technical
100
To excel in the written examination, candidates should develop a comprehensive study plan, focusing on the prescribed syllabus and previous years' question papers. Regular practice and mock tests will aid in improving time management skills and accuracy.
2. Physical Efficiency Test (PET):
Candidates who successfully clear the written examination move on to the Physical Efficiency Test. This test evaluates candidates' physical fitness, endurance, and overall health. The PET typically includes events such as running, long jump, high jump, and other physical tasks designed to assess the candidates' physical capabilities.
| Category | Min. Height (cm) | Chest (cm) |
| --- | --- | --- |
| For all candidates except Scheduled Tribe candidates | Male: 167.5 | Min – 78, Expansion – 5 |
| | Female: 157 | Not applicable |
| For Garhwalis, Kumaonis, Gorkhas, Dogras, Marathas, Sikkim, Nagaland, Arunachal Pradesh, Manipur, Tripura, Mizoram, Assam, Meghalaya, Himachal Pradesh, J&K | Male: 165 | Min – 78, Expansion – 5 |
| | Female: 155 | Not applicable |
| For Scheduled Tribes categories | Male: 162.5 | Min – 76, Expansion – 5 |
| | Female: 150 | Not applicable |
To excel in the PET, candidates must engage in regular physical exercise and follow a well-rounded fitness routine. Practicing running, improving stamina, and participating in activities like jumping and sprinting will help candidates perform well in this stage.
3. Skill Test:
The Skill Test is designed to assess candidates' technical skills, such as proficiency in operating specific equipment or performing specific tasks related to the Head Constable role. The test evaluates candidates' practical knowledge and their ability to handle real-life situations effectively.
| | |
| --- | --- |
| Event | Minimum Speed |
| English Typing | 35 WPM |
| Hindi Typing | 30 WPM |
Candidates should acquaint themselves with the technical aspects of the role, focusing on areas such as communication equipment, surveillance techniques, first aid, or any other specific skills mentioned in the recruitment notification. Practical training, hands-on experience, and self-study will enhance the chances of success in this stage.
4. Medical Examination:
Candidates who qualify the previous stages are subjected to a comprehensive medical examination to ensure they meet the physical and medical standards set by the SSB. The medical examination includes tests to assess general health, vision, hearing, and overall fitness. Candidates must meet the specified medical criteria to be considered for selection.
Candidates should ensure they maintain good health and seek medical advice if necessary. Regular exercise, a balanced diet, and adequate rest are essential for maintaining physical and mental well-being.
5. Document Verification:
After successfully clearing the previous stages, candidates are called for document verification. In this stage, candidates need to produce the necessary documents and certificates to validate their eligibility criteria, educational qualifications, age, caste, and other relevant details as specified by the SSB.
Candidates must ensure they have all the required documents in order, including original copies and photocopies, to avoid any last-minute discrepancies.
The SSB Head Constable selection process in 2023 is a multi-stage evaluation designed to identify capable individuals who possess the required skills and qualities for the role. Aspiring candidates should prepare diligently, focusing on each stage of the process. A comprehensive study plan, regular physical exercise, and maintaining good health will contribute to a candidate's success. By understanding and preparing for each stage, candidates can increase their chances of securing the prestigious position of SSB Head Constable.