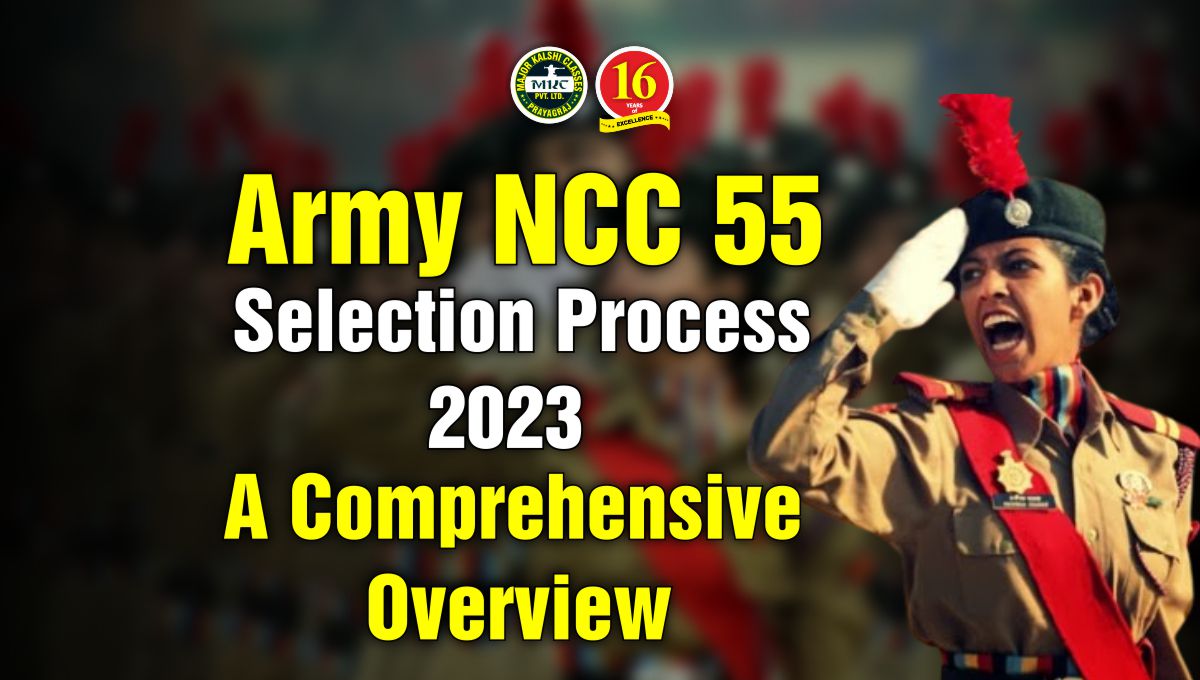 Army NCC 55 Selection Process 2023: A Comprehensive Overview
The National Cadet Corps (NCC) is a prestigious organization in India that aims to develop character, discipline, and leadership qualities among the youth. Every year, the NCC conducts selection processes to recruit cadets for various wings, including the Army, Navy, and Air Force. In this article, we will delve into the detailed selection process for the Army NCC 55 Batch in 2023, shedding light on the stages involved, eligibility criteria, and the significance of the program.
Eligibility Criteria:
Age: Candidates must be between 18 and 25 years of age as of 1st January 2023.
Educational Qualifications: Applicants should have completed their 10+2 education from a recognized board or institution.
NCC Background: Candidates should possess a minimum of two years of NCC service with a 'B' or 'C' certificate.
Army NCC 55 Selection Process 2023
Application and Screening: Interested candidates must fill out the application form available on the official NCC website within the specified deadline. The applications are then screened to ensure eligibility criteria are met.
SSB Interview:- Candidates who pass the Physical Fitness Test are then shortlisted for a group discussion (GD) and personal interview (PI) round. GD assesses their communication skills, leadership qualities, and ability to work in a team, while the PI evaluates their overall personality, confidence, and aspirations.
Medical Examination: Shortlisted candidates are required to undergo a thorough medical examination to ensure they meet the medical standards set by the Armed Forces. The examination includes tests for vision, hearing, physical fitness, and general health.
Merit List: Based on the performance in the written examination, PFT, GD, PI, and medical examination, a merit list is prepared. The final selection is based on the overall performance and availability of vacancies in the Army NCC 55 Batch.
Significance of Army NCC:
Participating in the Army NCC program offers numerous benefits to the cadets:
Leadership Development: The program aims to instill leadership qualities, discipline, and organizational skills, which are crucial attributes for success in the armed forces and various other professions.
Physical Fitness and Adventure: The training sessions and outdoor activities help inculcate physical fitness, teamwork, and a spirit of adventure among the cadets.
Character Building: The program focuses on moral values, integrity, and ethical conduct, molding individuals into responsible citizens.
Career Opportunities: Successful completion of the Army NCC program opens up avenues for a career in the armed forces, with candidates eligible for direct entry to officer ranks.
National Service: By joining the NCC, cadets contribute to the development and security of the nation, becoming responsible citizens who are aware of their duty towards society.
The Army NCC 55 Selection Process 2023 is a rigorous and comprehensive procedure that evaluates candidates on various parameters, including physical fitness, mental acuity, leadership potential, and overall personality. Participation in the Army NCC program not only opens doors to a rewarding career in the armed forces but also imparts invaluable life skills that contribute to personal growth