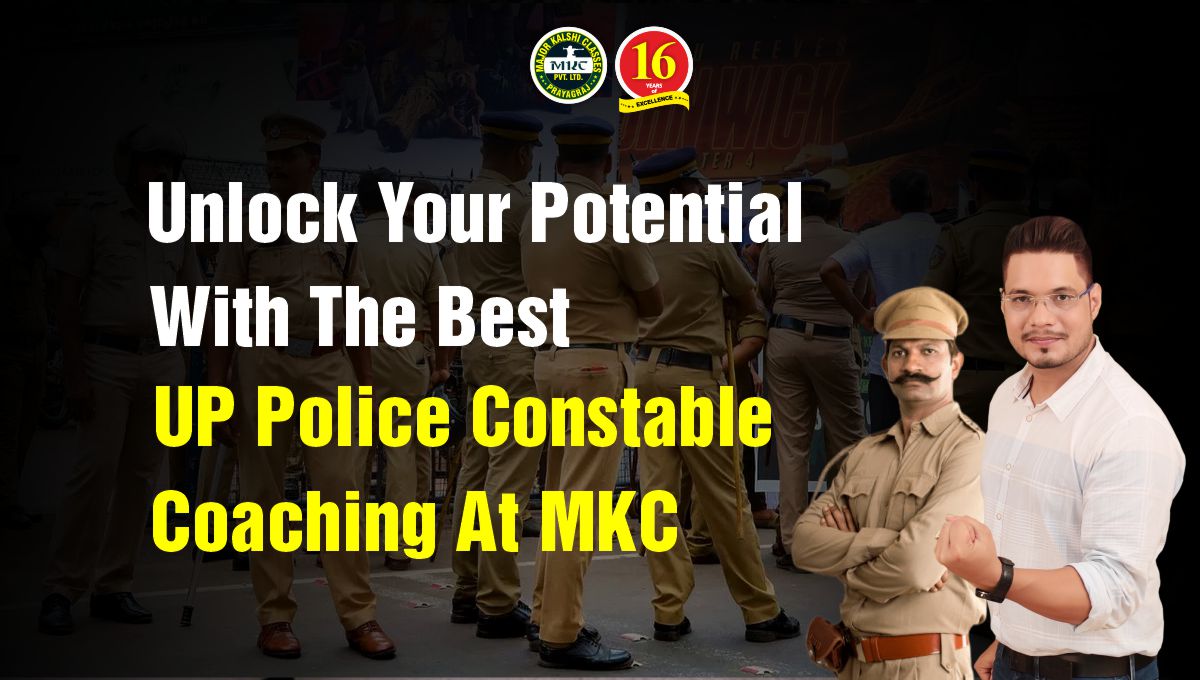 Unlock Your Potential with the Best UP Police Constable Coaching at MKC
Preparing for the UP Police Constable Exam requires dedication, thorough understanding of the syllabus, and effective guidance. Joining a reputable coaching institute can significantly enhance your chances of success. In this article, we will explore the top choice for UP Police Constable coaching in India—Major Kalshi Classes (MKC). Known for its exceptional track record and comprehensive approach to exam preparation, MKC has established itself as a leading institute in the field.
Best UP Police Constable Coaching at MKC
Why Choose MKC?
Expert Faculty: At MKC, you will receive guidance from a team of experienced faculty members who specialize in the UP Police Constable Exam. These experts have an in-depth understanding of the exam pattern, syllabus, and the most effective strategies to crack the examination. Their expertise and personalized attention ensure that you receive the best possible coaching.
Comprehensive Study Material: MKC provides well-structured and updated study material that covers all the subjects and topics of the UP Police Constable Exam. The study material is designed to simplify complex concepts, making it easier for students to grasp and retain information. Additionally, MKC's study material includes practice exercises and previous year question papers to help you gauge your progress and build confidence.
Mock Tests and Practice Sessions: MKC emphasizes the importance of regular practice and assessment. They conduct regular mock tests and practice sessions to simulate the actual exam environment. These mock tests help you familiarize yourself with the exam pattern, manage time effectively, and identify your strengths and areas that require improvement. The detailed performance analysis provided by MKC enables you to track your progress and refine your preparation strategy accordingly.
Interactive Classroom Sessions: MKC's interactive classroom sessions foster an engaging learning environment. The faculty encourages students to ask questions, participate in discussions, and clarify doubts. The interactive approach ensures better understanding and retention of concepts. Furthermore, MKC organizes regular doubt-clearing sessions to address individual queries and ensure that no student is left behind.
Physical Fitness Training: Along with academic preparation, MKC recognizes the importance of physical fitness for success in the UP Police Constable Exam. They provide specialized training for the Physical Efficiency Test (PET) to help you improve your endurance, strength, and overall fitness. This holistic approach ensures that you are well-prepared for all aspects of the selection process.
Success Track Record: MKC has an impressive track record of producing successful candidates in various competitive exams, including the UP Police Constable Exam. Their consistent results and high success rate are a testament to the quality of coaching provided by MKC. With their guidance, many aspirants have achieved their dreams of joining the esteemed Uttar Pradesh Police Department.
If you are aspiring to become a UP Police Constable, choosing the right coaching institute is crucial for your success. MKC, with its exceptional faculty, comprehensive study material, regular mock tests, and holistic approach to preparation, stands out as the best coaching institute for UP Police Constable Exam preparation. With their guidance and support, you can unlock your potential, boost your confidence, and achieve outstanding results in the exam. Trust MKC to be your partner on this journey to a rewarding career in the Uttar Pradesh Police Department.