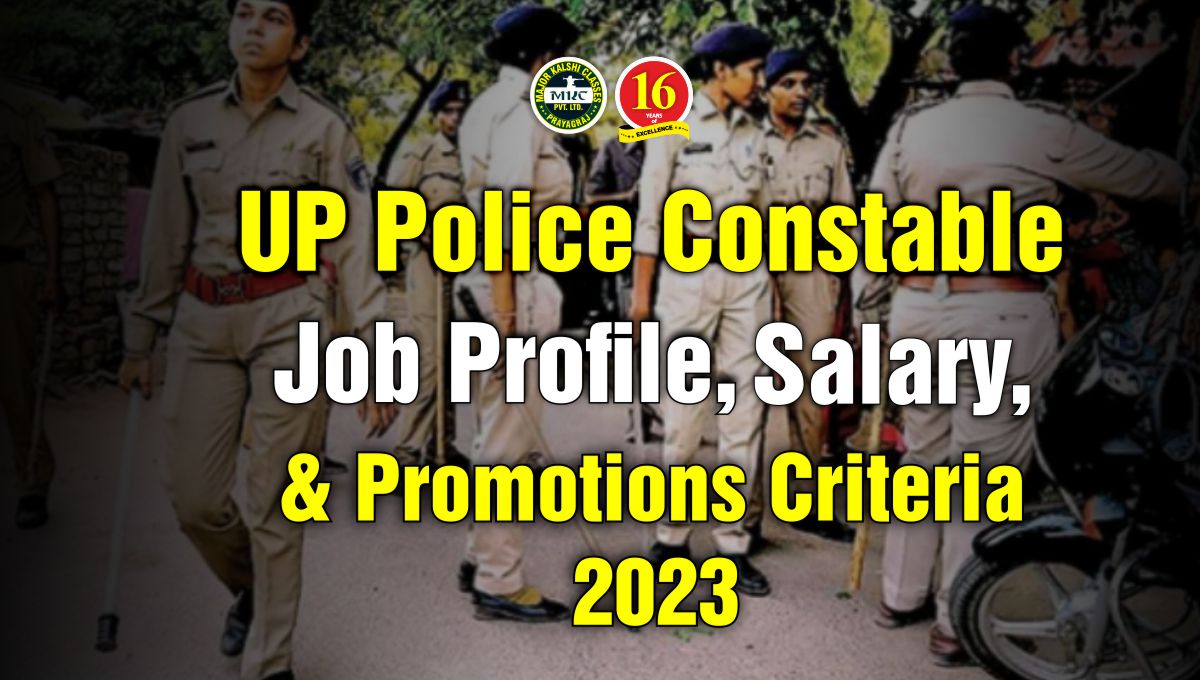 UP Police Constable Job Profile, Salary, and Promotions Criteria 2023
The role of a UP Police Constable is of utmost importance in ensuring law and order in the state of Uttar Pradesh. Apart from being a prestigious position, it offers a rewarding career path. In this article, we will provide a comprehensive overview of the UP Police Constable job profile, salary structure, and promotions criteria.
UP Police Constable Job Profile
Job Profile: As a UP Police Constable, you will be responsible for maintaining public safety and enforcing the law. Your duties may include:
Patrolling assigned areas to prevent and detect crime.
Responding to emergency calls and providing assistance to the public.
Conducting investigations, gathering evidence, and preparing reports.
Arresting and apprehending suspects.
Crowd control and maintaining peace during public gatherings.
Assisting in traffic management and ensuring road safety.
Assisting senior officers in various law enforcement activities.
Providing assistance and support to other law enforcement agencies as required.
UP Police Constable Salary Structure:
The salary structure for UP Police Constables is determined by the Uttar Pradesh Police Recruitment and Promotion Board and is subject to periodic revisions. As of the knowledge cutoff date in September 2021, the salary structure is as follows:
Pay Scale: The initial pay scale for a UP Police Constable is in the range of Rs. 21,700 to Rs. 69,100 (Level 3 of the Pay Matrix).
Grade Pay: In addition to the basic pay, constables are entitled to a grade pay of Rs. 2,000.
Allowances and Benefits: UP Police Constables also receive various allowances and benefits, including medical facilities, house rent allowance (if applicable), travel allowance, and pension benefits as per the rules and regulations of the state government.
Promotions Criteria:
UP Police Constables have opportunities for career growth and promotions based on their performance and service tenure. The promotions criteria include:
Promotion to the Rank of Head Constable: After completing a specified number of years in service and meeting the necessary criteria, constables can be promoted to the rank of Head Constable.
Promotion to the Rank of Assistant Sub-Inspector (ASI): Constables with a certain number of years of service and satisfactory performance can appear for departmental examinations conducted by the Uttar Pradesh Police Recruitment and Promotion Board to be considered for promotion to the rank of ASI.
Further Promotions: After becoming an ASI, there are opportunities for further promotions to the ranks of Sub-Inspector (SI), Inspector, and higher positions based on experience, seniority, and clearing departmental examinations.
It is important to note that the promotions criteria and opportunities may vary based on the policies and guidelines set by the Uttar Pradesh Police Recruitment and Promotion Board.
A career as a UP Police Constable offers not only a noble opportunity to serve the community but also a stable and rewarding career path. With a competitive salary structure, allowances, and opportunities for promotions based on performance and experience, it provides a platform for growth within the police department. Aspiring candidates should thoroughly understand the job profile, salary structure, and promotions criteria to make an informed decision and embark on a fulfilling career in the Uttar Pradesh Police Department.