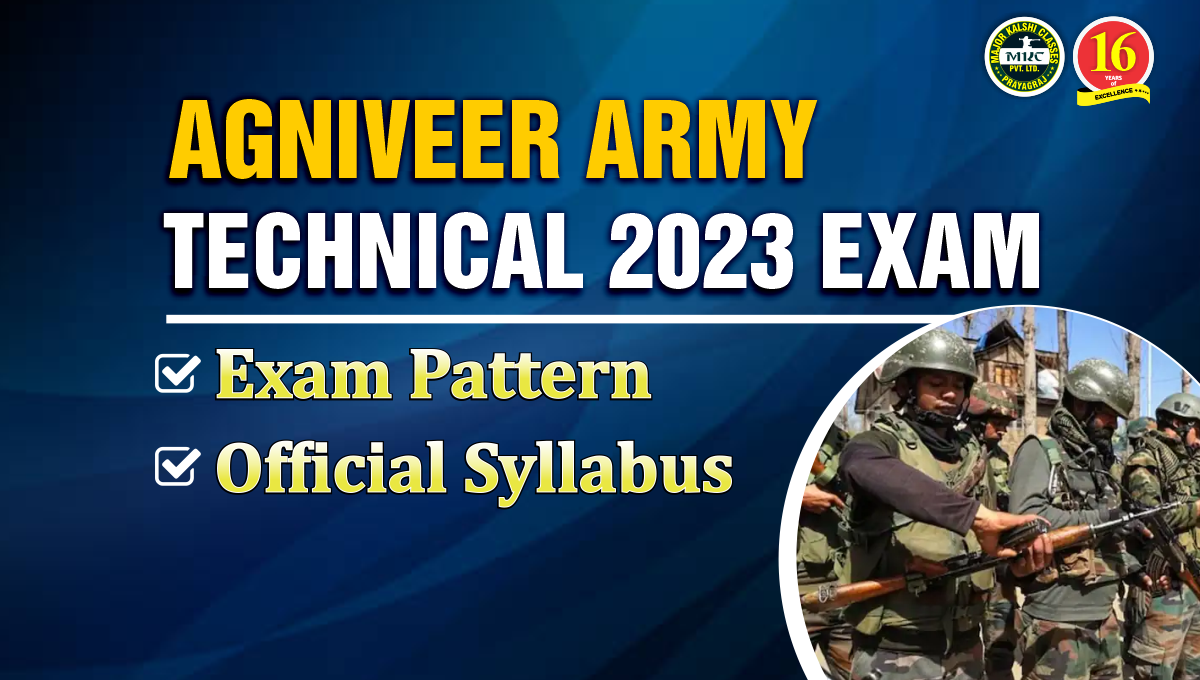 Agniveer Army Technical 2023 Exam Pattern and Official Syllabus
The Indian Army released the syllabus and exam pattern for the Indian Army Technical Agniveer along with the detailed notification. Candidates who wish to join the Soldier Technical post in the Indian Army must be familiar with the syllabus and exam pattern for the Indian Army Technical Agniveer. In this regard, we have provided the Agniveer Army Technical 2023 Exam Pattern and Official Syllabus based Official syllabus.
Eligibility Criteria for Army Technical:-
The eligibility criteria for the Indian Army Technical Agniveer exam vary depending on the specific requirements set by the Indian Army for each recruitment cycle. However, there are certain general eligibility criteria that candidates must meet in order to apply for the Indian Army Technical Agniveer post. These include:
Age: Candidates should be between 17.5 years and 21 years of age.
Educational Qualification: Candidates should have passed 10+2 examination with Physics, Chemistry, Mathematics, and English as compulsory subjects, and at least 50% marks in aggregate.
Nationality: Candidates must be Indian citizens.
Agniveer Army Technical 2023 Exam Pattern:-
The Indian Army Technical Agniveer Exam will be administered through an offline mode Common Entrance Examination (CEE). Candidates who pass the Physical Fitness Test, Physical Measurement Test, and Medical Test will be eligible to participate in the Indian Army Technical Agniveer exam. The exam is organized by various recruitment rallies established throughout India. Candidates should note the following points regarding the Indian Army Technical Agniveer exam pattern.
Total Number of Questions: 50
Marks Awarded for Each Correct Answer: 4
Total Marks: 200
Negative Marking: -1 for each wrong answer
Type of Questions: Multiple choice based objective questions
Mode of Exam: Offline (expected)
Duration of the Exam: 60 minutes (1 hour)
Passing Marks: 80
Sr. No.
Subject
Questions
Marks
Pass Marks
(a)
General Knowledge & Reasoning
10
40
80
(b)
Maths
15
60
(c)
Physics
15
60
(d)
Chemistry
10
40
Agniveer Army Technical 2023 Official Syllabus:-
General Knowledge Syllabus:-
India and its neighboring countries especially pertaining to History, Culture, Geography, and who's who.
Abbreviations,
Sports,
Awards and Prizes,
Terminology,
Indian Armed Forces,
Continents and Sub Continents,
Inventions and Discoveries,
The Constitution of India,
International Organizations,
Books and Authors,
Knowledge of Important events that have happened in India and at the world level in recent years,
Current important world events,
Prominent personalities etc.
Mathematics Syllabus:-
Algebra.
Matrices & Determinants
Analytical Geometry.
Trigonometry.
Integral Calculus.
Differential Calculus.
Probability and Statistics.
Number Systems
Fundamental arithmetical operations
Mensuration
Area, Volume and Surface Area
Chemistry Syllabus:-
Physical and Chemical changes.
Elements,
Mixtures and Compounds,
Symbols,
Formulae and simple Chemical Equations,
Law of Chemical Combination,
Properties of Air and Water,
Preparation and Properties of Hydrogen, Oxygen, Nitrogen, and Carbondioxide,
Oxidation and Reduction,
Acids, bases, and salts,
Carbon and its forms,
Natural and Artificial Fertilizers,
Elementary ideas about the Structure of Atom, Atomic, Equivalent and Molecular Weights, Valency.
Physics Syllabus:-
Physical Properties and States of Matter,
Mass,
Weight,
Volume,
Density and Specific Gravity,
Principle of Archimedes,
Pressure Barometer,
Motion of objects,
Velocity and Acceleration,
Newtons Laws of Motion,
Force and Momentum,
Parallelogram of Forces,
Stability and Equilibrium of bodies,
Gravitation,
Elementary ideas of work,
Power and Energy,
Heat and its Effects,
Sound waves and their properties,
Reflection and refraction.
Spherical mirrors and Lenses,
Type and properties of the magnet,
Static and Current Electricity,
Conductors and Non-conductors,
Ohms Law,
Simple Electrical Circuits,
Heating.
We trust that this article on the Indian Army Soldier Technical Syllabus and Exam Pattern has been informative and helpful to you. If you have any doubts or queries, please feel free to reach out to us. We also recommend that you peruse our other articles on Indian Army recruitment to remain informed. Stay connected with us to stay ahead of the latest updates.