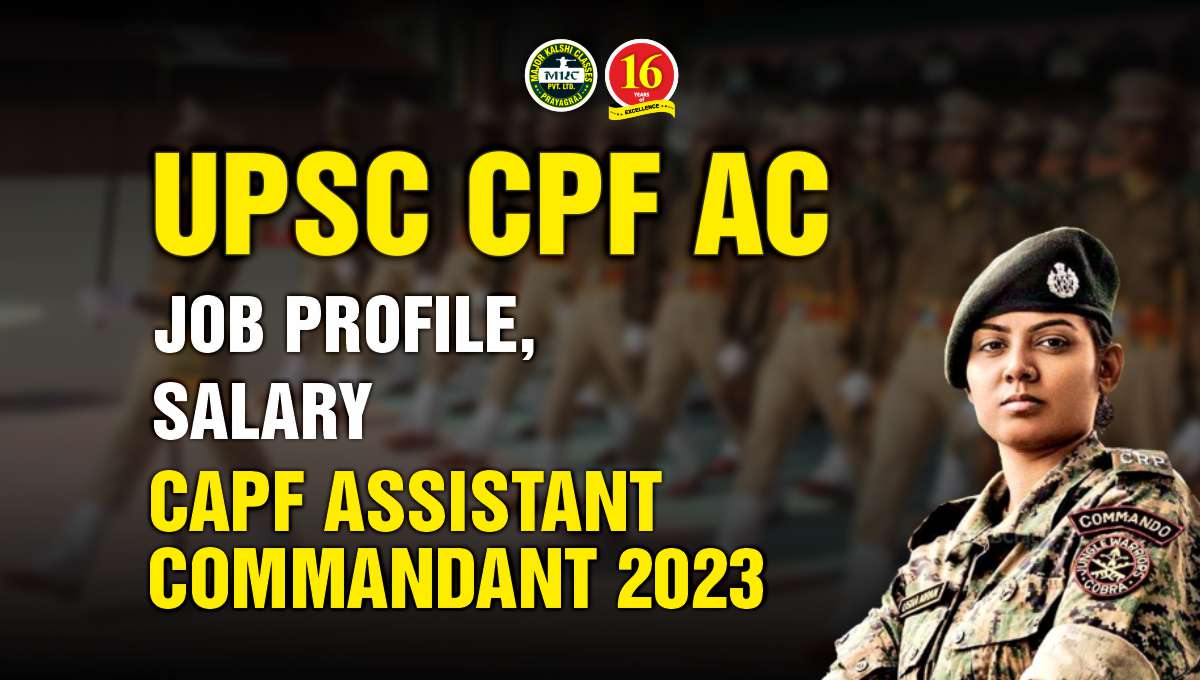 UPSC CPF AC Job Profile, Salary | CAPF Assistant Commandant 2023 |
UPSC CPF AC Job Profile:- The job profile of a UPSC CPF (Central Police Forces) AC (Assistant Commandant) involves working in various Central Armed Police Forces (CAPFs) such as Border Security Force (BSF), Central Reserve Police Force (CRPF), Central Industrial Security Force (CISF), Indo-Tibetan Border Police (ITBP), and Sashastra Seema Bal (SSB). Here we are going to discuss CAPF Assistant Commandant Salary and other benefits.
UPSC CPF AC Job Profile:-
The primary responsibility of a CPF AC is to maintain law and order, protect the public and their properties, prevent crime and ensure the safety and security of the nation. The job profile includes:
Commanding a unit of armed personnel and leading them in field operations.
Conducting search and rescue operations, anti-naxal operations, anti-terrorism operations, etc.
Providing security to important installations, VIPs and VVIPs, and critical infrastructure.
Maintaining peace and order during riots, protests, and other law and order situations.
Interacting with the public and building community relations.
Ensuring the safety and welfare of the personnel under their command.
Maintaining records, reports and other necessary documentation related to the work.
The job of a CPF AC is physically demanding and requires a high level of physical fitness and endurance. It is also mentally challenging, and the candidates need to be alert, decisive, and quick-thinking in their actions.
The job of a CPF AC is challenging and demanding, but also rewarding and fulfilling as it involves serving the nation and its people with dedication and commitment.
Other Work responsibilities of CAPF Assistant Commandant:-
In addition to the responsibilities mentioned earlier, the job of a CPF AC also involves:
Training and development: CPF ACs are responsible for training and developing their subordinates, ensuring that they are well equipped to handle any situation that may arise.
Administration: CPF ACs are responsible for managing the administration of their unit, including personnel management, logistics, finance, and other administrative functions.
Intelligence gathering: CPF ACs are responsible for gathering and analyzing intelligence related to security threats, criminal activities, and other law and order situations.
Crisis management: CPF ACs are trained to handle crisis situations, such as natural disasters, terrorist attacks, and other emergencies, and are responsible for coordinating rescue and relief operations.
Coordination with other agencies: CPF ACs work closely with other law enforcement agencies, intelligence agencies, and other government departments to ensure the safety and security of the nation.
CPF ACs are required to work in different parts of the country and are often posted in remote and difficult terrains. They are expected to work under challenging conditions, including extreme weather conditions, and long hours of duty.
To become a CPF AC, candidates need to appear for the UPSC CPF AC exam, which includes a written test, physical test, and an interview. Candidates who clear all the stages of the exam are selected for training, after which they are posted to one of the CAPFs.
UPSC CPF AC Salary 2023:-
The salary of a CPF AC is governed by the pay scale of the Central Armed Police Forces (CAPFs) and is determined by the 7th Pay Commission. The current pay scale for a CPF AC ranges from Rs. 56,100 to Rs. 1,77,500 per month. In addition to the basic pay, CPF ACs are also entitled to various allowances, such as dearness allowance, transport allowance, medical allowance, and others. The exact salary of a CPF AC may vary depending on various factors such as the place of posting, years of service, and other factors.
What is Promotions Criteria of CAPF:-
The career progression of a CPF AC is governed by the promotions policy of the Central Armed Police Forces (CAPFs). CPF ACs can be promoted to higher ranks based on their performance, seniority, and other factors. The promotional hierarchy for a CPF AC is as follows:
Assistant Commandant
Deputy Commandant
Commandant
Deputy Inspector General (DIG)
Inspector General (IG)
Additional Director General (ADG)
Director General (DG)
The time frame for promotion from one rank to another varies depending on various factors, such as the availability of vacancies, performance, and seniority. CPF ACs can also be considered for promotion on deputation to other organizations or departments, subject to the rules and regulations of the government.
It is worth noting that promotions in the CAPFs are competitive, and not all officers are guaranteed promotion. CPF ACs need to work hard, maintain a good service record, and undergo regular training to improve their chances of promotion.