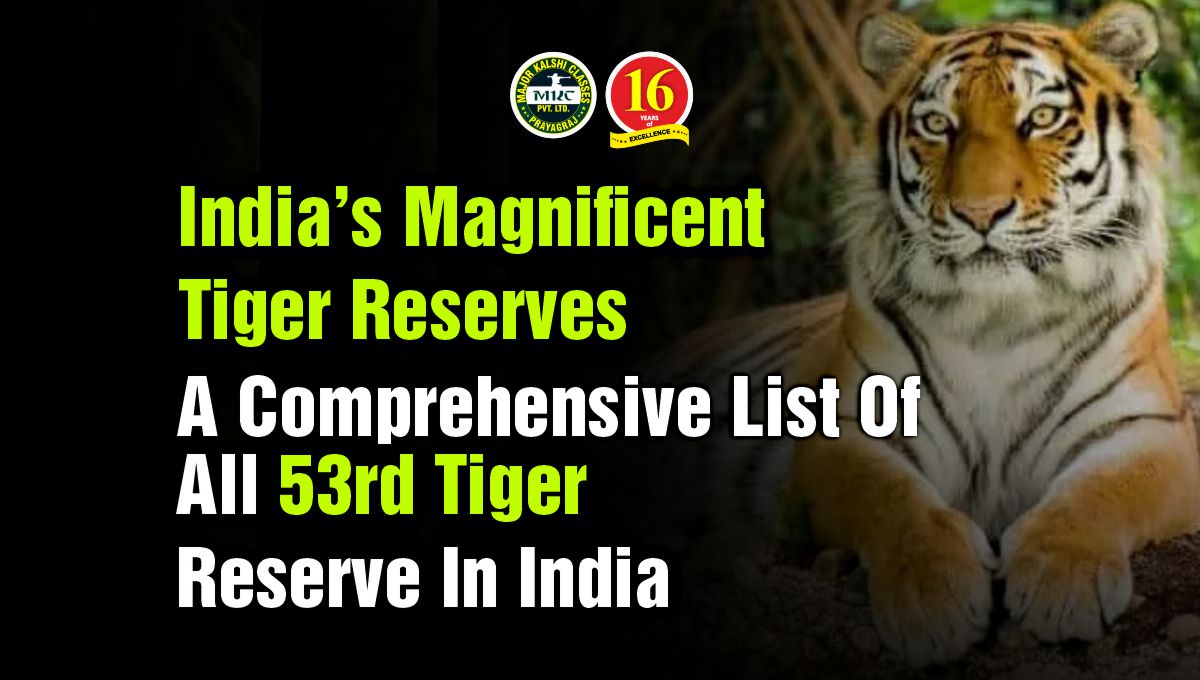 India's Magnificent Tiger Reserves: A Comprehensive List of All 53rd Tiger Reserve in India
India is a land of rich biodiversity, where the majestic Royal Bengal Tiger holds a special place of honor. As one of the world's largest tiger habitats, India is home to numerous tiger reserves that work tirelessly towards conserving these iconic big cats and their habitats. From the dense jungles of Madhya Pradesh to the lush valleys of Uttarakhand, each tiger reserve offers a unique and awe-inspiring experience for wildlife enthusiasts. In this article, we present a comprehensive list of tiger reserves in India, highlighting their significance in preserving this endangered species.
List of Tiger Reserve in India:-
Jim Corbett National Park, Uttarakhand: Located in the picturesque state of Uttarakhand, Jim Corbett National Park is the oldest tiger reserve in India. Named after the renowned conservationist Jim Corbett, this reserve spans over 1,200 square kilometers and is a haven for wildlife enthusiasts. Apart from being home to a significant population of tigers, the park also shelters several other species like elephants, leopards, and a diverse range of avifauna.
Bandhavgarh National Park, Madhya Pradesh: Situated in the heartland of India, Bandhavgarh National Park is known for its high density of tigers. Spread across an area of approximately 450 square kilometers, it boasts a healthy tiger population and offers excellent opportunities for tiger sightings. The park's undulating landscapes, ancient ruins, and rich flora add to its allure, making it a favorite among wildlife photographers and nature lovers.
Ranthambore National Park, Rajasthan: Nestled in the arid landscapes of Rajasthan, Ranthambore National Park is an architectural marvel in itself, with the historic Ranthambore Fort looming majestically over its boundaries. This tiger reserve, spanning an area of around 1,300 square kilometers, is renowned for its thriving tiger population. Visitors can enjoy exhilarating jeep safaris and witness tigers roaming freely amidst the ruins, creating a unique juxtaposition of history and wildlife.
Sunderbans National Park, West Bengal: The Sunderbans National Park, a UNESCO World Heritage Site, is a unique mangrove ecosystem located in the eastern state of West Bengal. It is the largest tiger reserve in India, covering an expansive area that spans both India and Bangladesh. The Sunderbans is famous for its elusive Bengal tigers, adapted to a life in the mangroves. Exploring this dense wilderness by boat offers a captivating experience, with chances to spot tigers, crocodiles, and a diverse array of bird species.
Kanha Tiger Reserve, Madhya Pradesh: Immersed in the tranquility of Madhya Pradesh, Kanha Tiger Reserve is known for its stunning landscapes and diverse wildlife. It served as the inspiration for Rudyard Kipling's "The Jungle Book" due to its dense forests and enchanting meadows. Spanning over 940 square kilometers, Kanha is home to a significant tiger population, along with leopards, sloth bears, and a thriving avian population. Visitors can embark on jeep safaris and nature trails to witness the enchanting beauty of this reserve.
Kaziranga National Park, Assam: Located in the northeastern state of Assam, Kaziranga National Park is renowned for its efforts in conserving the one-horned rhinoceros. However, it also provides habitat to a considerable number of tigers. Spanning over 950 square kilometers, the park's varied landscapes, including tall elephant grass, marshlands, and woodlands, attract a diverse range of wildlife. Alongside tigers, visitors can spot elephants, wild water buffaloes, and various bird species, making it a biodiversity hotspot.
Tiger Reserve and Its respective State:-
Here's a tabular list of all the 53 tiger reserves in India, along with their respective states:
| Tiger Reserve | State |
| --- | --- |
| 1. Amrabad Tiger Reserve | Telangana |
| 2. Bandipur Tiger Reserve | Karnataka |
| 3. Bandhavgarh Tiger Reserve | Madhya Pradesh |
| 4. Bardiya National Park | Nepal |
| 5. Bhadra Tiger Reserve | Karnataka |
| 6. Buxa Tiger Reserve | West Bengal |
| 7. Dampa Tiger Reserve | Mizoram |
| 8. Dudhwa Tiger Reserve | Uttar Pradesh |
| 9. Eklingji Wildlife Sanctuary | Rajasthan |
| 10. Indravati Tiger Reserve | Chhattisgarh |
| 11. Kalakad Mundanthurai Tiger Reserve | Tamil Nadu |
| 12. Kanha Tiger Reserve | Madhya Pradesh |
| 13. Kanha-Pench corridor | Madhya Pradesh |
| 14. Kanha-Achanakmar corridor | Madhya Pradesh |
| 15. Karhandla Wildlife Sanctuary | Maharashtra |
| 16. Kawal Wildlife Sanctuary | Telangana |
| 17. Kaziranga Tiger Reserve | Assam |
| 18. Kudremukh National Park | Karnataka |
| 19. Manas Tiger Reserve | Assam |
| 20. Melghat Tiger Reserve | Maharashtra |
| 21. Mudumalai Tiger Reserve | Tamil Nadu |
| 22. Nagarhole National Park | Karnataka |
| 23. Nagzira Wildlife Sanctuary | Maharashtra |
| 24. Nameri National Park | Assam |
| 25. Orang National Park | Assam |
| 26. Pali-Sawai Madhopur corridor | Rajasthan |
| 27. Panna Tiger Reserve | Madhya Pradesh |
| 28. Parambikulam Tiger Reserve | Kerala |
| 29. Pench Tiger Reserve | Madhya Pradesh |
| 30. Periyar Tiger Reserve | Kerala |
| 31. Ratapani Tiger Reserve | Madhya Pradesh |
| 32. Ranthambore Tiger Reserve | Rajasthan |
| 33. Sahyadri Tiger Reserve | Maharashtra |
| 34. Satpura Tiger Reserve | Madhya Pradesh |
| 35. Sariska Tiger Reserve | Rajasthan |
| 36. Simlipal Tiger Reserve | Odisha |
| 37. Sitanadi-Udanti Tiger Reserve | Chhattisgarh |
| 38. South Kheri Tiger Reserve | Uttar Pradesh |
| 39. Suhelwa Wildlife Sanctuary | Uttar Pradesh |
| 40. Sundarbans Tiger Reserve | West Bengal |
| 41. Tadoba Andhari Tiger Reserve | Maharashtra |
| 42. Valmiki Tiger Reserve | Bihar |
| 43. Valparai plateau | Tamil Nadu |
| 44. Wayanad Wildlife Sanctuary | Kerala |
| 45. Anamalai Tiger Reserve | Tamil Nadu |
| 46. Bhadra Wildlife Sanctuary | Karnataka |
| 47. Biligiriranga Swamy Temple Wildlife Sanctuary | Karnataka |
| 48. Bor Tiger Reserve | Maharashtra |
| 49. Dandeli-Anshi Tiger Reserve | Karnataka |
| 50. Eravikulam National Park | Kerala |
| 51. Mudumalai National Park | Tamil Nadu |
| 52. Nagarhole National Park | Karnataka |
| 53. Sathyamangalam Wildlife Sanctuary | Tamil Nadu |