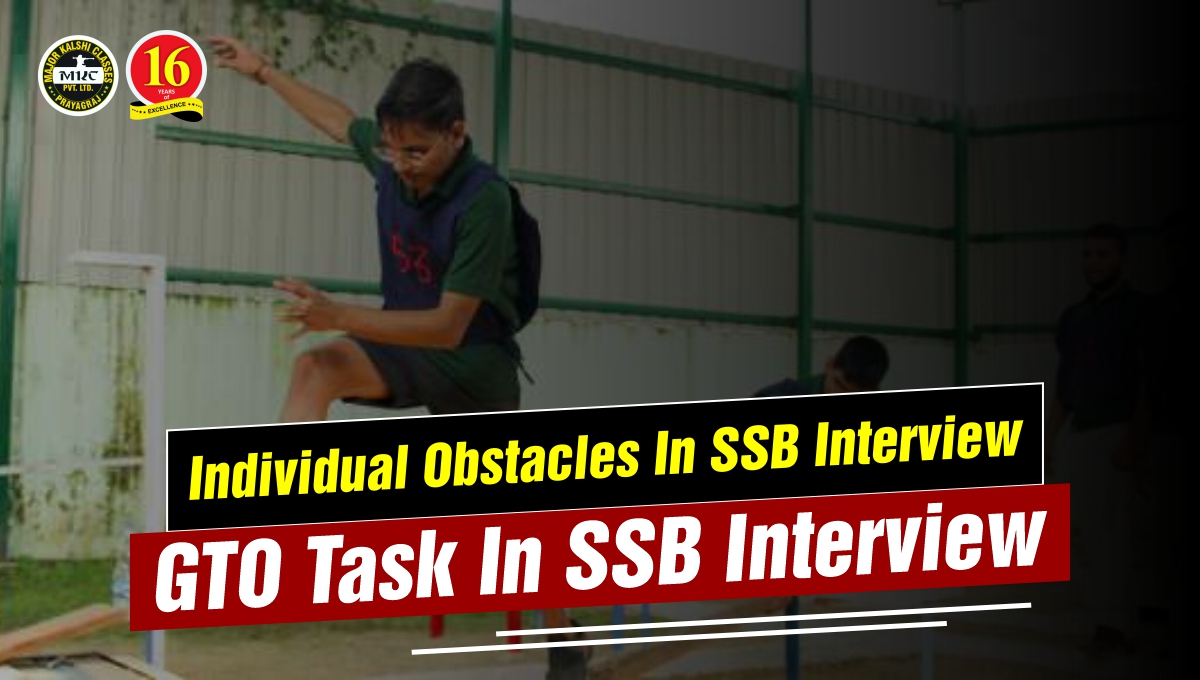 Individual Obstacles in SSB Interview | GTO Task in SSB Interview
Individual Obstacles is like a game in the GTO series. It happens on the first or second day of GTO testing. Each person in the group does this game alone. In this blog we will know about Individual Obstacles in SSB
The point of this game is to see how strong you are, how much energy you have, and if you're brave. It also checks if you're scared of heights. It sees how fast you can decide and do things. There are 10 tasks to do (they change sometimes) and you have 3 minutes. If you finish all 10 tasks before 3 minutes, you can do them again. The tasks are numbered from 1 to 10. If you do more tasks, you get more points.
Here's another cool test in the GTO series to show how well you can do on your own. You'll face 10 obstacles by yourself. You only have 3 minutes to do them. These obstacles are set up in order of difficulty. The higher the number, the harder the obstacle. You can score up to 55 marks. You have 3 minutes to finish all 10 obstacles. The first obstacle is worth 1 mark, and the last one is worth 10 marks.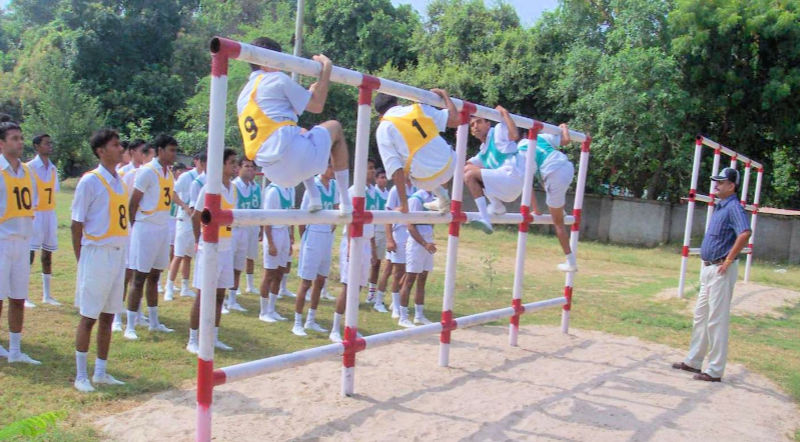 What is the Procedure for the task ?
The GTO shows the obstacles one by one to the group before starting the test.
Candidates need to look at the obstacles and plan which ones they want to try based on what they can do.
The GTO then starts with the first candidate. The candidate runs to the obstacle they want to try first and stands in front of it.
The GTO blows the whistle once to begin the task.
After two and a half minutes, the GTO will shout "next." This means the next candidate should go to the obstacle they want to start with.
After three minutes, the GTO blows the whistle again. This tells the first candidate that their time is up.
The rest of the candidates keep going in the same way until everyone has had a turn.
Read Here – GTO Tasks in SSB Interview, Detailed Explanation.
Types of Individual Obstacles in SSB Interview
Jumping Over a Slide: This is the easiest task worth 1 point. Run on a slope and jump across a line about 4 feet away.
Long Jump: Jump across a 6 ft. by 3 ft. drum. The length is a bit shorter for girls.
High Jump: A simple 3 ft. jump over a bar. You can use your own style. There's sand on the other side for safety.
Zig-Zag Balance: Walk over a zig-zag balance and land properly. Not used in the air force.
Walking a Wooden Log: Walk on a cylindrical log around 6 ft. long, 4 ft. above the ground.
High Screen Jump: Run over a slide and a screen placed after it.
Jumping Platforms: Climb a 12 ft. platform and take two jumps. First to an 8 ft. platform, then to the ground.
Burma Bridge: Walk between two ropes 25 ft. apart, tied 10 ft. high. The ropes shake, so balance is key. Not used in the air force.
Tarzan Swing: Climb to a 10-12 ft. platform, swing on a rope like Tarzan, land at a marked spot. Not in the air force.
Climbing the Wall: Run up an inclined plane and climb over an 8 ft. wooden wall.
Jumping Through a Tyre: Jump feet-first through a hanging tyre at 5 ft. high.
Double Ditch: Cross two ditches, one with a rope and the other with a jump. Not used in the air force.
Tiger Leap: Climb a 9 ft. platform, leap 4 ft. to catch a rope, and descend by it.
Commando Walk: Walk up and down from different sides while balancing.
Monkey Crawl: Move on a suspended 25 ft. wooden log, crawl underneath or slide on it.
Rope Climbing: Climb a vertical rope about 4 to 5 meters high and return.
Important Points to remember for Individual Obstacles in SSB :-
Wear the Right Shoes: Put on sports shoes with good grip.
Plan Ahead: Think about how to do the obstacles before you start.
Run Smart: Move quickly between obstacles and don't waste too much energy.
Challenge High-Point Tasks: If you can, try the harder tasks with more points first. Use planning and bravery to overcome them.
Stay Confident: Don't doubt yourself while trying. Just go for it!
Repeat for More Marks: If you finish all 10 obstacles, you can do them again for extra points.
Join Major kalshi Classes for Best SSB Interview Guidance :-
Major Kalshi Classes (MKC) is the top SSB Interview coaching institute in India. With a proud history of 16 years, MKC has successfully guided more than 10,000 SSB aspirants to crack their SSB Interviews and join the prestigious Indian Armed Forces. At MKC, our focus is on enhancing the Officer Like Qualities (OLQs) and nurturing candidates to reach the level required for the SSB Interview. Our assessors not only provide expert knowledge of SSB tasks but also offer personal assessments and feedback.
Here are some key reasons why MKC stands out as the best SSB Interview training institute:
Expert Guidance: Our mentors are the best in the field and provide guidance for each task, along with personalized feedback and assessment.
Spacious GTO Ground: We have the largest GTO (Group Testing Officer) ground with all outdoor GTO tasks available.
Communication Improvement: We conduct daily Group Discussion and Lecturette sessions to enhance speaking abilities.
Mock Interviews: Candidates undergo multiple mock interview sessions conducted by interviewing officers.
Psychological Testing: We offer psychological tests and provide feedback on the assessment.
Reasoning and Communication: Daily sessions for Officer Intelligence Rating (OIR) and Picture Perception & Description Test (PPDT) to enhance reasoning abilities and communication skills.
Library Facilities: We have a comprehensive library for the all-round development of candidates' personalities.
Hostel Facilities: Modern separate hostel facilities are available for both boys and girls.
MKC is committed to helping candidates excel in their SSB Interviews and develop the qualities needed to become successful officers in the Indian Armed Forces.
Frequently Asked Questions :-
Question 1: What is an SSB interview? Answer: An SSB (Services Selection Board) interview is a selection process conducted by the Indian Armed Forces to assess the suitability of candidates for officer-level positions. It evaluates qualities like leadership, teamwork, communication skills, and overall personality.
Question 2: What are the stages of an SSB interview? Answer: An SSB interview typically consists of four main stages:
Screening Stage: It includes the Officer Intelligence Rating (OIR) test and the Picture Perception & Description Test (PPDT).
Psychological Stage: Psychological tests assess a candidate's psychological compatibility with the requirements of the armed forces.
GTO Stage: Group Testing Officer tasks evaluate teamwork, leadership, and decision-making skills through various group activities.
Personal Interview Stage: A one-on-one interview to understand the candidate's background, aspirations, and suitability for the role.
Question 3: How should I prepare for an SSB interview? Answer: Preparation involves improving communication skills, reading newspapers, staying updated on current affairs, practicing group discussions, and participating in physical activities to enhance fitness. Equally important is developing a positive attitude, maintaining self-confidence, and understanding your strengths and weaknesses.
Question 4: What qualities do SSB interview assessors look for in candidates? Answer: Assessors focus on qualities like leadership, effective communication, problem-solving abilities, adaptability, determination, and teamwork. The Officer Like Qualities (OLQs) are the core criteria for selection.
Question 5: What should I wear for the SSB interview? Answer: Dress neatly and conservatively. For the screening and psychology tests, wear comfortable casual clothes. For the GTO wear sports uniforms and personal interview stages, wear formal attire. Your appearance should reflect discipline and respect for the occasion.