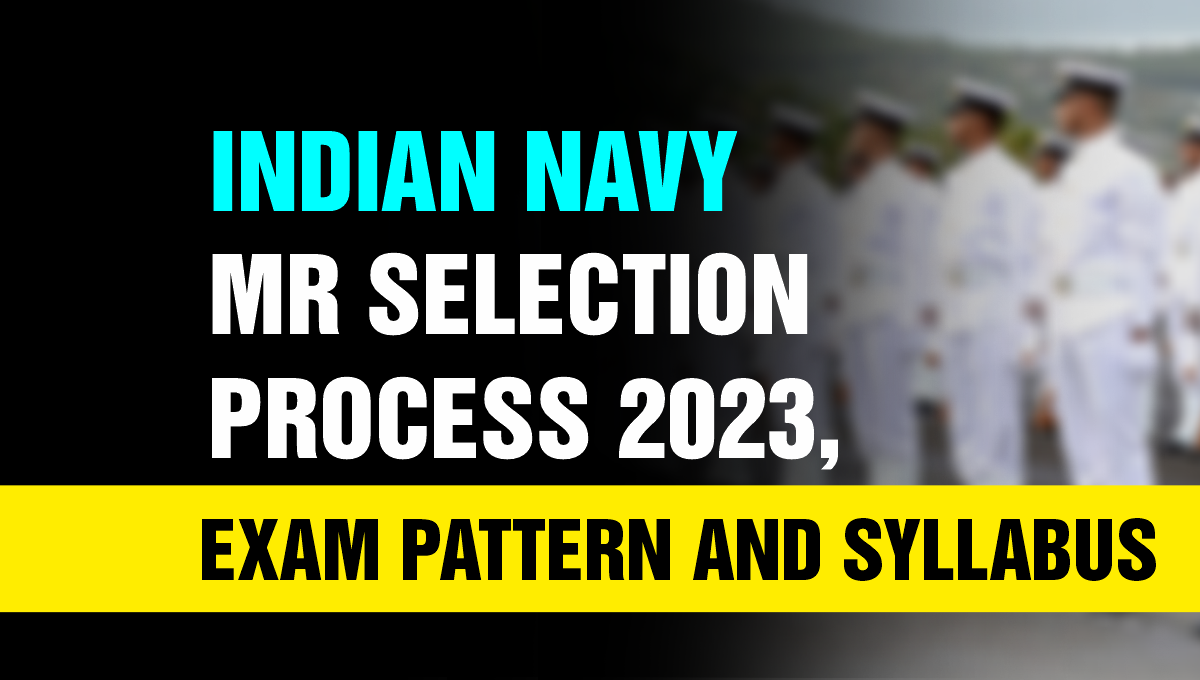 Indian Navy MR Selection Process 2023, Exam pattern and Syllabus
Navy MR Selection Process 2023:- Online applications are open for the recruitment of unmarried male and unmarried female candidates (who meet the eligibility requirements set by the Government of India) for enrollment as Agniveer (MR) for the 02/2023 (November 23) batch. There are a total of 100 vacancies available, including a maximum of 20 exclusively for female candidates. These vacancies will be allocated on an all-India basis.
Indian Navy MR Selection Process 2023:-
The selection process for the Agniveer (MR) – 02/2023 batch will consist of two stages: shortlisting through a computer-based online examination, and a subsequent written examination, Physical Fitness Test (PFT), and Recruitment Medical Examination.
Shortlisting (Computer Based Online Examination): Candidates will be shortlisted based on their performance in a computer-based online examination. The online examination will assess the candidates' knowledge and aptitude in various subjects such as Mathematics, Science, General Knowledge, and Reasoning. The shortlisting will be done based on the merit of the candidates in the online examination.
Written Examination: Shortlisted candidates from the online examination will proceed to the written examination. The written examination will further evaluate the candidates' knowledge and understanding of subjects such as Mathematics, Science, and General Awareness. The written examination will be conducted in a pen-and-paper format and will consist of objective-type questions.
Physical Fitness Test (PFT): Candidates who successfully clear the written examination will undergo a Physical Fitness Test (PFT). The PFT includes various physical tasks and activities such as a 1.6 km run, push-ups, sit-ups, and squats. The PFT is designed to assess the candidates' physical fitness and endurance.
Navy MR Exam pattern 2023:-
Here is the information provided in a tabular format:
| Examination Format | Computer-based |
| --- | --- |
| Total Questions | 50 |
| Marks per Question | 1 |
| Language | Bilingual (Hindi & English) |
| Question Type | Objective (Multiple-choice) |
| Sections | 1. Science and Mathematics |
| | 2. General Awareness |
| Standard of Question Paper | Equivalent to 10th grade |
| Syllabus and Sample Papers | Available on: |
| | www.joinindiannavy.gov.in/ |
| | https://agniveernavy.cdac.in |
| Duration | 30 minutes |
| Passing Criteria | Candidates must pass all sections and the aggregate |
| Pass Marks Determination | Determined by the Indian Navy |
| Penalty for Wrong Answers | One-fourth (0.25) of the marks assigned to the question will be deducted as a penalty for each wrong answer |
Please note that the information provided above is based on the details given in your initial question. It is always recommended to refer to the official notification or website for the most accurate and up-to-date information regarding the examination.
Navy MR Syllabus 2023:-
The syllabus for the computer-based examination for the Agniveer (MR) – 02/2023 batch includes the following subjects:
Science & Mathematics:

Physics: Laws of motion, gravitation, work, energy, power, heat, thermodynamics, light, electricity, magnetism, and modern physics.
Chemistry: Matter, atomic structure, elements, compounds, chemical reactions, acids, bases, salts, metals, non-metals, and organic chemistry.
Mathematics: Number system, algebra, geometry, trigonometry, statistics, probability, and arithmetic.

General Awareness:

Current Affairs: National and international events, sports, awards, important dates, and news.
History: Indian and world history, major historical events, and freedom struggle.
Geography: Physical geography, Indian geography, and world geography.
General Science: Basic concepts of biology, chemistry, and physics.
Indian Polity: Constitution of India, political system, and governance.
Economics: Basics of economics, Indian economy, and economic development.
Sports: Major sports tournaments, players, and achievements.
Culture: Indian art, music, dance, festivals, and traditions.
Miscellaneous: Environmental science, computer knowledge, and current affairs.
Indian Navy MR Emoluments:-
Here is the information provided in tabular form:
| Aspect | Details |
| --- | --- |
| Duration of Service | 4 years |
| Rank | Agniveer (distinct rank, different from existing ranks) |
| Leave | 30 days per year |
| Sick Leave | Applicable based on medical advice of competent medical authority |
| Pay | ₹30,000 per month with a fixed yearly increment |
| Allowances | Risk and hardship, dress, and travel allowances |
| Life Insurance Cover | ₹48 lakh for the duration of engagement period (non-contributory) |
| Death Compensation | ₹44 lakh as one-time ex-gratia for death attributable to service |
| Disability Compensation | ₹44 lakh (100% disability), ₹25 lakh (75% disability), ₹15 lakh (50% disability) |