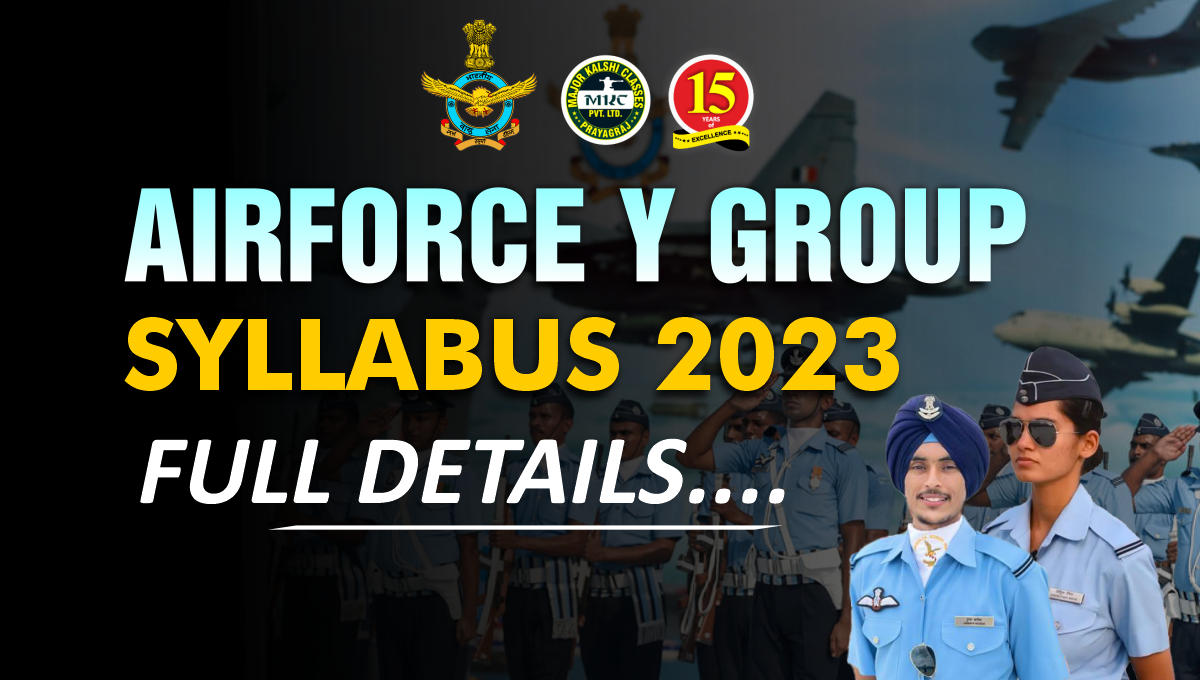 Airforce Y Group Syllabus 2023 full detail.
The Airforce Y Group exam is conducted by the Indian Air Force for the recruitment of non-technical airmen. The exam consists of two stages – an online written exam and a physical fitness test. Here are the Airforce Y Group Syllabus 2023 full detail.
Airforce X/Y Group Exam Pattern 2023:-
Agniveer Air Force Exam Pattern 2023
Name of the Group
Subjects
No. of Questions
Total Marks
Exam Duration
Airmen Science
English
20
70
60 minutes
Mathematics
25
Physics
25
Airmen Other than Science
Reasoning & General Awareness
30
50
45 minutes
English
20
Airmen Science & Other than Science
Mathematics
25
100
85 minutes
English
20
Reasoning & General Awareness
30
Physics
25
Airforce Y Group Syllabus 2023:-
English Language: Comprehension, Grammar, Sentence Completion, One Word Substitution, Synonyms, Antonyms, Error Detection.
Reasoning and General Awareness: Verbal and Non-verbal Reasoning, General Knowledge, Current Affairs, Sports, Culture, Indian History, Geography, Civics, Basic Science, Environmental Science.
Indian Air Force Group 'Y' Trades: Knowledge of Indian Air Force, Aircrafts, Air Force Life, and Training.
Agniveer Air Force Syllabus 2022
Subjects
Topics
English

Word Formation (nouns from verbs, adjectives, etc.)
Preposition
Determiners
Noun & Pronoun
Conjunction
Adverb
Modals
Clauses (noun, adverb & relative clauses)
Subject-verb concord
Verb formation and error in their use
Sentence transformation (simple, negative, compound, complex, etc.)
One-word substitution
Synonyms
Antonyms
Spelling errors
Idioms and phrases

Reasoning

Distance and Direction
Number Simplification
Area of triangle, square, and rectangle
Coding and Decoding
Analogy & Odd one out
Blood relations
Number Puzzle and coding
Non-verbal reasoning
Percentage
Inserting the correct mathematical sign
Fractions & Probability
Assigning artificial values to mathematical digit
Average
Ratio & Proportion
Simple Trigonometry
Time, Speed, and Distance
Dictionary words
Profit and loss
Number Series
Mathematical Operations & Mutual relation problem
Youngest, tallest relation-based questions
Time sequence, Number, and Ranking
Volume & Surface area of cone, cylinder, cuboid, and sphere

General Awareness

Current Affairs
General Science
Geography
History
Basic Computer Operations
Civics
The final selection of candidates is based on their performance in the written exam, PFT, and medical examination. Candidates who clear all the stages of the exam are then called for the training program at the Indian Air Force training center.
Airforce Y Group Eligibility Criteria:-
10+2 Intermediate with Minimum 50% Marks Aggregate and 50% Marks in English. OR
2 Year Vocation Course with Minimum 50% Aggregate and 50% Marks in English.
Training Periods of Y Group:-
The training period for Air Force Y Group varies depending on the specific training program. However, here are some general guidelines:
Basic Military Training (BMT): This is the first phase of training, and it lasts for 12 weeks. During this period, trainees are taught the basics of military discipline, physical fitness, and weaponry.
Technical Training: After completing BMT, trainees go through technical training. This period can last anywhere from 16 to 52 weeks, depending on the specialization. During this period, trainees are trained in their specific technical fields, such as communication, electronics, or mechanics.
On-the-Job Training: This is the final phase of training, where trainees are placed in actual working units to apply their technical skills in real-life scenarios. The duration of this phase depends on the specific unit and the trainee's performance.
Overall, the entire training period can last anywhere from 9 months to 2 years, depending on the specific program and the trainee's performance.