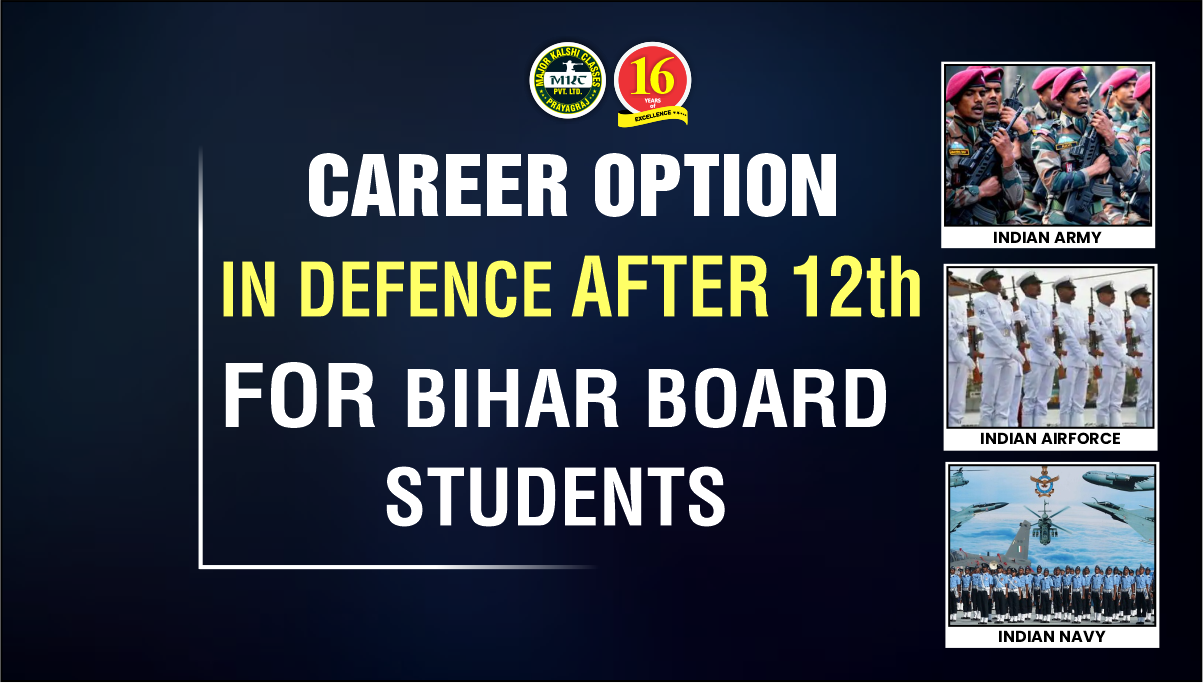 Career Options in Defence After 12th for Bihar Board Students
After completing class XII, there are numerous opportunities to join the Indian Defence and serve the country. This article aims to provide detailed information on various career options available in Defence after 12th for Bihar Board Students in 2023, which can help improve one's career prospects. Pursuing a career in the Indian Defence system opens up opportunities to work in departments such as Indian Air Force, Navy, and Army. Choosing a suitable career option in Defence after completing class 12th is crucial, and this article will guide you on how to make an good decision.
In 2023, due to the rising number of competitive examinations, candidates strive to work hard and secure top positions in the Defence sector, both for personal and national pride. There are several career options available in the Indian Defence after completing the 12th class, but each option has unique eligibility and age limit criteria. It is essential to understand the eligibility requirements before filling out the application form for the exam. This article will guide you on the selection of the appropriate application form and the eligibility criteria for the various career options in the Indian Defence after class 12th for Bihar Board Students.
Career options in Defence After 12th for Bihar Board Students
There are a total of five entries in the Defence after the 12th by which you can join the Indian Armed forces as an officer or Non-Commissioned Officer etc.
National Defence Academy (NDA) Entry.
IAF: Indian Air force X and Y group Airmen Entry.
Navy: Navy B.Tech Entry after 12th
Navy: Indian Navy Sailor's Entry after 12th
Army: Army TES entry after 12th
This examination can be taken immediately after completing 12th standard. The selection procedure, eligibility criteria, age limit, and exam pattern of this examination are important factors to consider. Let's take a look at these factors in detail.
Selection procedure of NDA
Written exam (conducted by UPSC)
SSB Interview
Medical test
Eligibility criteria of NDA | Educational qualification for the NDA:
Candidate must have physics and mathematics in 10+2.
If you are in class 12th. Then too you can apply.
Candidate must have 60% marks in PCM in 12th board.
Age Limit for the NDA:
The age of the candidates must be between 16.5 to 19 yrs. old.
There is no relaxation has been given to any caste or religion.
The age limit is the same for all the categories.
Career options in Defence after the 12th in 2023: The Selection Process of the candidate would be in four Phases and it is mandatory to clear each phase:
Online test
Physical test.
Medical Test
AIR (All India Rank) etc.
The Eligibility for each X and Y group is different because the X group is for the Technical group and Y is for the Non- technical group. I have given the Eligibility details of each group individual:
Group X (Except Education Instructor Trade):
The candidate must have passed 10+2 with Mathematics, Physics, and English with a minimum of 50% marks in aggregate and 50% marks in English from any recognized board. or
Three years Diploma Course in Engineering in any stream.
Group Y (Except Automobile Technician) Trades:
The Candidate must have Passed Intermediate in any stream/subjects approved by Central/ State Education Boards with a minimum of 50% marks.
The candidate must have 50% marks in English.
There are three phases of selection to join the Navy B. Tech Entry Course. One will need to clear:
Shortlisting of the candidates based on marks scored in class JEE mains.
SSB Interview
Medical Examination etc.
Eligibility Criteria to apply for vacancy:
Unmarried men can apply to fill out this application form.
Age must be at least 16.5 years old.
A candidate must have completed 10+2 with Physical, chemistry, mathematics, etc.
In the Indian Navy B. Tech Entry Scheme, the selection is based on the merit list based on the score of JEE Main.
E-mail to the shortlisted candidates in the merit list or S.M.S. Information for an interview comes from.
Candidates are sent to Jawaharlal Nehru University for 4 years to complete the syllabus and for basic training.
Career options in Defence after 12th in 2023: This entry is basically for the sailors and A candidate can join the Technical and non-technical branches of the Indian Navy as a Sailors. The Selection will be done in three phases:
Computer-based test
Physical test
Medical test
Eligibility Criteria:
Only Indian citizens are eligible to apply.
For the SSR, Candidates must have qualified 10+2 with physics and mathematics as compulsory subjects.
For the AA, candidates must have passed 10+2 with at least 55% marks.
The candidate's age should be between 17 to 20 on the day of enrollment.
Indian Army TES Entry after 12th:
If you are interested in the Technical Field of the Indian Army, You can apply for this entry. To apply for this, you must match the following criteria of the Indian Army.
Selection Procedure of TES
Candidates would be selected based on merit.
Merit would be made based on your class 12th mark sheet.
After the submission of the application, the Indian Army team will declare the cut-off according to your 12th mark scored on the boards.
A candidate also must have appeared for JEE mains exam.
Shortlisted candidates will be detailed to undergo an SSB interview.
The final merit list will be displayed on the Directorate General of Recruiting website.
Let's discuss the details of this vacancy and its eligibility criteria, educational qualification, and physical fitness.
Educational qualifications required in TES:
Only those candidates can apply who is having physics, chemistry, and mathematics at 10+2 level. With a minimum of 70% marks.
The eligibility condition for calculating the PCM percentage of various state /central boards will be based on marks obtained in Class XII only.
Age Limit for TES:
The age limit for this vacancy is similar to the NDA exams.
The candidate's age should not be less than 16.5yrs and should not be more than 19.5yrs old.