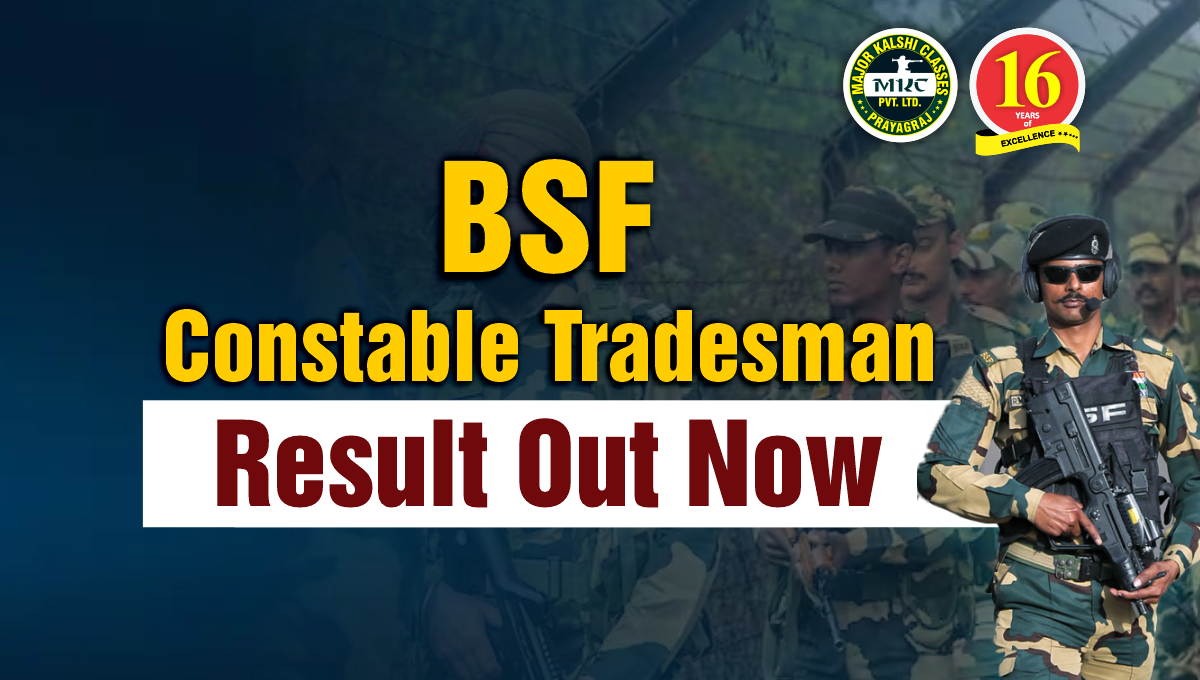 BSF Constable Tradesman Result out Now.
The Border Security Force (BSF) has recently announced the result of the Constable Tradesman recruitment exam. The BSF conducted the recruitment exam to fill various vacancies of Constable Tradesman in various trades, including cook, sweeper, washer-man, carpenter, electrician, plumber, and mason.
The result of the BSF Constable Tradesman recruitment exam is now available on the official website of the BSF. Candidates who have appeared for the exam can check their results by visiting the official website and entering their roll number and other required details.
Download BSF Constable Tradesman Result 2023:-
The candidates who have qualified for the BSF Constable Tradesman recruitment exam will be called for the next stage of the recruitment process, which includes document verification and other formalities. The selected candidates will then undergo training and will be posted at various BSF units across the country.
The BSF Constable Tradesman recruitment is a great opportunity for candidates who are interested in serving the nation and want to work towards ensuring the safety and security of the country's borders. The job of BSF Constable Tradesman provides a decent salary, various benefits, and an opportunity to serve the country with pride and honor.
What is Next after result:-
Physical Efficiency Test (PET): Candidates who qualify the written exam are called for the PET. The PET consists of the following events:
Race: 5 km race to be completed within 24 minutes for male candidates and 1.6 km race to be completed within 8.30 minutes for female candidates.
Long Jump: Minimum 3.65 meters for male candidates and 9 feet for female candidates.
High Jump: Minimum 1.2 meters for male candidates and 3 feet for female candidates.
Trade Test: Candidates who qualify the PET are called for the trade test, which is of qualifying nature. Candidates are assessed on the basis of their skills and knowledge in the respective trade they have applied for.
Medical Exam: Candidates who qualify the trade test are called for the medical exam. Candidates must meet the medical standards set by the BSF to be eligible for recruitment.
BSF Constable Tradesman Physical Standards:
Height: 165 cm (for males) and 155 cm (for females)
Chest: 75-80 cm (for males)
Weight: Proportionate to height and age
How to prepare for physical of BSF:-
The Border Security Force (BSF) is one of the country's premier paramilitary forces responsible for guarding India's borders with Pakistan and Bangladesh. Joining the BSF requires candidates to undergo a rigorous selection process, including physical tests. Here are some tips to help you prepare for the physical tests of BSF:
Know the physical requirements: The first step towards preparing for the physical tests is to understand the physical requirements. The physical tests of BSF typically include running, long jump, high jump, and other tests that evaluate the candidate's physical fitness.
Start early: Physical fitness cannot be achieved overnight. It takes time and regular practice to build endurance and strength. Therefore, it is advisable to start your physical training well in advance.
Follow a proper diet: Eating a healthy and balanced diet is crucial for physical fitness. Ensure that your diet is rich in proteins, carbohydrates, vitamins, and minerals. Avoid junk food, alcohol, and smoking.
Cardiovascular training: Running is a crucial part of the BSF physical tests. Hence, focus on cardiovascular training that includes running, jogging, and other aerobic exercises to improve your stamina and endurance.
Strength training: Strength training is equally essential as it helps in building strength and agility. Include exercises such as push-ups, pull-ups, squats, and lunges to build your strength.
Practice regularly: Regular practice is key to achieving physical fitness. Allocate at least one hour every day for physical training and practice.
Take rest: Adequate rest is crucial for physical fitness. Ensure that you get enough rest and sleep to allow your muscles to recover and repair.
Physical fitness is a crucial aspect of the BSF selection process. Candidates should focus on regular practice, a healthy diet, and adequate rest to achieve physical fitness. By following these tips, candidates can increase their chances of clearing the physical tests of BSF and achieving their dream of serving the nation.