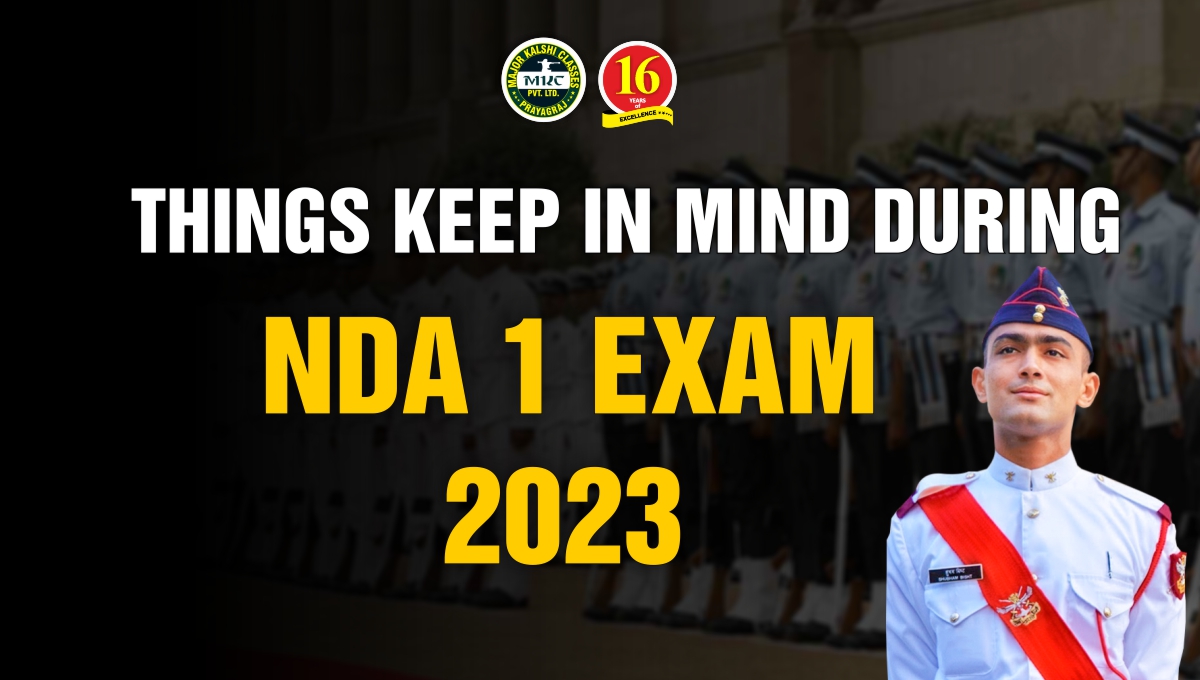 Things keep in mind during NDA 1 Exam 2023
The National Defence Academy (NDA) examination is one of the most prestigious and competitive exams in India. It is conducted twice a year by the Union Public Service Commission (UPSC) for candidates who aspire to join the Indian Army, Navy, and Air Force. The NDA examination is a gateway to one of the most respected and esteemed careers in the country. With the NDA 1 examination 2023 approaching, it is crucial to keep a few essential things in mind before appearing for the exam. Lets Things keep in mind during NDA.
Tips keep in Mind in NDA Exam Hall 2023:-
The exam is tough, and candidates must keep a few essential things in mind during the exam to increase their chances of success. Here are some crucial things that candidates must remember while in the exam hall:
Carry the Admit Card: The admit card is a crucial document that candidates must carry to the exam hall. Without it, they will not be allowed to appear for the exam. Therefore, candidates must ensure that they carry their admit card with them to the exam hall.
Follow Instructions: Candidates must follow all the instructions given by the invigilators during the exam. The exam hall has strict rules and regulations, and candidates must abide by them to avoid any penalties or disqualification.
Manage Time Efficiently: Time management is critical during the NDA 1 exam. Candidates have to answer a vast number of questions within a limited time. Therefore, they must manage their time efficiently and allocate time to each question accordingly.
Avoid Guesswork: The NDA 1 exam has negative marking, and candidates lose marks for incorrect answers. Therefore, candidates must avoid guesswork and attempt only those questions they are confident about.
Maintain Clarity: Candidates must write their answers neatly and legibly to ensure clarity. Illegible answers can lead to loss of marks, and candidates must avoid making mistakes while writing their answers.
Keep a Positive Attitude: Lastly, candidates must keep a positive attitude during the exam. The NDA 1 exam is tough, and candidates might face challenges during the exam. However, they must stay calm and composed and maintain a positive attitude throughout the exam.
Read the Questions Carefully: Candidates must read the questions carefully before attempting them. Misinterpreting a question can lead to incorrect answers and loss of marks.
Use Rough Work Space Wisely: Candidates must use the rough work space provided on the answer sheet wisely. They can use it to solve complex problems, make calculations, or jot down important points. Organizing the rough work neatly can help candidates save time and avoid mistakes while attempting the final answer.
Stay Focused and Avoid Distractions: The exam hall can be distracting, with noises from the outside, the movement of other candidates, and other distractions. Candidates must stay focused and avoid any distractions that can hinder their performance.
Revise the Answers: After attempting all the questions, candidates must take some time to revise their answers. This step helps them identify any mistakes or omissions they might have made while attempting the questions. Revising the answers can help candidates improve their score and increase their chances of success.
Be Confident: Confidence is key during the exam. Candidates must have faith in their preparation and trust their abilities. A confident candidate can attempt the questions with a positive mindset and perform better than a candidate who is uncertain and doubtful.
Do not Panic: Lastly, candidates must avoid panicking during the exam. Panic can lead to poor performance, mistakes, and loss of time. Candidates must take deep breaths, stay calm, and focus on the questions at hand.
Join MKC For more tips regarding NDA 2023:-
Major Kalshi Classes (MKC) is a renowned coaching institute for NDA (National Defence Academy) Exam preparation for the year 2023. We provide both online and offline coaching programs for NDA aspirants, covering all the essential aspects of the NDA exam, such as mathematics, general ability test, and English.
At MKC, we offer a comprehensive study material, regular practice tests, and doubt-clearing sessions to help students prepare for the exam effectively. We also provide physical fitness training to prepare students for the physical fitness test, which is an essential component of the NDA selection process.
Our coaching faculty consists of experienced and qualified teachers who offer personalized attention to each student and help them overcome their weaknesses. At MKC, we strive to provide a positive and conducive learning environment for all our students.
If you are an NDA aspirant looking for a quality coaching institute to help you succeed in the exam, then MKC is the perfect choice for you. Our coaching programs are designed to give you the necessary skills and knowledge to excel in the NDA exam 2023. Join us today and embark on your journey towards a successful career in the Indian Army, Navy, or Air Force.