After passing the written test, every student seeks the Best CDS SSB Interview Coaching. The UPSC conducted the CDS test on April 10, 2022, and many students took part in it. I hope you did well in the written examination, which is why you are looking for the Best SSB Interview Coaching to join.
Major Kalshi is known as the top CDS SSB tutoring in India and Allahabad; if you scored the projected cut off, you should take the SSB interview courses as soon as possible for the best preparation.
Major Kalshi Classes, a well-known defence institute in Prayagraj, specialises in the Defense Entrance Exam and SSB Interviews. Our institute is the first to offer a one-of-a-kind education for the CDS SSB Interview. In the previous 15 years, our college has achieved unparalleled success by inducting hundreds of defence aspirants into the Indian Armed Forces.
You must go through the SSB Interview if you wish to be a commissioned officer, as you have already read about the examination selection method. Our Institute will give you thorough SSB Interview training from famous defence specialists, top academics, and numerous analysts who will lead you through the Screening Test, Psychology Test, GTO Task, Personal Interview, and Conference. Each duty is given a different weightage.
SSB Interview Process:
The SSB Interview lasts five days, with different types of examinations and activities on each day. You will be provided thorough information on each day of the interview and how you must act and perform, among other things, in the SSB Interview Online Classes. Here's how the interview went over the course of five days. Candidates can observe the SSB Interview Pattern below:
Stages
Tests
Stage 1
Screening Test

Verbal and non-verbal tests.
PPDT

Stage 2
Psychological Test

Thematic Apperception Test (TAT)
Word Association Test (WAT)
Situation Reaction Test (SRT)
Self Description Test (SD)

Group Testing Officers Tes

GD
GPE
PGT
HGT
IOT
Command Task
Snake race/Group Obstacle Race
Individual lecture
FGT

Personal Interview
–
Conference-
CDS exams are conducted to recruit officers in the Indian Army. These examinations are conducted by UPSC for the posts of officer rank in the Army, Navy, and Airforce. This exam can give only after graduation. After passing the written test of CDS, you are selected for an SSB interview. After which you have to clear difficult interviews like SSB. When you pass the SSB interview you are sent to centre to places like Indian Naval Academy (Goa), Indian Airforce Academy (Hyderabad), and Indian Military Academy (Dehradun). In IMA, INA, and IFA your 2 years of training are complete.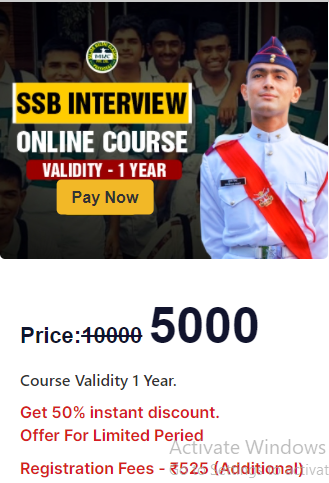 Friends, as you saw how difficult CDS interviews are. To succeed in an exam like CDS, first of all, you have to prepare your mind to go into the army. After that, you have to select an educational institution (Best CDS SSB interview coaching in UP) where you can easily fulfil your dream.
CDS SSB interview Detailed Process
SSB interview is of 5 days in which different tests taking every day. All the tests divide into 2 stages in 5 days.
Stage I: Screening Test
Stage II: Psychological Test, Group Testing Officers Test (GTO Interview), Personal Interview, Conference.
Medical Examination: –
Selected candidates are sent for medical examination after a 5-day interview procedure.
Shortlisting of All India Merit List
Those candidates who clear the medical exam. Their merit list is then extracted. Then the candidates who offer. He joins as a defence officer, an officer.
Major Kalshi Classes for CDS SSB Interview Coaching: –
Guidance of experienced teachers for joining the army: –
For any examination, teachers are very important. On the campus of Major Kalshi Classes, there is a team of experienced teachers for every examination related to the Army. Under their guidance, many youths got jobs in the army and raised their own and their family names.
| | |
| --- | --- |
| Days | Details |
| DAY – 1 | Introduction to SSB(5 days SSB Procedure, Officer Like Qualities & PIQ form) |
| DAY – 2 | Screening |
| DAY – 3 | Screening test, Mock practice and Feedback |
| DAY – 4 | Introduction to Psychological Test & Thematic Apperception Test |
| DAY – 5 | Word Association Test & SRT (Situation Reaction Test) |
| DAY – 6 | Self Description Test & Complete Psychological Test and Feedback |
| DAY – 7 | OIR, (Verbal and Non-verbal Reasoning class) |
| DAY – 8 | Personal Interview Briefing |
| DAY – 9 | Mock Interview & Feedback to Student |
| DAY – 10 | Mock Interview & Feedback to Student |
| DAY – 11 | G.T.O. Briefing, GD and Lecturette |
| DAY – 12 | P.G.T, H.G.T, G.P.E, & G.O.R. |
| DAY – 13 | IO, CT, FGT and Conference |
| DAY – 14 | CPSS TEST |
Preparing for SSB interview in MKC Coaching
Friends, there are many such coaching institutes in the area of ​​Allahabad. Where you are preparing for the Indian army. But the preparation for the SSB interview to be held in the army examination is very difficult in any coaching institutes. A panel of experienced teachers prepared for interviews in Major Kalshi Classes. Where they get the format of army interviews conducted in their coaching institutes. Through this, it becomes easier for the youth to pass SSB interviews, and they get an experience of SSB interviews.
Panel for Medical Test for CDS Coaching
Friends, Major Kalshi classes conducted medical tests and fitness-related tests for their students in examinations like the Indian Army Navy and the Airforce, under the supervision of doctors at Major Kalshi Health Care. By which students can overcome medical and fitness related problems, and can easily apply for army examinations.
Getting ready for physical fitness: –
Friends, students preparing for CDS in Major Kalshi classes are given every piece of information related to physical fitness by their physical teachers. Students who are staying in hostels of Major Kalshi Classes. For them, the physical fitness teacher of Major Kalshi's classes prepares periodically. Due to this, the students get the energy and motivation to join the army.
Join MKC For Online SSB Interview Preparation:
There are many rules and regulations to appear in the SSB Interview. It is important for every candidate who is appearing in the Interview must be aware of it. Any wrong movement or inappropriate behaviour can be a reason to disqualify you. The Major Kalshi Classes prepare the students for the SSB Interview within a month and the training is given by the Ex-SSB Interviewers and Defence Officers etc. In the SSB Interview Online Classes, You need to build officer-like quality to clear the Interview. There are around 15-16 Officers Like Quality. In the Online Classes you get the following:
Unlimited Access to live classes for 1 year
Recorded video, Notes, Online Test Series
Doubt Counter Facility Available
Hindi and English Medium Batch Available, etc
Well, our team is here to help you in every manner regarding the Interview and make you able to clear the Interview. Join the Best SSB Online Coaching in India and get the best, easy and affordable training for the SSB Interview. Here are the SSB Interview Courses details.
Frequently Asked Question (FAQs)
What happens in the SSB interview?
Answer:- During the SSB interview, the commission officers are testing educational and the intellectual abilities of the candidates.
Are SSB interviews the same in all military exams?
Answer: Yes, SSB interviews are the same for all official posts under the military department.
What is the best book for an SSB interview?
Answer:- The list of best books for SSB interviews is given above. Click on the given link to purchase these books.
Can candidates living in other areas of Uttar Pradesh prepare for SSB sitting at home?
Answer:-Yes, any candidate sitting at home can prepare for an SSB interview through online classes.
Which is the better coaching institute in Uttar Pradesh?
Answer:- The best coaching institute in Uttar Pradesh is Major Kalshi Classes for preparing military forces.
FOLLOW