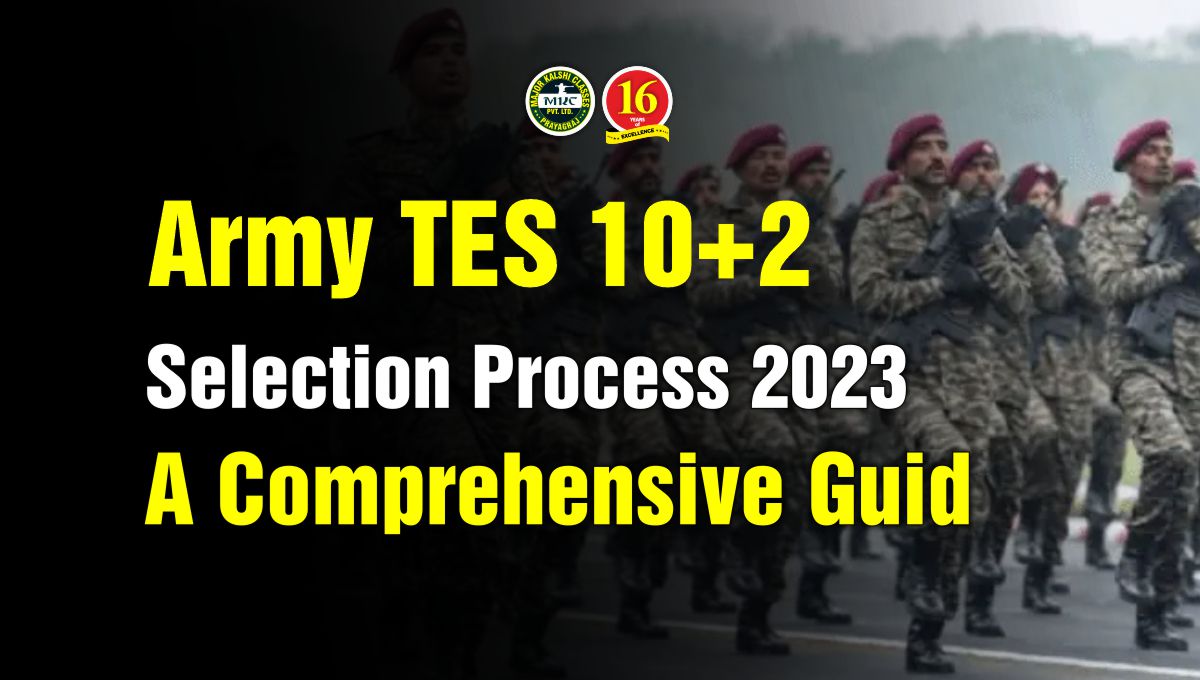 Army TES 10+2 Selection Process 2023: A Comprehensive Guide
The Army Technical Entry Scheme (TES) is a sought-after opportunity for candidates who have completed their 10+2 education and aspire to join the Indian Army as technical officers. The selection process for Army TES 10+2 is rigorous and thorough, designed to identify individuals with the necessary skills, aptitude, and potential to serve as officers in the Indian Army. In this article, we will provide a comprehensive guide to the Army TES 10+2 selection process for the year 2023.
Army TES 10+2 Selection Process
Eligibility Criteria:
The first step in the Army TES 10+2 selection process is to ensure that you meet the eligibility criteria. The criteria include being an Indian citizen, age between 16.5 to 19.5 years, having completed 10+2 education with Physics, Chemistry, and Mathematics (PCM) subjects, and meeting the required physical fitness standards.
Note- JEE Mains 2023 has been made Mandatory from Indian Army TES 50 Course.
Army TES Selection Process 2023:-
1. Online Application: Candidates who meet the eligibility criteria need to fill out the online application form. The form requires personal and educational details, including marks obtained in 10th and 12th grades, selection of SSB interview center, and uploading of necessary documents. It is important to fill in accurate information and double-check before submitting the form.
2. Shortlisting: After the application process, the Army shortlists candidates based on their 10+2 aggregate marks and PCM percentage. A cutoff is set, and candidates who meet the cutoff criteria are called for the Services Selection Board (SSB) interview.
3. Services Selection Board (SSB) Interview: The SSB interview is a comprehensive assessment process conducted over multiple stages to evaluate candidates' suitability for the Army TES 10+2 program. It typically includes the following stages-
Here's a simplified table outlining the stages of the SSB interview process:
| SSB Interview Process Stages | Description |
| --- | --- |
| Stage 1: Screening Test | – Officer Intelligence Rating (OIR) Test |
| | – Picture Perception and Description Test (PP&DT) |
| Stage 2: Psychological Tests | – Thematic Apperception Test (TAT) |
| | – Word Association Test (WAT) |
| | – Situation Reaction Test (SRT) |
| | – Self-Description Test (SD) |
| GTO Tasks | – Group Discussion |
| | – Group Planning Exercise |
| | – Progressive Group Task |
| | – Half Group Task |
| | – Individual Obstacles |
| | – Lecturette |
| | – Command Task |
| | – Final Group Task |
| Personal Interview | – Face-to-face interview with the Interviewing Officer (IO) |
| Conference | – Final assessment and decision-making by the board members |
4. Medical Examination: Candidates who clear the SSB interview are required to undergo a thorough medical examination. This examination ensures that candidates meet the medical standards set by the Indian Army for service as officers.
5. Merit List and Final Selection: Based on the performance in the SSB interview and medical examination, a merit list is prepared. The final selection of candidates for Army TES 10+2 is based on the vacancies available and the candidate's ranking in the merit list.
The Army TES 10+2 selection process for 2023 is a comprehensive and rigorous evaluation that assesses candidates' suitability for technical officer roles in the Indian Army. It includes eligibility criteria, online application, shortlisting, the SSB interview process, medical examination, and final selection.
Aspirants should be well-prepared, both mentally and physically, and approach each stage of the selection process with dedication and confidence. By understanding the process and putting in the necessary effort, candidates can increase their chances of successfully joining the Indian Army through the Army TES 10+2 entry.
How MKC help for Army TES SSB Preparation 2023:-
MKC (Major Kalshi Classes) is an institute that provides coaching and guidance to candidates preparing for various defense-related entrance exams, including the SSB interview. MKC offers specialized SSB coaching programs aimed at helping candidates enhance their knowledge, skills, and overall preparation for the SSB interview. Here's how MKC can help in SSB preparation:
Expert Faculty: MKC has a team of experienced faculty members who are well-versed in the SSB interview process. They provide guidance, conduct mock interviews, and offer personalized feedback to help candidates understand the requirements of the SSB interview and improve their performance.
Mock SSB Interviews: MKC conducts regular mock SSB interviews, simulating the actual SSB environment. These mock interviews help candidates familiarize themselves with the interview process, improve their communication skills, develop confidence, and learn time management techniques. Detailed feedback and performance analysis are provided to help candidates identify areas of improvement.
Motivational Sessions: MKC organizes motivational sessions to inspire and motivate candidates throughout their SSB preparation journey. These sessions help candidates stay focused, boost their confidence, and maintain a positive mindset.