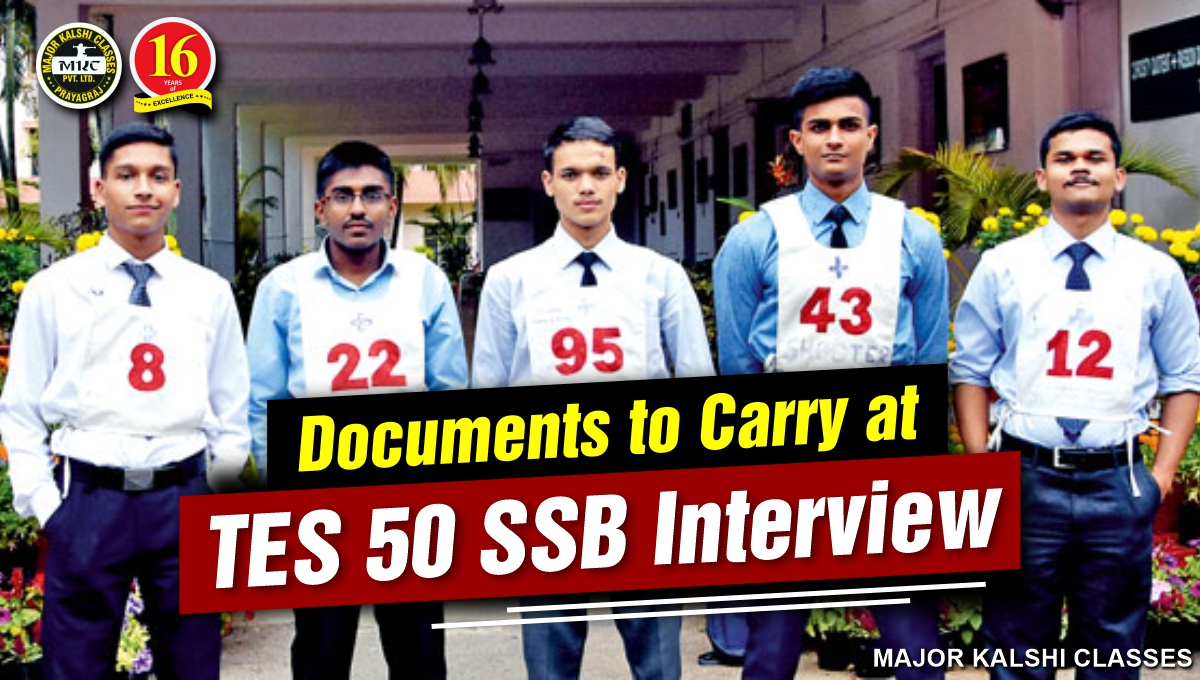 Jai Hind Defence Aspirants ! Date Selection Link for Army TES 50 SSB Interview has already been closed and I hope you all have selected your SSB Interview Dates . SSB Interview for TES 50 Entry will commence from the third week of August . In this Article we will discuss about Documents to Carry at TES 50 SSB Interview . Earlier we have publisher a blog on topic – How to Prepare for TES 50 Interview . Must read this article and you will get some beneficial insights for Army TES 50 SSB Interview . Today , In this blog we are going to discuss about the TES 50 SSB Centers and what documents you must prepare for TES 50 SSB Interview .
Army TES 50 SSB Interview Procedure :-
The Technical Entry Scheme is a mode of entry for young men into the Indian Army, specifically for class 12th Qualified students with Physics, Chemistry and Math's .Candidate should have also appeared for JEE Mains Exam . After filling the application form candidates are shortlisted according to their JEE Mains rank and 12th Board Percentage . TES 50 Entry allows candidates to join the Indian Army as a commissioned officer directly after completing their class 12th Examination .
The TES 50 SSB Interview process usually spans over several days and is conducted in two stages:
Stage 1:
Officer Intelligence Rating (OIR) Test: This consists of verbal and non-verbal reasoning questions.
Picture Perception and Description Test (PP&DT): Candidates are shown a picture and asked to write a story based on it and the narration as well as discussion is made.
Candidates who qualify in Stage 1 move on to Stage 2.
Stage 2:
Psychological Tests: These include various written tests designed to assess the candidate's personality and behavioral traits. This test Battery Consists – TAT,WAT,SRT & SDT .
Group Testing Officer Tasks (GTO): These include group tasks to evaluate teamwork and leadership skills. This test include GPE,HGT,FGT,CT,GD,LECTURETTE,GOR . Click Here to Know more .
Interview: A personal interview with an interviewing officer to assess the candidate's suitability for the armed forces.
Army TES SSB Interview Process 2023 , Day to Day Procedure
Documents to carry for TES 50 SSB :-
1. One copy of the print out of the application duly self attested by the candidate will be carried to the Selection Centre for the SSB interview.
2. Class 10th certificate and marks sheet in original showing DOB.
3. Class 12th Certificate & Marks sheet in original.
4. ID proof in original.
5. Copy of result of JEE (Mains) 2023.
6. Undertaking/ Declaration for correct details of percentage in 12th class (PCM)and JEE (Mains) as per attached format .(Appendix B ).
7. Candidates Who Have Submitted Their Certificates and Mark Sheets in College or Institution for Pursuing Higher Studies. Please bring a bonafide certificate along with certified true copy of those documents as per specimen attached at Appendix 'C'.
8 . Risk Certificate as per Appendix 'D'.
9. Certificate for not having duplicate profiles/registration IDs as per Appendix 'E'
10. All certificates in original will be returned after verification at the Service Selection Board ITSELF.
11. Proof of Identity. Proof of identity with photograph such as voter ID (or) PAN card (or) driving license (or) passport or Aadhar Card in ORIGINAL along with two self attested copies .
12. Certificate of Pervious Candidature / SSB Attempt. Format is attached as Appendix – 'F'.
13. Undertaking Certificate by Candidate Prior to Undergoing SSB. Format is attached as Appendix – 'G'.
14. Candidates with Tattoo , Please Carry Tattoo Certificate .
Other Important Points to Remember :-
All candidates will carry their personal face masks, face shield, gloves, hand sanitizer and water bottles & keep two weeks' clothing with them.
NO RISK CERTIFICATE. All candidates will carry and submit a COVID-19 'No Risk Certificate' before coming for ssb. in case of minors, the same is to be signed by their parents/ natural guardians .
This is all about Documents to carry at TES 50 SSB Interview . I hope , your all doubts and queries would have been ended by now.
For More Guidance , Stay related to our Blog page where you will get Best Guidance for Defence Exams . If you want to crack SSB , Join Major kalshi classes for Best SSB Interview Guidance . Here at MKC, we have Retd. SSB Interview Board Officers who guides you and polishes your Officer Like Qualities (OLQ's) and make you best for SSB Interview . Join Major kalshi classes – Best SSB Coaching in Allahabad. For Any Assistance , Call us on 9696330033or Whatsapp at 9696220022
For Regular Defence Updates – Click Here.
Thank You !