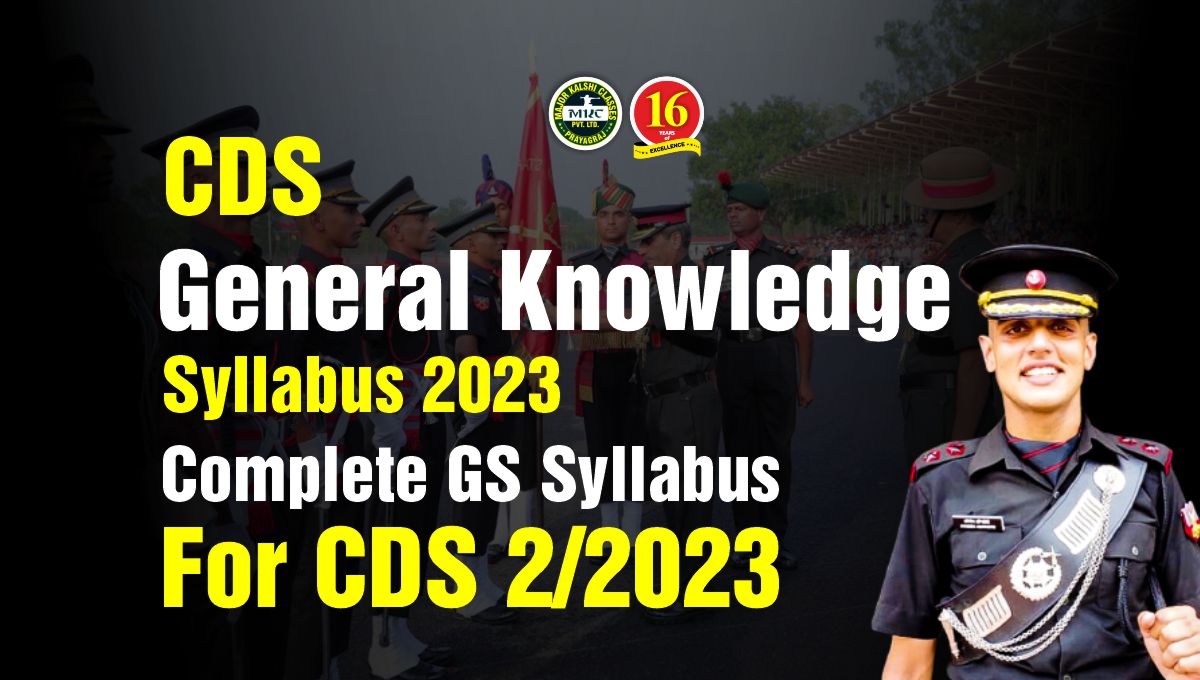 The Combined Defence Services (CDS) examination is a highly esteemed and competitive exam conducted by the Union Public Service Commission (UPSC) to select candidates for various branches of the Indian Armed Forces. The General Knowledge (GK) paper in the CDS exam plays a crucial role in evaluating a candidate's awareness of current affairs, general knowledge, and understanding of national and international events. Aspirants aiming to crack the CDS exam in 2023 must be well-versed with the GK syllabus. In this article, we provide a comprehensive guide to the CDS General Knowledge syllabus for 2023, helping candidates prepare effectively.
The CDS General Knowledge paper assesses a candidate's knowledge across various domains, including History, Geography, Indian Polity, Economy, Science and Technology, Environment, Current Affairs, and Defense-related topics. Here is a detailed breakdown of the CDS General Knowledge syllabus for 2023:
CDS General Knowledge Syllabus 2023
Here is a detailed syllabus for the CDS (Combined Defence Services) General Knowledge paper:
History:
Ancient Indian History: Prehistoric period, Indus Valley Civilization, Vedic Period, Mauryan Empire, Gupta Empire, etc.
Medieval Indian History: Delhi Sultanate, Mughal Empire, Vijayanagara Empire, Maratha Empire, etc.
Modern Indian History: British rule in India, Indian National Movement, Independence and Partition, Post-Independence India, etc.
World History: French Revolution, American War of Independence, Industrial Revolution, World Wars, Cold War, etc.
Geography:
Physical Geography: Earth's structure, landforms, climate, weather systems, natural disasters, etc.
Indian Geography: Physical features, rivers, mountains, climate, flora and fauna, states and capitals, etc.
World Geography: Continents, oceans, major countries and their capitals, famous landmarks, etc.
Environmental Geography: Environmental issues, conservation efforts, global initiatives, etc.
Indian Polity and Governance:
Indian Constitution: Preamble, Fundamental Rights and Duties, Directive Principles of State Policy, Amendments, etc.
Political System in India: President, Prime Minister, Parliament, Judiciary, Election Commission, etc.
Public Administration: Administrative structure, civil services, public policies, etc.
Panchayati Raj: Rural local self-government, powers and functions of Panchayats, etc.
Economy:
Indian Economy: Economic sectors, GDP, inflation, budget, taxation, banking system, etc.
Economic Theory: Demand and supply, market structures, national income, economic indicators, etc.
Economic Reforms in India: Liberalization, Privatization, Globalization, economic policies, etc.
Global Economy: International trade, WTO, IMF, World Bank, global economic issues, etc.
Science and Technology:
Physics: Laws of motion, optics, electricity, magnetism, modern physics, etc.
Chemistry: Atomic structure, periodic table, chemical reactions, organic chemistry, etc.
Biology: Cell biology, human anatomy, genetics, ecology, diseases, etc.
Information Technology: Computer fundamentals, software, internet, cybersecurity, etc.
Space Technology: Satellites, space missions, astronomy, space research organizations, etc.
Environment and Ecology:
Environmental Pollution: Air pollution, water pollution, soil pollution, noise pollution, etc.
Climate Change: Greenhouse effect, global warming, climate conferences, mitigation strategies, etc.
Biodiversity and Conservation: Ecosystems, endangered species, wildlife conservation, protected areas, etc.
Environmental Laws and Policies: Environmental acts, environmental impact assessment, sustainable development, etc.
Current Affairs:
National and International Events: Recent developments in India and across the world, political updates, sports events, etc.
Sports: Major sports tournaments, achievements of Indian sports personalities, sports organizations, etc.
Awards and Honors: National and international awards, Nobel Prizes, Padma Awards, etc.
Books and Authors: Recent books, authors, and their works.
Important Dates and Days: National and international observances, commemorative days, etc.
Defense-related Knowledge:
Indian Armed Forces: Army, Navy, Air Force, defense services, ranks, and insignia.
Defense Organizations: DRDO, ISRO, HAL, defense research, and development, etc.
Defense Agreements and Collaborations: International defense partnerships, defense agreements, etc.
Weapons and Equipment: Military hardware, aircraft, naval vessels, missiles, etc.
How to prepare CDS General Knowledge 2023:-
To effectively prepare for the CDS General Knowledge paper, candidates should adopt the following strategies:
Stay Updated: Keep yourself updated with current affairs and national/international news through newspapers, magazines, news websites, and television. Focus on important events, government policies, and significant developments across various domains.
Read Standard Reference Books: Refer to standard GK books and study materials recommended for competitive exams. This will provide comprehensive coverage of different topics and help you build a strong foundation of general knowledge.
Make Notes: While studying, make concise and organized notes covering key points, important dates, and facts. These notes will serve as quick references during revision.
Solve Previous Year Question Papers: Practice solving previous year question papers to understand the exam pattern and the type of questions asked. It will also help you identify your strengths and weaknesses and focus on areas that need improvement.
Take Online Quizzes and Mock Tests: Participate in online quizzes and take mock tests to assess your knowledge and improve your time management skills. Many websites and mobile applications offer quizzes specifically designed for CDS exam preparation.
Refer to Defense-related Publications: Read defense-related magazines, publications, and websites to stay updated with the latest developments, technologies, and policies related to the armed forces.
Discuss and Engage in Group Study: Engage in group study sessions or discussions with fellow aspirants to exchange knowledge, clarify doubts, and gain different perspectives on various topics.
Follow Online Educational Platforms: Follow reputable online educational platforms that provide daily current affairs updates, GK quizzes, and study materials specifically designed for CDS exam preparation.