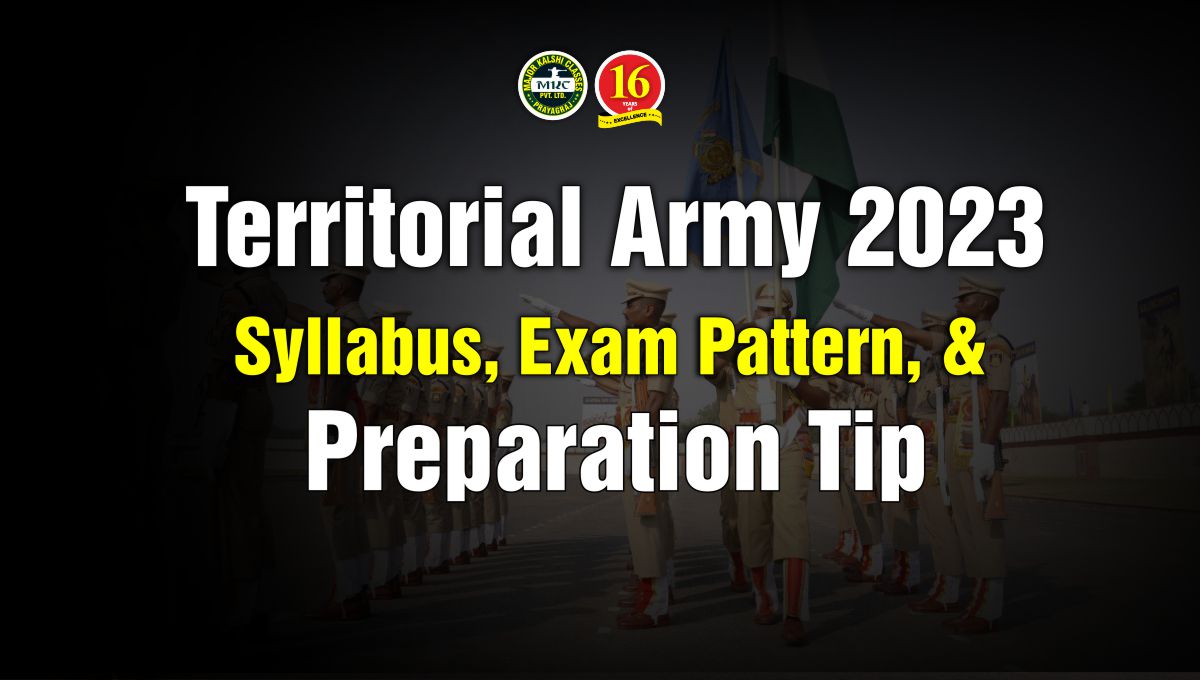 The Territorial Army (TA) exam is a crucial step for individuals aspiring to serve as citizen soldiers in the Indian Army. Aspirants need to be well-prepared to excel in the exam, which assesses their aptitude, general knowledge, and specific skills. This article aims to provide valuable insights into the Territorial Army 2023 syllabus, exam pattern, and tips for effective preparation.
Territorial Army 2023 Syllabus:-
The syllabus for the Territorial Army exam covers various subjects and topics. Candidates should focus on the following key areas:
Reasoning: Logical reasoning, verbal and non-verbal reasoning, puzzles, and analytical ability.
Elementary Mathematics: Topics such as arithmetic, algebra, geometry, trigonometry, and statistics.
General Knowledge: Current affairs, history, geography, politics, science, and environment.
English: Vocabulary, grammar, comprehension, and basic writing skills.
Elementary Science: Physics, chemistry, and biology (up to the 10th standard level).
Territorial Army 2023 Exam Pattern:
The Territorial Army exam consists of two papers:
Paper I: Objective-type questions covering reasoning and elementary mathematics. This paper carries 100 marks.
Paper II: Objective-type questions on general knowledge, English, and elementary science. This paper carries 100 marks.
Here is the exam pattern for the Territorial Army 2023 in a table format:
| Exam Paper | Subject | Total Marks | Total Questions | Time Duration |
| --- | --- | --- | --- | --- |
| Paper I | Reasoning | 50 | 50 | 2 hours |
| | Elementary Mathematics | 50 | 50 | |
| Paper II | General Knowledge | 50 | 50 | 2 hours |
| | English | 50 | 50 | |
| | Elementary Science | 50 | 50 | |
Note: Each question carries one mark. There is a negative marking of 0.5 marks for every incorrect answer.
The Territorial Army exam consists of two papers, Paper I and Paper II. Paper I includes two subjects: Reasoning and Elementary Mathematics. Paper II comprises three subjects: General Knowledge, English, and Elementary Science.
Candidates are allotted a total of 2 hours for each paper. Each paper carries a total of 100 marks, with 50 questions in each subject area.
Preparation Tips:
To excel in the Territorial Army exam, consider the following preparation tips:
Understand the Syllabus: Familiarize yourself with the exam syllabus and make a study plan accordingly.
Study Material: Gather the necessary study material, including books, guides, and online resources, focusing on the subjects and topics mentioned in the syllabus.
Time Management: Allocate sufficient time for each subject, giving more attention to areas you find challenging.
Practice Previous Papers: Solve previous years' question papers and sample papers to get acquainted with the exam pattern, improve time management, and understand the types of questions asked.
Mock Tests: Take mock tests regularly to assess your preparation level, identify weak areas, and work on improving them.
Stay Updated: Keep up with current affairs by reading newspapers, magazines, and online news portals. Stay informed about national and international events, especially those related to defense and security.
Maintain Discipline: Create a study routine and stick to it. Allocate specific time slots for each subject, practice regularly, and maintain a disciplined approach to your preparation.
Revision: Regularly revise the topics you have studied to ensure retention and reinforce your understanding.
Physical Fitness: Apart from the written exam, candidates should also focus on physical fitness. Engage in regular exercise, including cardiovascular activities, strength training, and endurance exercises. Maintain a healthy lifestyle and follow a balanced diet to ensure overall fitness.
The Territorial Army exam requires dedicated preparation and a comprehensive understanding of the syllabus and exam pattern. By focusing on reasoning, elementary mathematics, general knowledge, English, and elementary science, candidates can enhance their chances of success. Follow a structured study plan, practice previous papers, take mock tests, and stay updated with current affairs. Remember to maintain physical fitness alongside your academic preparation. With consistent effort, determination, and disciplined preparation, you can aim for success in the Territorial Army 2023 exam and take a step closer to serving the nation as a citizen soldier.