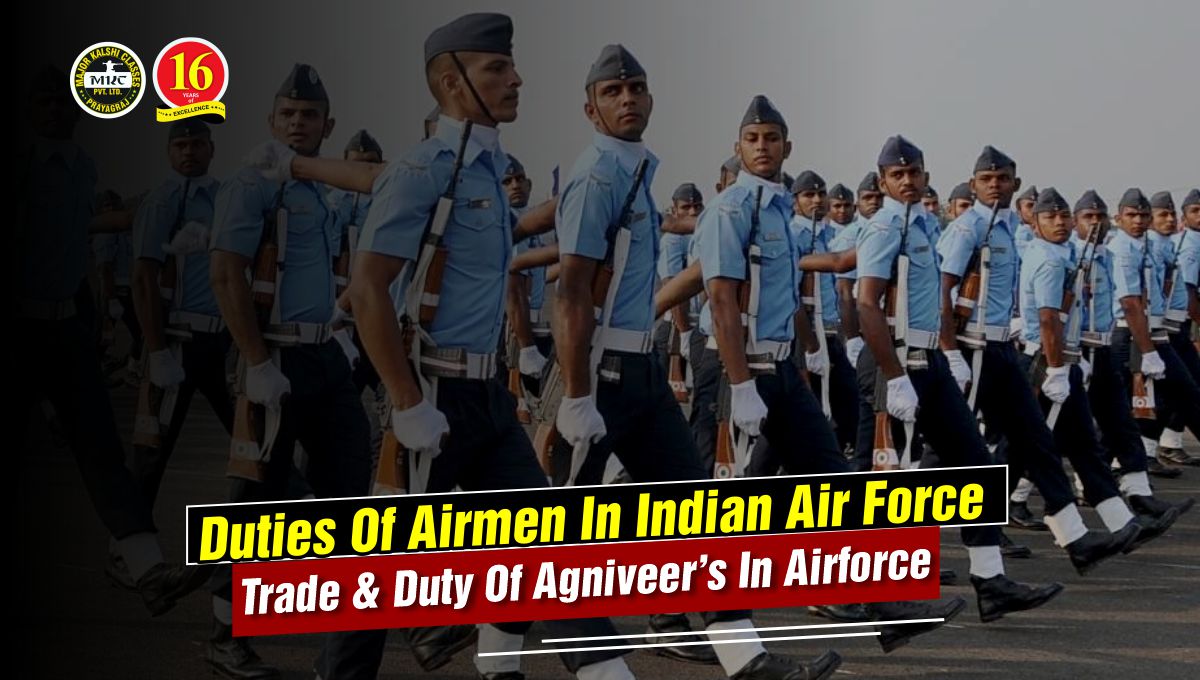 Duties of Airmen in Indian Air Force | Trade & Duty of Agniveer's in Airforce
The Indian Air Force (IAF) operates as a well-coordinated machinery, where each component plays a crucial role in maintaining the nation's security and sovereignty. Among these components, the Air Force X & Y Group Candidates stand as vital contributors, fulfilling distinct responsibilities that collectively ensure the IAF's operational efficiency and effectiveness. In this comprehensive blog , we delve into the roles and duties of AirForce X & Y Group Candidates within the IAF's framework. We will know what are the work & duties of AirForce X& Y Group cadets .Let's start :-
Airforce X&Y Selection Process :-
First of all, let us tell you that the exam of Airforce X and Y is held twice a year in online mode. While filling the form of Airforce Group X and Y, candidates have to select a group i.e. Group X or Group Y. If you are eligible for Group X, then you can apply for both Group X and Group Y, but your selection will be for either of the two groups. After selection, the candidates are divided into either of the two groups. and then they are sent for JBPT (Joint Basic Phase Training) at Basic Training Institute, Belgaum.
Joint Basic Phase Training (JBPT) :-
The Joint Basic Phase Training embodies the Indian Air Force's commitment to excellence, unity, and holistic development. This pivotal phase molds individuals into future airmen who embody discipline, leadership, adaptability, and unwavering dedication. As trainees emerge from this training, they carry with them not only the skills required for their roles but also the values that define the Indian Air Force's legacy.
Here in JBPT ,cadets get training as well as education and weapon training. According to the performance of cadets in JBPT, they get specific trades and then they get trade training.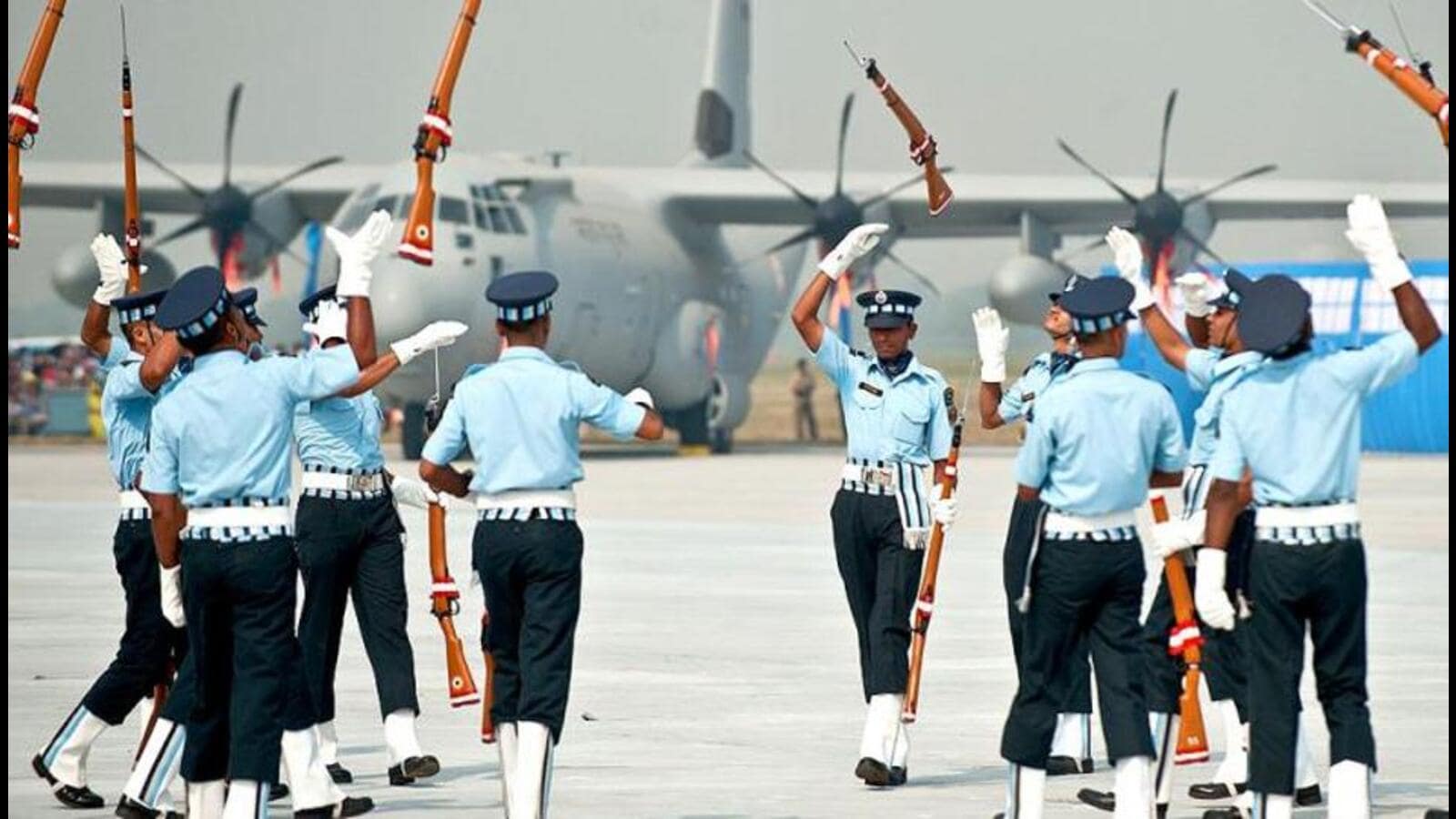 Air Force X Group Training Process :-
Group X Trade is divided into two parts: Technical and Non Technical. There are many trades in Group X Technical: –
Automobile Fitter – Cadets of this trades are responsible for the maintenance of all types of light and heavy mechanical vehicles, cranes and loading equipment.
Electronics Fitter – As an Electronics Fitter you operate and maintain the radar, voice and data transmission and reception equipment fitted on the latest airborne weapon delivery systems and ground based air defense systems. You will be given training in digital electronics, measuring instruments, radar technology, latest electronic devices and related trades.
Electrical Fitter – Airmen in this trade are responsible for maintaining power supply in latest types of aircraft, airborne missiles and associated ground systems. You also have to maintain photo equipment mounted on air borne weapon systems and operate ground based photo systems. You are also taught electrical trade, operation and maintenance of digital services.
Mechanical System Fitter – In this, your job is to repair and maintain the mechanical, hydraulic of refueling equipment in airborne missiles, engines, automobiles, aircraft refueling equipment. You will also be taught how to make Bombs & Explosives along with Maintenance and Repair of Aircraft Ground Support Equipment.
Structure Fitter – As a Structure Fitter, you are responsible for the maintenance and servicing of airframes and their components, aircraft controls, and more. Regular checking of the entire hydraulic and pneumatic system is also a part of your duty. Along with this you will also be entrusted with the responsibility of marshalling, parking, picketing and ground handling of the aircraft.
Propulsion Fitter – In this trade, your responsibility is the propulsion system of the aircraft and other airborne weapon delivery system. is repaired and maintained.
Workshop Fitter (Smith) – In Workshop Fitter Smith you will also be trained in workshop trade for material treatment, welding, heat treatment, smithy and basic machine tools etc. You will also be taught major structural repairs of aircraft.
Workshop Fitter (Mechanical) – In this trade you will be trained for workshop trade and practices where you will be required to repair and maintain objects of mechanical nature.
Weapon Fitter – In this trade, you will do the maintenance and service of aircraft, missiles and other weapon delivery systems. In addition to learning to operate small arms and bomb destruction equipment, you will be trained to handle bombs, explosives, arms and their installation on weapon delivery platforms.
Airforce X Group – Non Technical Branch :
There is only one trade in Group X non-technical branch, which is called Educational Instructor. An Educational Instructor starts his career with the rank of Sergeant. The main job of an Educational Instructor is to run training programs in instructional schools and enhance the educational level of Air Force Personnel.
How to Apply for Agniveer Airforce Intake 01/2024 – Read Here .
Collaborative Synergy: X & Y Group Integration
Unified Excellence: X & Y Group Synchronization
The harmonious collaboration between Air Force X and Y Group candidates is a cornerstone of the IAF's success. While X Group candidates ensure that the technical intricacies are upheld, Y Group candidates ensure the seamless functioning of administrative, logistical, and security aspects. This synergy underscores the IAF's holistic approach to operations and its commitment to maintaining high standards across all domains.
Training and Development
Nurturing Competence: Training Regimen for X & Y Group Candidates
The IAF places a strong emphasis on training and development to prepare X & Y Group candidates for their roles effectively. Rigorous training programs encompass technical proficiency, physical fitness, leadership skills, and specialized knowledge. This holistic training approach equips candidates with the competence required to excel in their designated roles, regardless of the challenges they might face.
Upholding Values and Discipline
Guardians of Integrity: Upholding IAF's Ethos
Air Force X & Y Group candidates share the responsibility of upholding the IAF's core values and principles. Discipline, integrity, and unwavering dedication to duty are fundamental aspects that guide their conduct. These values not only reflect the ethos of the IAF but also contribute to the cohesion and camaraderie among all members of the force.
Air Force X Group Candidates are the technical backbone of the Indian Air Force, playing an indispensable role in ensuring the operational readiness and effectiveness of the force. Through rigorous selection processes, comprehensive training, and their dedication to mastering advanced avionics systems, they contribute significantly to the IAF's success. Their expertise, adaptability, and commitment underscore their vital role in maintaining India's aerial defense capabilities. If you want to prepare for Airforce X/Y Group Exam , Join Major kalshi Classes – Best Airforce Coaching in India .
Frequently Asked Questions :-
Q1: What is the role of Air Force X Group Candidates?
Air Force X Group Candidates are responsible for handling the technical aspects of the IAF's operations. They are trained to manage advanced avionics systems, conduct maintenance procedures, and ensure the operational readiness of aircraft and equipment. Their proficiency in technical matters plays a critical role in the IAF's overall effectiveness.
Q2: How are Air Force X Group Candidates selected?
Selection for the Air Force X Group is a rigorous process that involves written exams, physical fitness tests, and medical evaluations. The selection process aims to identify individuals with a strong aptitude for technical subjects, as they will be handling complex avionics systems and ensuring the smooth functioning of aircraft.
Q3: What is the training process for Air Force X Group Candidates?
AirForce X Group Candidates undergo comprehensive training that includes technical education, practical exercises, and simulations. They are trained in various aspects of aviation technology, maintenance procedures, and troubleshooting techniques. This training equips them with the skills required to handle the advanced technology used in the IAF's aircraft.
Q4: What is the significance of Air Force X Group Candidates in missions?
AirForce X Group Candidates play a vital role in ensuring the operational readiness of aircraft. They conduct pre-flight checks, diagnose technical issues, and perform maintenance to keep aircraft in optimal condition. Their role directly contributes to the success of missions, as well as the safety of pilots and crew members.
Q5: What are the challenges faced by Air Force X Group Candidates?
AirForce X Group Candidates face the challenge of working with intricate avionics systems and advanced technology. They must stay updated with the latest advancements and adapt to evolving technologies. Additionally, the demanding nature of their duties requires them to work under tight schedules and in various environmental conditions.
Q6: How do Air Force X Group Candidates contribute to the IAF's technological advancements?
Air Force X Group Candidates are at the forefront of implementing and integrating new technologies into the IAF's operations. Their understanding of avionics systems and technical expertise allows them to contribute valuable insights to the development and enhancement of the IAF's capabilities.