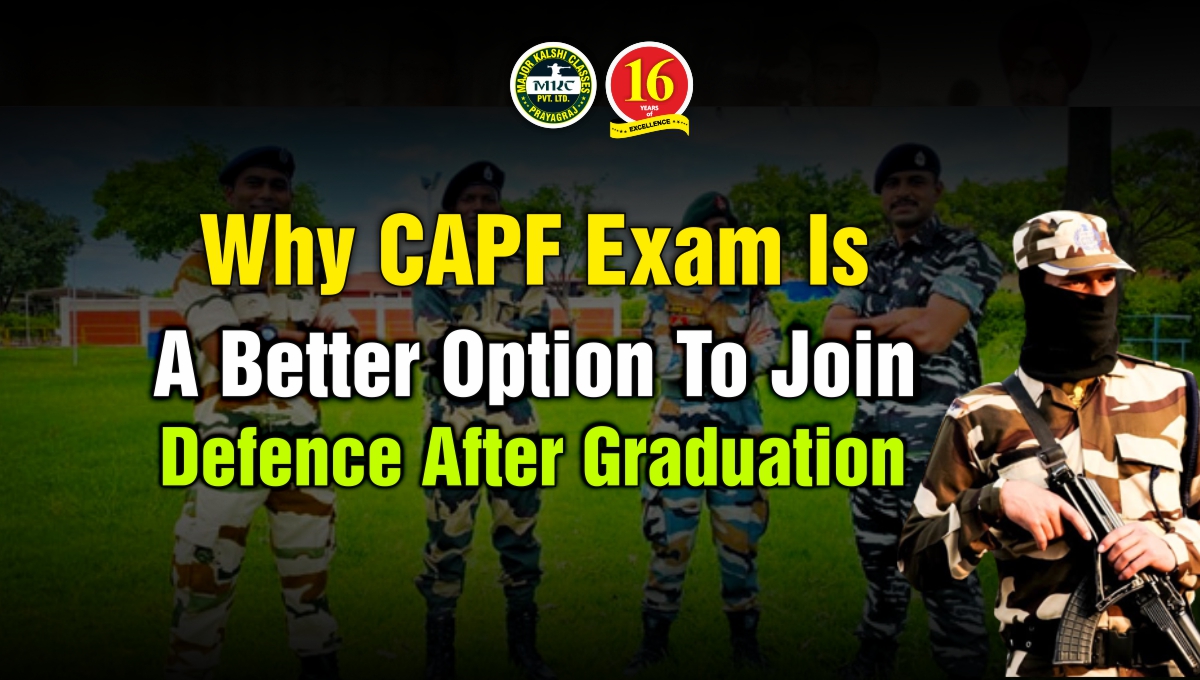 Why CAPF Exam is a Better Option to Join Defence after Graduation
For graduates who aspire to join the defense forces and serve the nation, the Central Armed Police Forces (CAPF) exam presents an excellent opportunity. CAPF offers a compelling career path that combines the honor of serving the country with professional growth and job security. In this article, we will explore why the CAPF exam is a better option to join the defense forces after graduation.
Job offered after cracking CAPF exam:-
After successfully cracking the CAPF (Central Armed Police Forces) exam, candidates are offered the position of Assistant Commandant (AC) in one of the five CAPF organizations, which include the Border Security Force (BSF), Central Reserve Police Force (CRPF), Central Industrial Security Force (CISF), Indo-Tibetan Border Police (ITBP), and Sashastra Seema Bal (SSB). As an Assistant Commandant, you will hold a leadership position and be responsible for various operational and administrative tasks within your assigned CAPF organization.
The job responsibilities of an Assistant Commandant in CAPF may include:
Command and Control: As an AC, you will be responsible for leading and managing a unit or a platoon of personnel. This involves maintaining discipline, ensuring operational readiness, and supervising the execution of tasks.
Operations and Security: You will participate in various operations, such as border security, counter-insurgency, anti-terrorism, riot control, VIP protection, disaster management, and more. Your role will be to plan and execute these operations effectively while ensuring the safety and security of personnel and assets.
Training and Development: As an officer, you will be involved in training and mentoring your subordinates. You will oversee their professional development, conduct drills and exercises, and ensure that they are well-prepared to handle any situation.
Administration and Management: Assistant Commandants also have administrative responsibilities, including managing budgets, logistics, and resources within their units. They handle personnel matters, such as welfare, promotions, disciplinary actions, and maintaining a healthy work environment.
Community Engagement: CAPF officers often engage with local communities to build trust and foster positive relationships. This includes organizing outreach programs, conducting awareness campaigns, and participating in community development activities.
Why CAPF Exam is a Better Option to Join Defence
Diverse Career Opportunities: The CAPF exam opens the door to various uniformed services, including the Border Security Force (BSF), Central Reserve Police Force (CRPF), Central Industrial Security Force (CISF), Indo-Tibetan Border Police (ITBP), and Sashastra Seema Bal (SSB). These forces have distinct roles and responsibilities, ranging from border security to internal security, VIP protection, disaster management, and more. This diversity provides candidates with a wide range of career options to choose from based on their interests and aspirations.
Faster Entry and Promotion: Compared to other defense exams, the CAPF exam offers a relatively faster entry into the defense forces. It is conducted annually by the Union Public Service Commission (UPSC) and consists of a written examination, physical standards test, physical efficiency test, and medical examination. Successful candidates are recruited directly as Assistant Commandants (ACs) and start their training at various academies. Once in service, there are well-defined promotion avenues based on performance and seniority, ensuring a steady career progression.
Job Security and Benefits: A career in CAPF provides job security and attractive benefits. As a government job, CAPF officers enjoy stability, regular income, and retirement benefits. They receive a competitive salary along with allowances for accommodation, medical facilities, transportation, and more. Additionally, CAPF personnel are entitled to leave, pension, and other social security benefits that ensure their well-being throughout their service and after retirement.
Challenging and Meaningful Work: Joining the CAPF after graduation offers an opportunity to engage in challenging and meaningful work. CAPF personnel play a vital role in maintaining law and order, combating terrorism, protecting the borders, and serving in conflict areas. They contribute directly to the nation's security and have a tangible impact on the lives of citizens. The work is dynamic, requiring mental agility, physical fitness, and strong leadership skills, making it an ideal choice for individuals seeking an adventurous and purposeful career.
Personal and Professional Development: A career in CAPF provides ample opportunities for personal and professional growth. Officers receive comprehensive training in areas such as weapons handling, tactical operations, disaster management, leadership, and communication skills. They are exposed to diverse situations that test their mettle, enhance their decision-making abilities, and develop resilience. Additionally, the disciplined environment, camaraderie, and teamwork in CAPF foster personal growth and instill values such as discipline, integrity, and commitment.
Gateway to Other Defense Services: The CAPF exam can also serve as a stepping stone to other defense services. Successful CAPF officers can appear for internal exams and interviews to join elite forces like the Indian Army, Navy, or Air Force. This provides an opportunity for career diversification and progression within the defense sector, opening doors to even more challenging roles and responsibilities.
CAPF exam is a better option for graduates looking to join the defence forces after graduation. It offers diverse career opportunities, faster entry, and promotion, job security, meaningful work, personal and professional development, and a gateway to other defense services. Aspirants should diligently prepare for the exam by studying the syllabus, improving physical fitness, and enhancing their general awareness. Joining the CAPF not only allows individuals to fulfill their patriotic aspirations but also offers a rewarding and fulfilling career that combines service to the nation with personal growth and development.