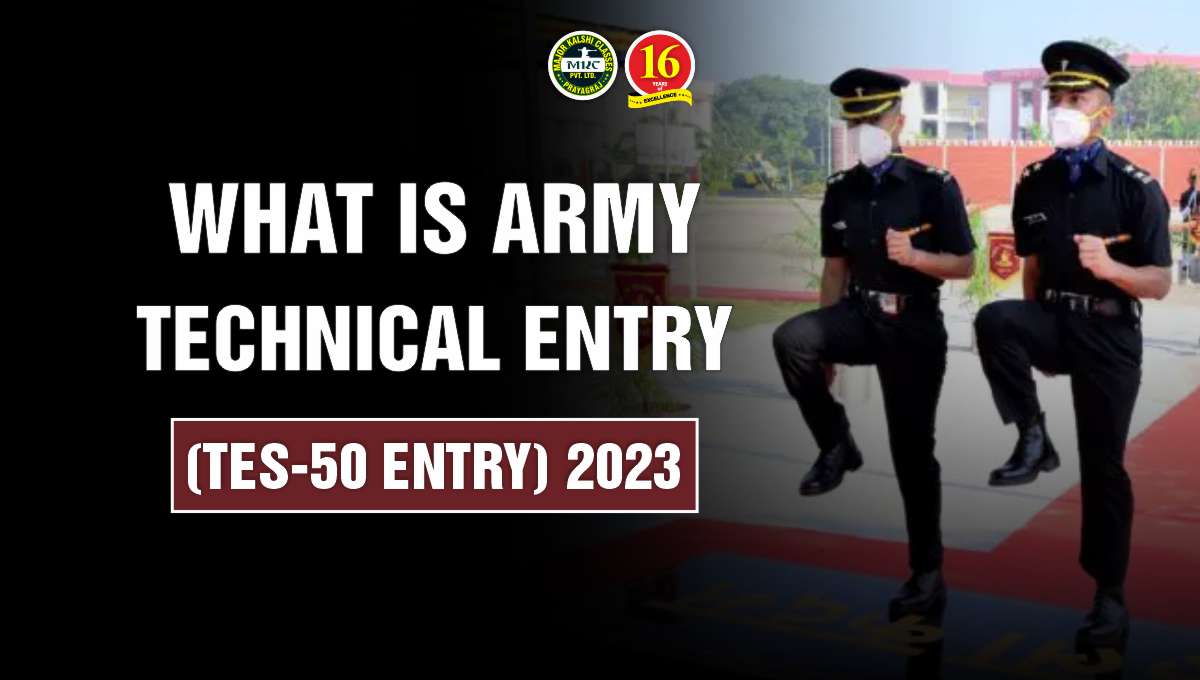 What is Army Technical Entry (TES-50 Entry) 2023
TES is a technical entry scheme that offers young candidates an opportunity to join the Indian Army as officers. The program is designed for individuals who have completed their 10+2 or equivalent with Physics, Chemistry, and Mathematics as main subjects. The selection process for TES in the Indian Army includes a written exam, a personal interview, and a medical examination.
Candidates who clear the cut off are called for a personal interview and medical examination. Successful candidates undergo training at the Indian Military Academy (IMA) in Dehradun for a period of four years.
Army TES Eligibility Criteria 2023:-
The eligibility criteria for the Indian Army TES 2023 Entry are as follows:
Nationality: Only unmarried male candidates who are citizens of India, subjects of Bhutan or Nepal, or Tibetan refugees who came to India before January 1st, 1962, to permanently settle in India are eligible to apply.
Age Limit: The candidate should be between 16.5 and 19.5 years old on the first day of the month in which the course is due to commence.
Educational Qualification: To apply for this entry, candidates must have passed the 10+2 Examination, with JEE mains qualified.
Vacancies: There are approximately 90 vacancies for this course. However, the vacancies are provisional and subject to change depending on the training capacity at the Training Academy and the organizational requirement at the point of time.
Selection Process of Army Technical Entry (TES-50 Entry) 2023:-
The Indian Army TES 2023 selection process comprises three mandatory stages, and candidates must clear all of them to move on to the next stage. Only those who successfully pass all three rounds will be invited to participate in the final stage of the army's training process. The details of each step in the Indian Army TES 50 selection process are as follows:
1: Shortlisting Stage
2: SSB Interview Stage
3: Medical Examination
It's important to note that each selection stage will be thoroughly explained in the following sections. The Indian Army TES 2023 selection process is a rigorous and competitive process that aims to select the best candidates to serve in the Indian Army.
New Army Technical Entry (TES-50 Entry) Training Period:-
The new four-year training model for TES officers comprises three years of technical training at the Cadet Training Wings (CTWs) followed by one year of basic military training at the Indian Military Academy (IMA) in Dehradun. This new training model is expected to foster better camaraderie among TES officers and IMA GCs (ex NDA/ ACC/ DE Course) and help address the issue of common merit.
TES officers in the Indian Army have a range of career opportunities, including higher education, postings in various Army units, and promotions to higher ranks. TES officers can also opt for short service commission (SSC) or permanent commission (PC) after completing their mandatory service period.
It's important to note that TES is a highly competitive entry scheme, and candidates must prepare well to clear the selection process. The Indian Army website provides detailed information on eligibility criteria, selection process, and training period for TES entry.