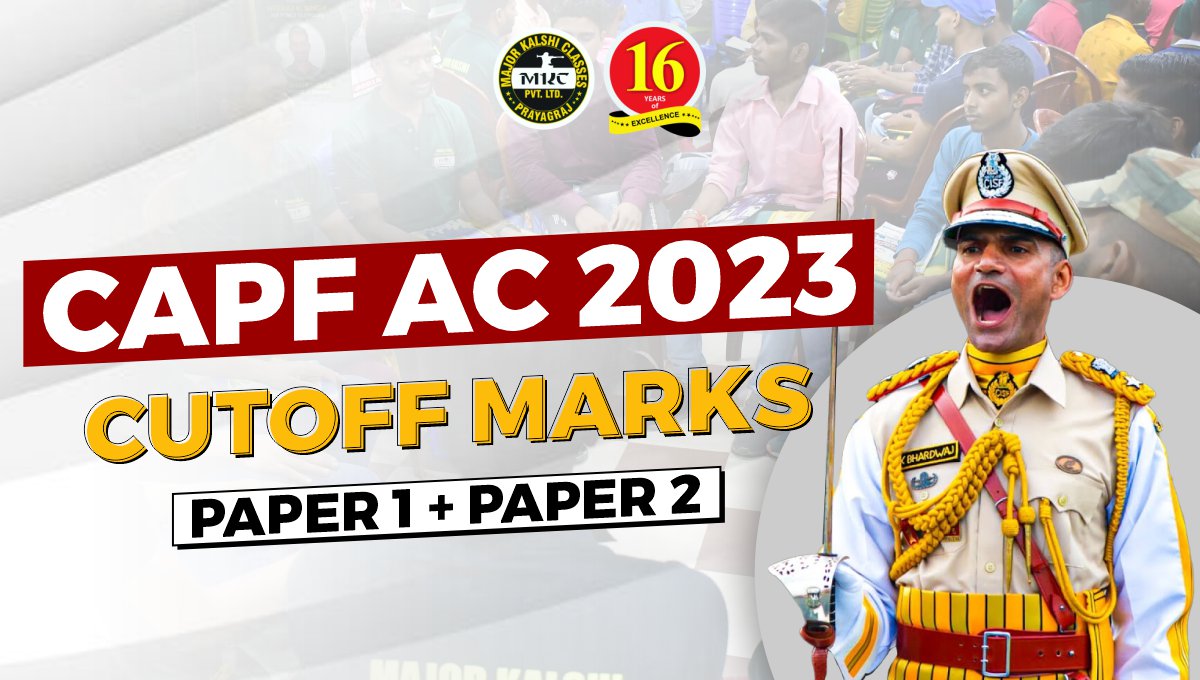 UPSC CAPF AC 2023 Exam Cutoff Marks | CAPF Cutoff Marks 2023
The CAPF (Central Armed Police Forces) Assistant Commandant exam is one of the most prestigious exams for individuals aspiring to join the Indian paramilitary forces. On 6th August 2023, the CAPF Assistant Commandant exam was conducted, providing candidates with an opportunity to showcase their knowledge and skills in various subjects. CAPF AC Exam 2023 Answer key is available on our official website . In this article, we will discuss the CAPF Assistant Commandant 2023 cutoff marks, providing an overview of the exam and the expected cutoff marks for each category.
Overview of CAPF Assistant Commandant 2023 Exam
The CAPF Assistant Commandant 2023 exam consisted of multiple-choice questions covering a wide range of subjects such as General Ability and Intelligence, General Studies, Essay, and Comprehension. The duration of the exam was three hours, allowing candidates to carefully analyze and respond to each question.
Candidates were tested on their aptitude in topics like General Mental Ability, General Science, Indian Polity and Economy, History of India, and Geography. The exam also included questions on various current affairs related to national and international events.
Download CAPF AC Exam 2023 Answer key – Click Here
Factors Influencing UPSC CAPF AC 2023 Cutoff Marks :-
Several factors contribute to the determination of cutoff marks, including:
1. Exam Difficulty Level
The complexity of the exam questions and the overall difficulty level can significantly impact the cutoff marks. A more challenging exam might lead to slightly lower cutoffs, as the evaluating authorities consider the overall performance of candidates.
Download CAPF Descriptive English Exam Paper – Click Here
2. Number of Vacancies
The total number of available vacancies for Assistant Commandants also affects the cutoff marks. If the number of vacancies is limited, the competition becomes fierce, potentially leading to higher cutoff scores.
3. Candidate Performance
The performance of candidates across various sections of the exam plays a crucial role. If a particular section witnesses exceptionally high or low scores, it can influence the overall cutoff marks.
4. Reservation Norms
Government-prescribed reservation norms for different categories, such as SC, ST, OBC, and EWS, can impact the cutoff marks differently for each category.
Navigating the Cutoff Marks
Aspiring candidates aiming to clear the CAPF Assistant Commandant Exam should adopt a strategic approach to maximize their chances of success:
1. Comprehensive Preparation
Candidates should focus on a well-rounded preparation strategy that covers all sections of the exam, paying special attention to their strengths while diligently working on their weaknesses.
2. Mock Tests and Previous Papers
Regular practice through mock tests and solving previous years' question papers can help candidates become familiar with the exam pattern and boost their confidence.
CAPF AC General Knowledge Exam Question Paper – Click Here .
3. Time Management
Efficient time management during the exam is crucial. Candidates should allocate sufficient time to each section, ensuring that they can attempt all questions without rushing.
CAPF AC 2023 Exam Cutoff Marks (Expected)
Candidates can get an idea of CAPF AC Exam 2023 Expected Cutoff Marks . The Expected Cutoff Marks foe the same can be checked from table below :
| | | | | |
| --- | --- | --- | --- | --- |
| Sr. No. | Category | Minimum qualifying standards in paper-I (out of 250 | Minimum qualifying standards in paper-I + Paper II (Out of 450) | Marks secured by the last recommended candidate [Final Stage] (Out of 600 |
| 1. | General | 117.34 | 205 | 325 |
| 2. | EWS | 110.00 | 197 | 305 |
| 3. | OBC | 117.34 | 205 | 319 |
| 4. | SC | 101.34 | 186 | 297 |
| 5. | ST | 99.34 | 181 | 293 |
| 6. | Ex-s | 25.34 | 59 | 159 |
CAPF AC Written Exam Cut off 2023
The UPSC CAPF conducts the written exam as the first stage in its recruitment of Assistant Commandant. The UPSC CAPF AC Written Test 2023 will include two papers- Paper 1 & Paper 2. Candidates need to score a minimum of 25% marks in Paper 2. Live Paper Solution of CAPF AC Exam 2023 .
How to Calculate CAPF AC Written Exam Marks 2023 ?
Before delving into the calculation process, it's essential to understand the structure of the CAPF AC Written Exam. The exam comprises two papers:
Paper I: General Ability and Intelligence
Paper II: General Studies, Essay, and Comprehension
Each paper is evaluated independently, and candidates are awarded marks based on their performance in each section.
Step-by-Step Calculation Process
Follow these steps to calculate your CAPF AC Written Exam marks:
Step 1: Obtain Your Raw Scores
For both Paper I and Paper II, begin by calculating your raw scores. Add up the marks you have obtained in each section of the exam. Each correct answer contributes positively to your raw score, while there is generally no negative marking for incorrect answers.
Step 2: Apply Negative Marking (if applicable)
Check the exam instructions to confirm if there is any negative marking for incorrect answers. If negative marking is applicable, deduct the appropriate amount of marks for each incorrect response. Be cautious while applying negative marking to avoid unnecessary deductions.
Step 3: Calculate Scaled Scores
Scaled scores are calculated to account for variations in difficulty levels across different exam sessions. The formula for calculating scaled scores may vary based on the specific guidelines provided by the exam conducting authority. Generally, it involves converting your raw scores into a scaled score based on statistical calculations.
Step 4: Calculate Paper-wise Total Marks
Calculate the total marks obtained in Paper I and Paper II by summing up the scaled scores obtained in each paper.
Step 5: Add Paper I and Paper II Marks
Add the total marks obtained in Paper I and Paper II to obtain your overall written exam score.
Interpretation and Further Steps
Once you have calculated your CAPF AC Written Exam marks, you can compare your score with the cutoff marks announced by the authorities. Meeting or exceeding the cutoff marks indicates that you have successfully cleared the written exam stage. Qualified candidates are then eligible to proceed to the next stages of the selection process, which may include the Physical Efficiency Test and Interview.
It's important to note that the final selection is based on your cumulative performance across all stages of the selection process.
CAPF AC Exam Result 2023
UPSC CAPF Exam consists of three stages :- Written Exam , Physical Test and Panel Interview . UPSC releases result after every stage respectively . In Panel Interview , Candidates are rated on a score of 150 marks. Those Candidates who qualify the Written Examination , further appear in Physical Standard Test/Physical Fitness Test . Candidates who qualify PET/PST have to fill Detailed Application Form (DAF)and face panel Interview .
To Get detailed CAPF AC Exam Syllabus and Exam Pattern , Candidates can visit the linked article .
This is all about CAPF Assistant Commandant Exam 2023 Answer Key Details and Paper Solution . I hope, you find this article very helpful . For CAPF AC Exam Preparation Join Major kalshi classes – Best CAPF Coaching in India . For Any Assistance Call us on 9696330033 or Whatsapp 9696220022 .
Thank You !