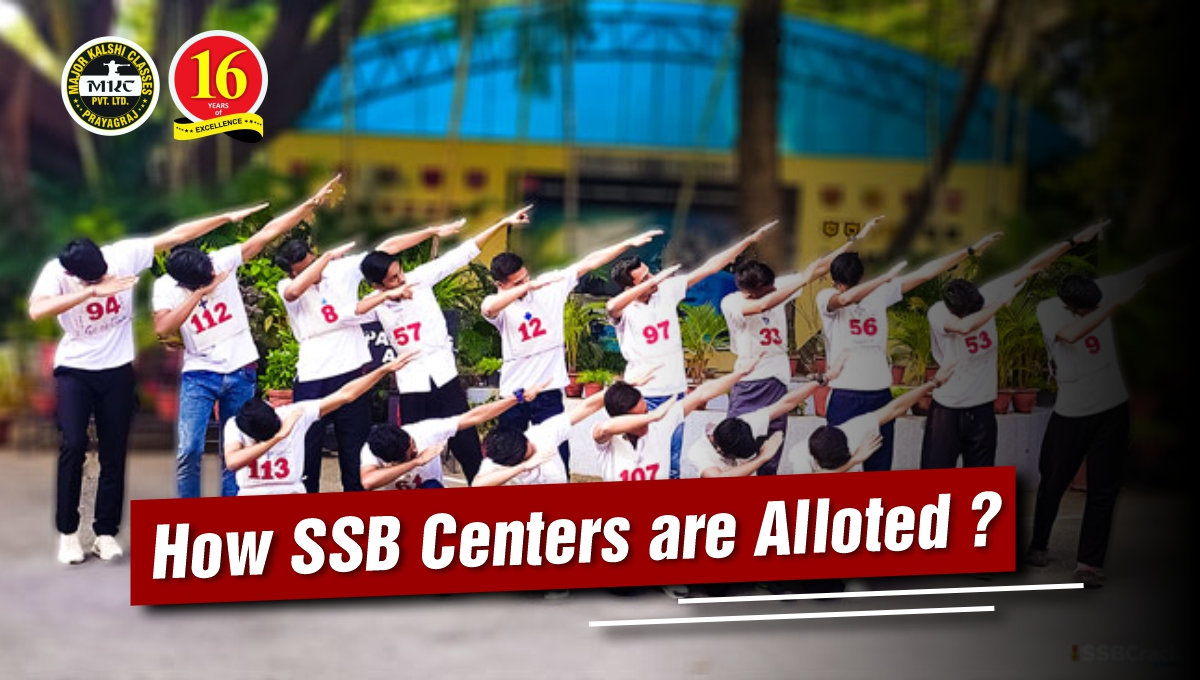 How SSB Interview Centers are allocated ?
Jai Hind All SSB Aspirants! When aspiring candidates embark on their journey towards joining the prestigious armed forces of a nation, one of the crucial steps they must undergo is the Service Selection Board (SSB) interview. The SSB interview is a comprehensive assessment of a candidate's personality, intelligence, and potential to become an officer in the armed forces. A significant aspect of the SSB interview process is the allocation of interview centers, where candidates undergo this rigorous evaluation. In this article, we will delve into the intricate details of how SSB interview centers are allocated, shedding light on the factors, guidelines, and insights that govern this allocation. You all report at different SSB centers for different entries but do you know how these SSB centers are allotted? In this blog we will understand the rules of SSB center allocation. Join Major kalshi Classes – Best SSB Interview Coaching in India.
What is SSB Interview ?
In the Armed Forces, it is necessary for the candidates to be recommended by the SSB Interview to become an officer. To face SSB , Candidates for written exam or direct entries which is conducted on 12th and graduation. In Written Exam Entries, candidates first have to qualify written exam, then they appear in SSB, while in Direct Entries, candidates are shortlisted on the basis of 12th or graduation marks. Purchase Best SSB Interview Study Material – Click Here .
The SSB Interview Testing Procedure
The SSB interview testing procedure encompasses a series of assessments, each aimed at evaluating specific attributes and qualities that are vital for a successful military officer. Let's take a detailed look at each stage of the testing procedure:
Stage 1: Screening
The screening stage involves an initial assessment of all candidates based on their performance in the Officer Intelligence Rating (OIR) test and Picture Perception and Description Test (PPDT). Candidates who clear this stage proceed to the subsequent stages of the interview process.
Stage 2: Psychological Testing
This stage comprises a battery of psychological tests, which include:
Thematic Apperception Test (TAT): Candidates are shown ambiguous images and are required to create stories based on their interpretation of the images.
Word Association Test (WAT): Candidates respond to a series of words with the first thought that comes to their mind, providing insights into their subconscious traits.
Situation Reaction Test (SRT): Candidates respond to a series of hypothetical situations, revealing their problem-solving skills and reactions under pressure.
Self-Description Test (SD): Candidates write a self-description, providing further insights into their self-perception and self-awareness.
Stage 3: Group Testing
Group testing assesses candidates' ability to work as part of a team. This stage includes the following tasks:
Group Discussion (GD): Candidates discuss a given topic, demonstrating their communication skills, leadership, and ability to work collaboratively.
Group Planning Exercise (GPE): Candidates are presented with a problem-solving scenario and are required to plan and execute a solution collectively.
Progressive Group Task (PGT): Candidates work together to overcome physical obstacles, emphasizing teamwork, coordination, and leadership.
Half Group Task (HGT): Similar to PGT but conducted with half the group, focusing on individual contributions and decision-making.
Stage 4: Interview
The interview stage involves a comprehensive one-on-one interview with an SSB officer. The interview explores various aspects of the candidate's life, experiences, aspirations, and opinions. It assesses the candidate's communication skills, clarity of thought, and alignment with the values of the armed forces.
Stage 5: Conference
During the conference, all assessors collectively discuss and evaluate each candidate's performance across the various stages. This discussion helps in finalizing the assessment and making recommendations regarding the suitability of the candidate for a career in the armed forces.
How SSB Interview Centers are allocated to Candidates ?
Which SSB Center will be allotted to the candidates, it will depend on which entry he has applied for or what he has given his preference in entry like NDA and CDS? According to the preferred service selected in the exam, he will be allotted SSB center. SSB centers for all services i.e. Army, Navy, Air force are located in different states and these SSB centers are given randomly to the candidates.
It is not necessary that the region in which the candidate lives should be allotted to the nearest SSB center only.
From last few years, candidates are getting opportunity to select dates for all SSB, candidates are given about 1 week time on SSB interview portal to select SSB DATE of their choice and then candidates on same date Report to give SSB Interview.
SSB Centers in India –
For Indian Army :-
Selection Center East Allahabad (Prayagraj) : Uttar Pradesh
Selection Center Central Bhopal : Madhya Pradesh
Selection Centre South Bangalore: Karnataka
Selection Centre North Kapurthala : Punjab
For Indian Air force (AFSB) :-
1 AFSB Dehradun , Uttarakhand
2 AFSB Mysore , Karnatka
3 AFSB Gandhi Nagar ,Gujarat
4 AFSB Varanasi , Uttar Pradesh
5 AFSB Guwahati , Assam
For Indian Navy (NSB) :-
12 SSB at SCS Bangalore , Karnataka
NSB Coimbatore , Tamil Nadu
33 SSB at SCC Bhopal , Madhya Pradesh
SSB Kolkata
Naval Selection Board Vizag/Vishakhapatnam
CAN I Change SSB Interview Centre ?
Many candidates often ask that can they change their SSB center? So candidates, it is not so. The SSB center that gets allotted to you cannot be changed again under any condition, yes but in some exceptional conditions SSB Dates can be changed but for that candidates have to mail that particular SSB center with a valid reason.
Factors Influencing Center Allocation
The allocation of SSB interview centers is influenced by several factors that contribute to a streamlined and efficient process. These factors include:
Geographical Proximity: Candidates are often allocated centers that are geographically closer to their place of residence, reducing travel time and expenses.
Capacity and Resources: The capacity and resources of each center play a significant role in allocation. Centers with higher capacity can accommodate more candidates.
Equal Representation: Efforts are made to ensure that candidates from different regions and backgrounds have an equal opportunity to access interview centers.
Special Considerations: Candidates with specific requirements, such as medical considerations, may be allocated centers that can cater to their needs effectively.
Availability of Assessors: The availability of trained assessors at each center is considered to ensure a consistent and thorough evaluation process.
Insights from Candidates
To gain further insights into the allocation of SSB interview centers, we reached out to candidates who have undergone the process. One candidate shared, "I was allocated a center that was close to my hometown, which made the entire journey less stressful. It allowed me to focus on my interview preparation with a clear mind." Another candidate mentioned, "Although I initially had concerns about my allocated center, the experience turned out to be exceptional. The assessors were experienced, and the environment was conducive to giving my best."
Frequently Asked Questions (FAQs)
Q: Can I request a change in my allocated interview center?
A: Yes, under specific circumstances, candidates may request a change in their allocated center. However, such requests are considered on a case-by-case basis and are subject to availability.
Q: What if I am unable to attend the allocated interview center on the given date?
A: Candidates are expected to make necessary arrangements to attend the allocated center on the given date. In exceptional cases, candidates can reach out to the authorities for guidance and potential solutions.
Q: Is there any advantage to being allocated a center close to my residence?
A: While proximity to the residence is a consideration, the allocation process aims to provide a fair and equal opportunity to all candidates, regardless of their location.
Q: How are candidates with medical requirements accommodated during the allocation process?
A: Candidates with medical requirements are allocated centers that can cater to their specific needs, ensuring a comfortable and supportive environment during the interview.
Q: Are the interview assessments consistent across all allocated centers?
A: Yes, a standardized assessment process is maintained across all allocated centers to ensure fairness and consistency in evaluating candidates.
Q: Can I appeal the center allocation decision?
A: The center allocation decision is generally final. However, candidates facing genuine difficulties may reach out to the authorities for guidance.
Conclusion
The allocation of SSB interview centers is a well-structured and meticulous process that aims to provide all candidates with an equitable opportunity to showcase their potential. By considering factors such as geographical proximity, capacity, and equal representation, the allocation process ensures a fair and streamlined experience for candidates. Aspirants who approach this journey with enthusiasm and determination, regardless of their allocated center, have the chance to demonstrate their suitability for a distinguished career in the armed forces.
This is all about the process of Allocation of SSB Interview Centers . I hope , all your queries would have been finished by now , If you are a SSB Aspirant and want to crack SSB , Join Major kalshi classes – Best SSB Interview Coaching in Allahabad . Here at MKC, we have Retd. Ex- SSB Board Officers who guides you and polishes your Officer Like Qualities and make you fit for SSB and Armed Forces . For Any Assistance, Call us on 9696330033 or Whatsapp at 9696220022 .
Thank You !