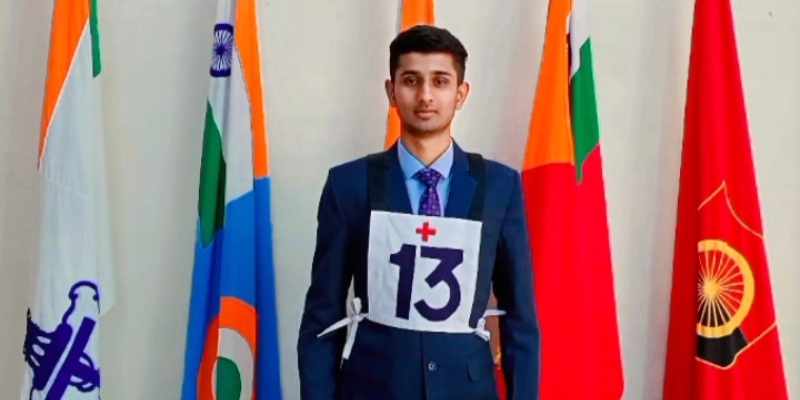 Success Story Of Lakshyaraj Singh The MKC Students Selected In NDA 148 Exam
Success Story Of Lakshyaraj Singh:- Lakshyaraj Singh crake NDA 148 course exam and become the Luitinent. Major Klashi Classes congratulate him on his success. He was a brilliant student and joined MKC the preparation for the NDA SSB interview preparation. Here is the detailed Journey of Mr- Lakshyaraj Singh.
Success Story Of Lakshyaraj Singh
Hello, my name is Lakshyaraj Singh. My hometown is Jaipur, Rajasthan. In my second attempt, I received a recommendation from 18 SSB Allahabad for the National Defence Academy NDA 148 course. I began to dream about joining the Defense Forces when I was ten years old. In April 2021, I took the NDA 147 course written exam and failed. For TES 45, I also received a conference from 21 SSB Bhopal. Back-to-back failures were discouraging, but they didn't demoralize me, and I eventually passed NDA 148 Entry. I enrolled in Major Kalshi classes for SSB interview preparation and enrolled in their 14-day SSB program. There, the lecturers were well-versed in the subject and provided excellent guidance in my preparation.
I received comments for each test and learned where I needed to improve. I also went through several practice interviews, which helped me understand the process. I took part in Group Discussion lectures and current affairs seminars there, which provided me with knowledge of international relations and other topics. I was grateful to have such excellent assessors who mentored me and refined my OLQs.
SSB Interview Process:
The SSB Interview lasts five days, with different types of examinations and activities on each day. You will be provided thorough information on each day of the interview and how you must act and perform, among other things, in the SSB Interview Online Classes. Here's how the interview went over the course of five days. Candidates can observe the SSB Interview Pattern below:
Stages
Tests
Stage 1
Screening Test
Verbal and non-verbal tests.PPDT
Stage 2
Psychological Test
Thematic Apperception Test (TAT)Word Association Test (WAT)Situation Reaction Test (SRT)Self Description Test (SD)
Group Testing Officers Tes
GDGPEPGTHGTIOTCommand TaskSnake race/Group Obstacle RaceIndividual lectureFGT
Personal Interview
–
Conference-
The SSB Interview is for 900 points, and you must score higher to clear the total cut-off scores. You should enroll in the Best NDA SSB Interview Coaching in India, which will train, educate, and prepare you to pass the interview. Because we have a limited number of seats, joining the Major Kalshi Classes is not possible for every student. As a result, the Major Kalshi Classes team has created its own mobile application, making it very convenient for candidates to attend classes and resolve their concerns on a regular basis.
The interview is very diverse, and good preparation is required to pass the interview. If you are seeking the Best SSB Interview Classes in India, enroll in the Major Kalshi Classes and get trained by defence examiners and ex-SSB interviewers. The SSB Interview lasts five days and is unlike any other interview. The following are the specifics of the SSB Interview procedure.
NDA SSB Interview Process:-
The SSB abbreviation stands for Service Selection Board. The SSB Interview lasts five days, and each day is different. The following are the specifics for each day of the interview.
Day-1 Of SSB: Reporting:
Documents Check
Form filling
Testing
Verbal, non-verbal intelligence test
Picture Perception description test (PPDT), etc
This is a very significant day for everyone. Those who pass this round will be invited to stay for the rest of the Interview, while the others will be sent home.
Day-2: Following Tests Will Be Conducted:
Thematic Apperception Test
Word Association Test
Situation Reaction Test
Self Description Test etc
Day-3 Of SSB: GTO Task Round:
GTO (Group Testing Officers)
Group discussion
Group planning exercise
Progressive group task
Half group task
Individual obstacle task
Command task
Group obstacle tasks etc
The GTO rounds are notorious for being difficult to score. This day is primarily made up of mental games in which you must engage and score points based on your skill. For this round, Major Kalshi Classes will provide special training and education to candidates in order for them to perform well in this round as well. Join the Best SSB Coaching Institute in India, which is run and facilitated by Ex-SSB Interviewers and Defence Officers.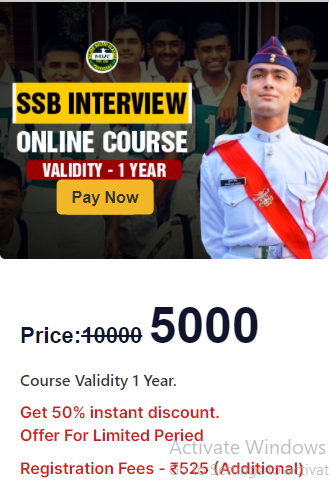 Day 4 Of The SSB: Personal Interview:
Examiners are free to ask any questions during the Personal Interview round, which might be connected to your personal life or subjects, etc. You must, however, respond kindly to each query. There are certain techniques for appearing, acting, and responding in the SSB Interview. Learn everything there is to know about the interview and how to ace it. Major Kalshi Classes are well-known for offering the Best SSB Interview Classes in India. The Major Kalshi Classes make it extremely simple to prepare for the SSB Interview.
Day 5 Of SSB: Conference
The conference day consists mostly of a test or activity. This is the day you will be informed of your results. All applicants who pass the interview will go to the next round of selection. That would most likely be a medical evaluation.
Join MKC for the SSB Preparation:-
Major Kalshi Classes prepare students for the SSB Interview in less than a month, with training provided by ex-SSB interviewers and defence officers, among others. It is simple for every applicant to receive excellent training at MKC. Join a reputable SSB Coaching Institute in India to be well-trained in all areas and pass the interview.
MKC 14 Days SSB Training Details at MKC:
| | |
| --- | --- |
| Days | Details |
| DAY – 1 | Introduction to SSB(5 days SSB Procedure, Officer Like Qualities & PIQ form) |
| DAY – 2 | Screening |
| DAY – 3 | Screening test, Mock practice and Feedback |
| DAY – 4 | Introduction to Psychological Test & Thematic Apperception Test |
| DAY – 5 | Word Association Test & SRT (Situation Reaction Test) |
| DAY – 6 | Self Description Test & Complete Psychological Test and Feedback |
| DAY – 7 | OIR, (Verbal and Non-verbal Reasoning class) |
| DAY – 8 | Personal Interview Briefing |
| DAY – 9 | Mock Interview & Feedback to Student |
| DAY – 10 | Mock Interview & Feedback to Student |
| DAY – 11 | G.T.O. Briefing, GD and Lecturette |
| DAY – 12 | P.G.T, H.G.T, G.P.E, & G.O.R. |
| DAY – 13 | IO, CT, FGT and Conference |
| DAY – 14 | CPSS TEST |
You can Avail our Service:-
For purchasing any books for defence examination- Click Here
For Joining Test Series- Click Here
For Online Course at MKC Learning App- Click Here
Visit our YouTube Channel For Free Education:- Click Here
This is all about the Success Story Of Lakshyaraj Singh The MKC Students Selected For NDA 148 Exam. If you guys want to serve the nation and want to clear the Defence examination, join Major Kalshi Classes, Here we have experienced faculty for all the subjects. For more inquiries, you can call us at 9696220022 and 9696330033 or go to our official website www.majorkalshiclasses.com. Thank you.