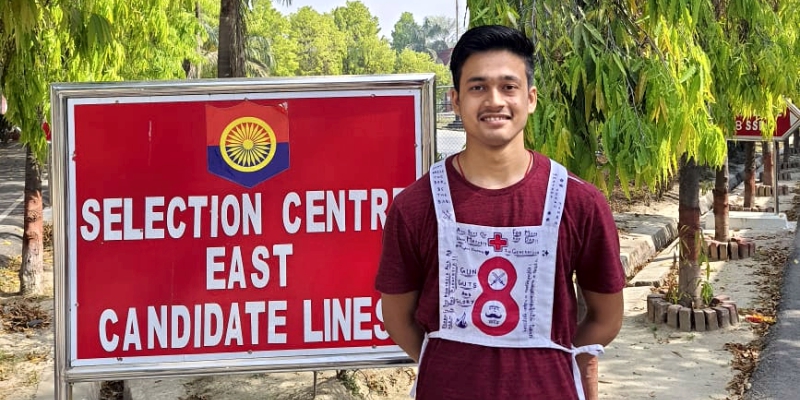 Success Story of Aditya The MKC Students Selected in NDA 148 Exam
Success Story of Aditya:- Once again MKC proves his supremacy in the selection of NDA from his coaching institute, This time Mr-Aditya has cleared the NDA Examination from Major Kalshi Classes. Aditya was a brilliant student from the first date of joining SSB Classes. Now lets us know about the Aditya who made proud to us.
About Success Story of Aditya Journey:-
Good day, everyone! Aditya Singh is my name. My hometown is Bhagalpur, Bihar. Being from a middle-class family, I was drawn to the Indian Armed Forces and decided to join them. I went after my dream and passed the NDA 148 Written Exam. I was looking for some coaching centers to help me prepare for the SSB Interview and came across Major Kalshi Classes in Prayagraj. I had already heard of MKC from some of my seniors, therefore I enrolled for SSB Interview Preparation at MKC.
About My preparation in MKC for SSB Interview:-
MKC's SSB classes are the best. The Individual Assessment was the most positive experience I had. I received feedback on each test and learned how to improve myself. I also received input on my own improvement. The GD's and Lecturettes classes were outstanding. My thoughts on MKC GTO Ground have given me a lot to think about.
I attended an SSB interview and was assigned to Allahabad as my selection center. I didn't do anything differently there; I just followed my instincts, demonstrated what I'd learned, and was eventually approved.
MKC is proud of on Mr Adiyta and we are dedicated to providing the best quality of education for defence examination to our students so we can again prove that we are the best producers of officers in defence.
If you guys also want to prepare for the NDA examination in the upcoming year then join Major Kalshi Classes for the best preparation. If you want to join only SSB preparation after the written examination then you can, we have ex-interviewing officers in our academy.
NDA Selection Process
Under the NDA selection process, candidates have to go through the following steps.
Written exam
SSB interview
Physical fitness
Medical fitness
Academic course (When you become an NDA cadet, you have to complete this stage, that is, the process of becoming a lieutenant from NDA cadets is under academic course.)
Written exam
Friends, before appearing in the written examination of NDA, the candidate has to fill out the application form to be conducted by UPSC. While filling out the application form, candidates have to keep some important things in mind. Important things related to UPSC's NDA application form are given below.
While filling out the application form for NDA, the age of the candidate should be a minimum of 16.5 years and a maximum of 19 years.
According to the educational qualification of the candidate, the 12th class must also be in Physics, Chemistry, Mathematics, and English.
Candidates should have a minimum of 70% marks in the XII examination.
This application form can be filled by students studying in class 12th or students who have passed class 12th.
The written examination is for 5 hours in total. Out of which the candidate is given the first two and a half hours for Mathematics and the next two and a half hours for General Ability Test.
SSB interview
Candidates who pass the written examination are selected for an SSB interview. Only a successful candidate is eligible for an SSB interview. Those candidates who score in the written exam of NDA according to the cutoff issued by UPSC Commission. Only those candidates are selected for SSB interviews. To appear in an SSB interview, candidates must keep the following points in mind.
The candidate should have scored maximum marks in the written examination from the cut-off issued by the Commission.
In order to clear more marks and cut off marks in written examination, candidates have to focus on mathematics and English subject the most.
Forgoing the SSB interview, the candidates must carry all their required documents with them.
All the information related to SSB is very important for the candidates.
When a candidate is selected for an SSB interview then he has to undergo physical and medical tests.
Physical fitness – NDA Selection Process Full Detail
When a candidate is selected for an SSB interview then he has to go through the stages of physical fitness and medical fitness at the SSB center itself. The SSB interview is for five to six days at the Army's SSB Center. During this interview, many activities are done on the candidates intellectually and physically. Candidates must keep in mind the important points given below for the physical fitness of NDA.
The candidate should have a minimum weight of 48 kg and a height of 157 cm.
The candidate's vision must be perfectly healthy ie 6/6 (for healthy eyes), and 6/9 (for useless eyes).
There should be a minimum of 5 cm of swelling in the chest of the candidate.
In normal conditions, the chest width of the candidate must be at least 72 cm.
You can Avail our Service:-
For purchasing any books for defence examination- Click Here
For Joining Test Series- Click Here
For Online Course at MKC Learning App- Click Here
Visit our YouTube Channel For Free Education:- Click Here
This is all about the Success Story of Aditya The MKC Students Selected in the NDA 148 Exam. If you guys want to serve the nation and want to clear the Defence examination, join Major Kalshi Classes, Here we have experienced faculty for all the subjects. For more inquiries, you can call us at 9696220022 and 9696330033 or go to our official website www.majorkalshiclasses.com. Thank you.