MNS 2022 Exam Date, Know Detail about MNS Exam
MNS 2022 Exam Date:- The Indian Army holds a national level B.Sc Nursing entrance test is solely for female students. It is also known as the Military Nursing Service (MNS) entrance examination. One of the most common nursing admission exams is the Indian Army B.Sc Nursing. Candidates who pass the test are admitted to the four-year B.Sc Nursing programme. After completing the course, the candidates are given a permanent/short service commission in the MNS. Eligible 10+2 aspirants can apply for Indian Army B.Sc. Nursing. The test is administered in a paper-and-pencil format. It has 150 questions in broad English, general intelligence, and science. This article contains further information about Indian Army B.Sc Nursing 2022.
MNS 2022 Exam Date
As per reports, it is expected that MNS 2022 will be held at the May end or the beginning of June 2022. So prepare well for the examination. Do not delay more in your preparation and start joining the mock test after you completed the syllabus because it helps to sharpen your preparation. MNS 2022 Exam Date
Military Nursing Service Details:
| | |
| --- | --- |
| Particulars | Union Public Service Commission |
| Exam Name | Combined Defence Service |
| Conducting Body | Online |
| Exam Level | Written Test- Interview- Medical Examination |
| Level of Course | English & Hindi |
| Session | Offline |
| Language of Exam | Multiple-choice questions |
| Mode of Exam | 2 hours (each paper) |
| Duration of Exam | 1/3 for each incorrect answer |
| Number of Questions | All Over India |
| Number of Seats | upsc.gov.in |
| Official Website | www.joinindianarmy.nic.in |
Armed Forces Medical Colleges And Number Of Seats:
| | |
| --- | --- |
| Institution | No. of Seats |
| CON, CH (CC) Lucknow | 40 |
| CON, AFMC Pune | 40 |
| CON, INHS Asvini | 40 |
| CON, CH (AF) Bangalore | 40 |
| CON, CH(EC) Kolkata | 30 |
| CON, AH (R&R) New Delhi | 30 |
MNS Selection Process:
The Selection of the candidates in the Military Nursing Service is done in three phases. A candidate has to clear the three phases individually to be considered qualified for admission in the MNS. One has to clear the following phases:
Written Examination
Interview
Medical Test etc
Written Exam: The Written Exam is the first phase of selection, after the application form, One will appear for the Written Exam and those who would clear this would proceed for the Interview. The selection weightage is maximum on the MNS Written Examination; Join the Best MNS Written Exam Coaching in India to get prepared well.
Interview: The Interview is basically conducted to check the personality of the candidates and their overall intelligence test. Examiner or Interviewer can ask any question, it completely depends on his/her mood. After the Written Exam and Interview, One will proceed for the Medical exam.
Medical Exam: In the medical exam, one will appear for the medical test at the military hospital under the guidance of the military Doctors. MNS 2022 Exam Date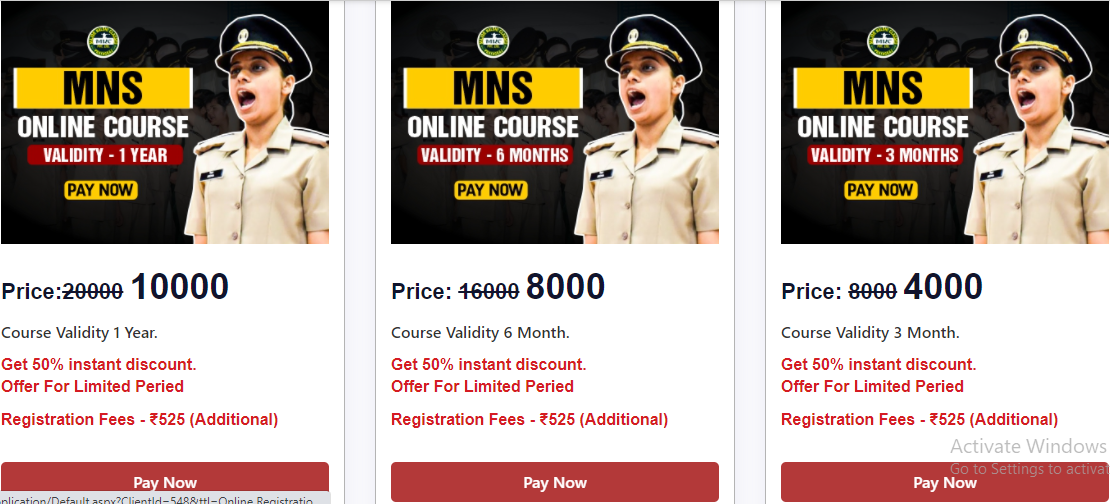 Eligibility Criteria For MNS:
Educational Qualification: A candidate must have passed class 12th with a minimum of 50% marks.
One must have passed 12th with biology as a mandatory subject.
A candidate who is appearing in class 12th is also eligible to apply for this.
Age Limit: Age should not be more than 20 years old and it should not be less than 17 years old.
The required criteria are the same for all, No relaxation would be given to anyone.
Marital Status: Single/Married/Divorcee or otherwise legally separated /Widow.
A candidate must be medically fit in all manners. A minor to a major problem in the medical and physical would be considered. Make sure that you are fit to be a part of the Military Nursing Service. The Medical Exam would be done at the Military Hospitals under the supervision of the Military Doctors. Join the Best MNS Coaching Center in India that could prepare you for every phase of MNS selection. Here are the details about the MNS Exam Pattern:
MNS Written Exam Pattern:
All the questions would be asked in Objective form.
Mode of Paper: Computer-Based Online Test
Language of Paper: Hindi and English etc
Total number of questions: 150
Each question carries one mark.
Total time duration: 90 minutes.
No negative marking is there; feel free to tick the answer even when in doubt.
The Selection in the MNS Examination is maximum depending on the performance in the Written Examination. Join Military Nursing Service Written Exam Coaching in India which has Ex-Armed Forces Examiners and qualified teachers for training and education. Here are the reasons why our academy, Major Kalshi Classes is the best in every manner for the preparation for the MNS Exam.
Exam Pattern of MNS 2022
After submitting the application form, candidates should prepare for the exam even better. For this, the candidate should have an idea of ​​what type of question paper comes in the exam and what is its pattern. Now we will give you information about MNS Syllabus 2022. With its help, you can easily prepare for MNS 2022 exam.
The Military Nursing Service exam is conducted online computer-based with multiple choice type questions.
The language of the question paper in English and it has to be solved in 90 minutes.
In this exam, candidates should know the subjects of Science (PCB), General Intelligence, and General English.
Each question asked in the question paper carries 1 mark and there is no negative marking for wrong questions. MNS 2022 Exam Date
| | |
| --- | --- |
| Category | Comments |
| Types of Question | MCQ based Question |
| Duration | 1.30 hours (90 min.) |
| Language of Paper | English |
| Subject | Science (PCB), General Intelligence, General English |
| Mode of Examination | CBT Based (Computer-based Exam) |
| Marking scheme | 1 mark of each question |
| Negative Marking | None |
According to the MNS Syllabus 2022, the information about how many questions are asked from which subjects of the subjects asked in the exam is available in the table given below.
Name of Subject
No. of Question
Marks for Each Section
Total Time
Science (Physics, Chemistry, Biology)
50
50
90 min.
General Intelligence (General Awareness)
50
50
General English
50
50
Total
150
150
Subject wise question weightage:-
A perusal of the question papers asked in the exam from the last few years shows that different numbers of questions are asked from each subject. From the table given below, you can get an overview of how many questions are asked on which topic.
| | |
| --- | --- |
| Subject | Number of Questions in Paper (Expected) |
| Biology | 40-45 |
| English | 50 |
| General Intelligence | 40-45 |
| Physics | 6-8 |
| Chemistry | 4-6 |
| Reasoning | 5-10 |
MNS Syllabus 2022
As you all know knowing the syllabus of any exam helps crack this exam. In this exam, questions are asked from a total of five subjects. Which is the following:-
Biology
Chemistry
General English
General Intelligence/General Awareness
Physics
Below we are giving you information about those important topics of each subject, by preparing which you will be able to prepare for your exam better.
Subject: -General English
Synonyms/ Homonyms
Spot the error
Spellings
Shuffling of Sentences in a passage
Shuffling of sentence parts
One word substitutions
Improvement
Idioms and phrases
Fill in the blanks
Detecting Mis-spelt words
Comprehension passage
Cloze passage
Antonyms
Subject: -Biology:
Taxonomy
Reproduction
Plant physiology
Human physiology
Human health and diseases
Genetics and evolution
Cell and Molecular Biology
Biotechnology and its applications
Biodiversity, ecology, and environment.
Biochemistry
Subject: – Physics:
Semiconductor Devices and their Applications
Properties of Matter
Optics
Work, Power and Energy& Laws of Motion
Nuclear Physics
Magnetic Effects of Electric Current
Electrostatics
Electromagnetic Induction and Alternating Current
Dual Nature of Radiation and Atomic Physics
Current Electricity
Subject: -Chemistry:
Thermodynamics, Chemical Equilibrium, And Chemical Kinetics
P, D, And F – Block Elements
Organic Nitrogen Compounds And Biomolecules
Isomerism In Organic Compounds
Electrochemistry
Coordination Chemistry And Solid State Chemistry
Carboxylic Acids And Their Derivatives
Carbonyl Compounds
Atomic Structure
Alcohols And Ethers
Subject: -General Intelligence:
Analysis
Analytical Functions etc.
Arithmetical Computation
Decision Making.
Figure Classification.
Judgment.
Non-Verbal Series.
Number Series.
Observation.
Problem Solving.
Relationship Concepts.
Similarities and Differences.
Space Visualization.
Visual Memory
Frequently Asked Question:-
Is there a medical checkup cutting of Military Nursing Service?
Ans: –The medical check-up taken for MNS service is not difficult. If you are on average healthy then you can probably qualify for MNS medical checkup.
Get admission to any coaching institute for MNS medical check-up?
Ans: -You MKC get yourself registered for MMS Medical Checkup.
Is the facility of medical checkups available in coaching institutes along with exam preparation?
Ans: -Along with academic preparation, medical facilities are also not available in many coaching institutes in the country. For this, you get your registration done in the MKC coaching institute.
Does MKC coaching institute provide online preparation for MNS?
Ans: –Major Kalshi Classes Coaching Institute conducts online classes for the preparation of MNS.
How to prepare for MNS with MKC Learning Application?
Ans: –To prepare for Military Nursing Service with the MKC learning application, you have to register yourself and attend the classes to be organized for MNS.
FOLLOW