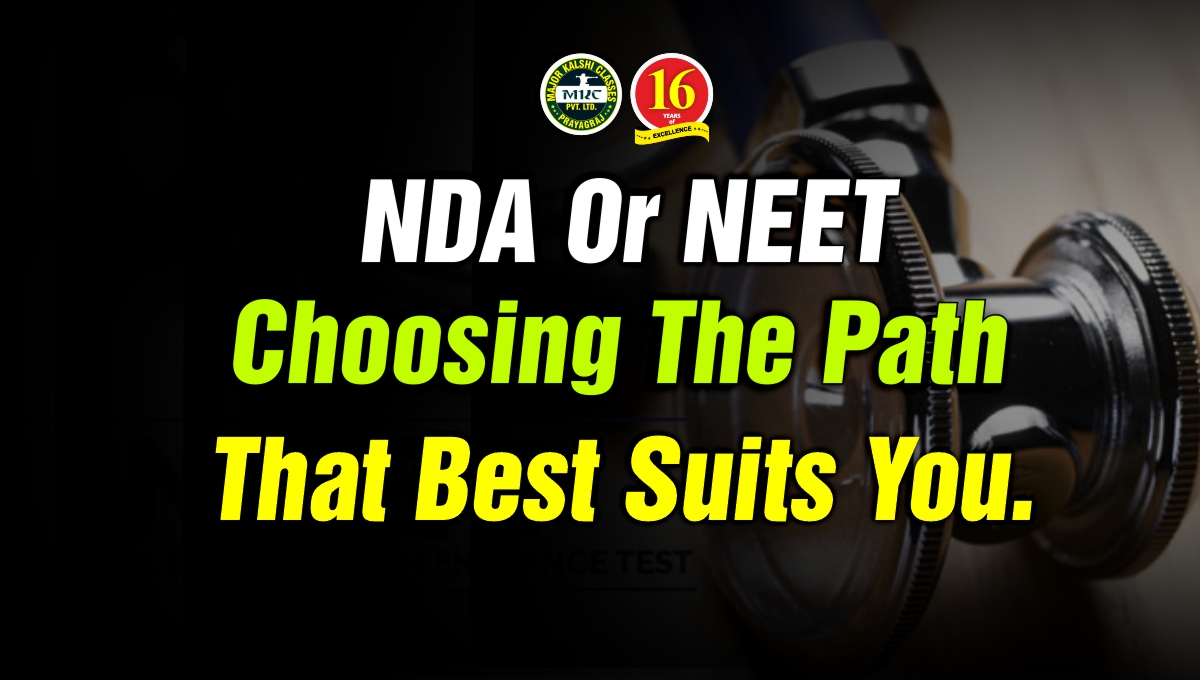 NDA or NEET: Choosing the Path that Best Suits You.
As students approach a crucial juncture in their academic journey, they are faced with the dilemma of choosing between different career paths. Two popular options that often arise for students in India are the National Defence Academy (NDA) and the National Eligibility cum Entrance Test (NEET). While both avenues offer promising career opportunities, it is essential to evaluate your interests, strengths, and aspirations before making a decision. This article aims to compare and contrast NDA and NEET, helping you make an informed choice that aligns with your goals.
NDA or NEET Which is best?
1. National Defence Academy (NDA):
The National Defence Academy, located in Khadakwasla, Maharashtra, is a prestigious institution that trains young individuals to become officers in the Indian Army, Navy, and Air Force. The NDA offers a comprehensive curriculum encompassing academic, physical, and military training. Here are some key points to consider:
I. Scope and Career Opportunities: NDA opens doors to a dynamic and challenging career in the armed forces. As an officer, you would have the opportunity to serve the nation, participate in strategic operations, and experience a life of discipline, adventure, and leadership.
II. Eligibility Criteria: To join the NDA, candidates must have completed 10+2 or its equivalent examination. They should also meet specific age and physical fitness requirements.
III. Selection Process: The selection process for NDA involves a written examination followed by an extensive interview conducted by the Services Selection Board (SSB). It assesses candidates' aptitude, physical fitness, and leadership potential.
2. National Eligibility cum Entrance Test (NEET):
The National Eligibility cum Entrance Test is a competitive examination for aspiring medical professionals seeking admission to undergraduate medical and dental courses in India. Here are some factors to consider:
I. Scope and Career Opportunities: NEET paves the way for a rewarding career in the medical field. Successful candidates can pursue courses like MBBS, BDS, and other allied medical programs, opening up opportunities to serve the community as doctors, specialists, or researchers.
II. Eligibility Criteria: To appear for NEET, candidates must have completed 10+2 with Physics, Chemistry, Biology/Biotechnology, and English as core subjects. They should also meet the minimum age requirement set by the conducting authority.
III. Selection Process: NEET is a competitive examination conducted at the national level. Students must prepare rigorously to secure a high rank that enables them to secure admission to reputed medical colleges across the country.
Way of Making the Decision :
When deciding between NDA and NEET, several factors should influence your choice:
Passion and Interest: Consider your passion for serving in the armed forces and your inclination towards the medical field. Assess which career aligns better with your long-term goals and personal aspirations.
Aptitude and Skills: Evaluate your strengths and skills. While NDA emphasizes leadership, discipline, and physical fitness, NEET requires a strong aptitude for the sciences and a passion for healthcare.
Lifestyle and Career Prospects: Consider the lifestyle and career prospects associated with each path. NDA offers an adventurous, disciplined, and patriotic lifestyle, while NEET provides the opportunity to become a healthcare professional and make a significant impact on people's lives.
Preparation and Commitment: Analyze your ability to prepare and commit to the chosen path. Both NDA and NEET require dedicated preparation, hard work, and perseverance.
The choice between NDA and NEET ultimately depends on your passion, aptitude, and long-term goals. Consider your interests, evaluate the career prospects, and weigh your personal aspirations before making a decision. Remember, both NDA and NEET offer rewarding opportunities to serve society.
Join MKC for NDA:-
If you have made the decision to pursue a career in the National Defence Academy (NDA), joining a reputed coaching institute can be beneficial to enhance your preparation. One such institute is the Major Kalshi Classes (MKC), which specializes in NDA and defence-related exams. Here are some reasons why you may consider joining MKC for NDA preparation:
Expert Faculty: MKC boasts a team of experienced and knowledgeable faculty members who have expertise in coaching students for NDA. They are well-versed with the exam pattern, syllabus, and marking scheme, and provide effective guidance to help you excel.
Comprehensive Course Material: MKC provides well-structured and comprehensive study material that covers all the essential topics and concepts required for NDA preparation. The material is designed to simplify complex subjects, making it easier for students to understand and retain information.
Mock Tests and Practice Papers: MKC offers regular mock tests and practice papers that simulate the actual NDA exam environment. These tests help you assess your performance, identify strengths and weaknesses, and work on improving your speed and accuracy.
Physical Fitness Training: NDA not only tests academic knowledge but also emphasizes physical fitness. MKC understands the importance of physical fitness and conducts training sessions and drills to help students prepare for the physical tasks involved in the NDA selection process.
Personality Development: MKC focuses not only on academic preparation but also on overall personality development. They conduct special classes and workshops to improve communication skills, build confidence, enhance leadership qualities, and cultivate a positive mindset, which are essential attributes for success in the NDA selection process.
Past Success Record: MKC has a commendable track record of producing successful candidates in NDA exams. Many students who have enrolled in MKC have gone on to join the NDA and serve in the Indian Armed Forces. This success rate speaks to the institute's quality of coaching and preparation strategies.
Guidance for SSB Interview: The Services Selection Board (SSB) interview is a crucial part of the NDA selection process. MKC provides specialized coaching and guidance for the SSB interview, including mock interviews, group discussions, and personality assessment sessions, to help you perform well in this stage.