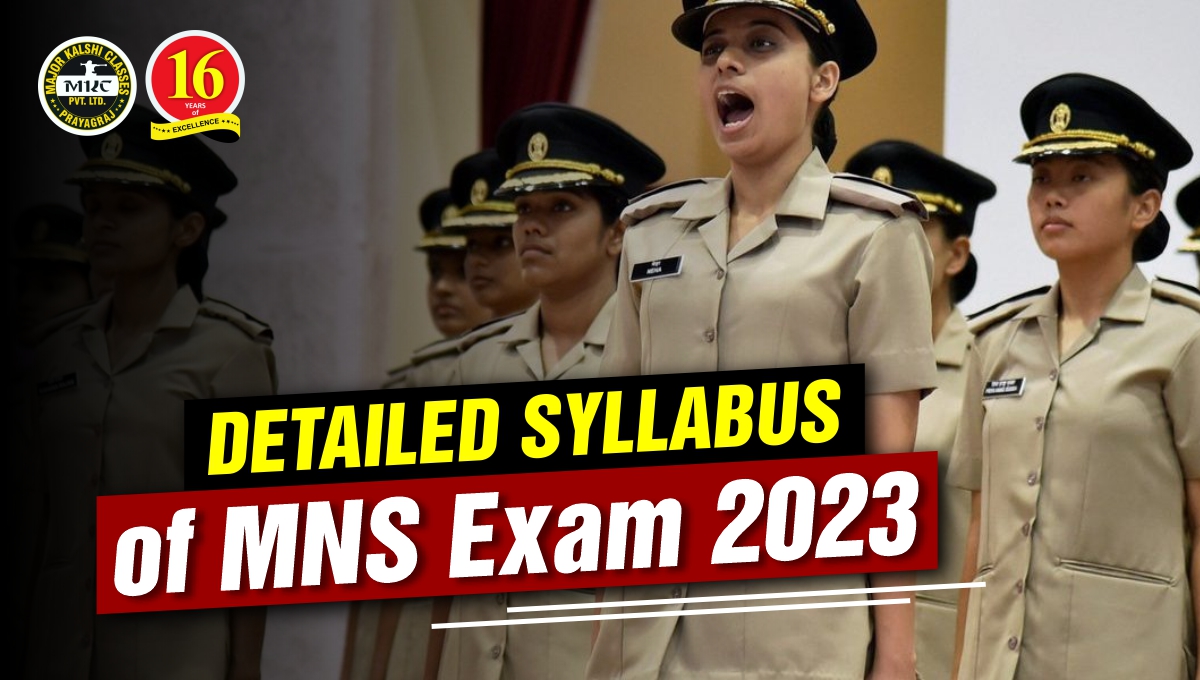 MNS SYLLABUS 2023 | Military Nursing Exam Syllabus | Indian Army MNS 2023 Syllabus & Exam Pattern
Jai Hind MNS Aspirants ! Welcome to our blog on the MNS Syllabus 2023, providing you with an in-depth understanding of the Military Nursing Exam syllabus. If you aim to clear MNS Exam join the prestigious ranks of military nurses and become on officer in Indian Armed forces you need to know the syllabus of MNS Exam as well as subjects and topics covered in the upcoming MNS Exam because without knowing this you can't qualify the exam. In this comprehensive guide, we will know the MNS Syllabus for 2023, offering valuable insights and tips to help you prepare effectively and ace the exam with confidence. Let's dive right in!
MNS 2023 Exam Selection Process :
The selection process for the Military Nursing Service (MNS) Exam consists of several stages that candidates need to qualify to become military nurse and they are like the written exam , interview and merit list . Here is a brief overview of the MNS Exam selection process:
Online Application: The first step is to submit an online application through the official website of the Indian Army. Candidates must ensure they meet all the eligibility criteria, including educational qualifications, age limits, and citizenship requirements and after submitting the application candidates are shortlisted for the exam according to their ranks in neet exam like the candidate with suitable cutoff rank will be shortlisted for the exam .
Written Examination: After Shortlisting , Candidates have to appear for written examination. MNS Written exam is conducted in Online Mode and the questions are of Multiple-Choice Type Question. The test is of General Intelligence and General English or called as "TOGIGE" .
MNS 2023 Psychology Test & Interview :
Psychology Test (PAT) and Panel Interview : After qualifying the written examination, candidates appear for a Psychology Test (PAT) and a Panel Interview as part of the selection process. Through these two test Candidate's Mental and Emotional Suitability is checked and it is also determined whether the candidate is fit to join Military Nursing Services or not and this Psychology Test (PAT) is designed to evaluate the psychological and emotional attributes of the candidates. This test helps to assess candidate's mental stability, adaptability, leadership potential, decision-making skills, and stress tolerance, which are vital traits for military personnel, including military nurses because these military nurses have to serve the patients in adverse conditions and they need to be mentally and physically fit . The PAT typically includes a series of psycho logical tests that help identify the candidates' personalities, attitudes, and aptitude.
The Panel Interview is the final stage of the selection process for MNS Exam. During the interview, candidates face a board of experienced officers who assess their overall suitability for military nursing service. The interview aims to gauge the candidates' communication skills, confidence, knowledge, and motivation to serve as military nurses. The panel may ask questions related to: a. Aspirations and Motivation: Why the candidate wants to join the MNS and serve in the military ? b. Educational Background: Questions related to the candidate's academic qualifications and performance. c. Situational Questions: Hypothetical scenarios to test the candidate's ability to handle challenging situations. d. Personality Traits: Inquiries about leadership skills, teamwork, and adaptability.
MNS 2023 Exam Medical Test & Training :
Medical Examination : The medical test in the MNS Exam is a crucial evaluation of candidates' physical and medical fitness plays a important role in selection. Candidate should be physically fit and mentally active for the job . The examination includes thorough assessments of height, weight, vision, hearing, and overall physical fitness. All Shortlisted Candidates will undergo Special Medical Board (SMB) at Base Hospital, Delhi Cantt.
Merit List and Allotment: Based on the performance in the written examination, interview, and medical examination, a merit list is prepared. Candidates who secure high ranks in the merit list are allotted seats in the Military Nursing Services Colleges . There are 6 Military Colleges in which Seats are divided :- College of Nursing , AFMC Pune ( 40 Seats ), College of Nursing , West Bengal, Kolkata( 30 Seats ),College of Nursing , INHS Ashvini,Mumbai ( 40 Seats ),College of Nursing , Delhi ( 30 Seats ),College of Nursing , Lucknow( 40 Seats ),College of Nursing , Bangalore ( 40 Seats )
Training: After successfully clearing all the stages and getting allotted a seat, candidates are enrolled in a four-year B.Sc. Nursing course at recognized nursing colleges or institutions under the Armed Forces Medical Services (AFMS). During the training period, candidates receive comprehensive education and practical training in nursing and military subjects.
Commissioning: Upon successful completion of the B.Sc. Nursing course, candidates are commissioned as Lieutenants in the Military Nursing Service of the Indian Army. They become a part of the Armed Forces Medical Services and serve as military nurses, providing healthcare services to armed forces personnel and their families.
MNS Syllabus 2023
Following NEET, an 80-mark Test of General Intelligence and General English (ToGIGE) will be conducted. Only NEET qualified candidates will be able to appear in this test. The cut-off criteria for the MNS exam will be determined separately by the exam conducting authority. Following is the detailed syllabus of General Intelligence and General English with topic-wise references.
MNS General Intelligence Syllabus
Number Series
Space Visualization
Decision-making & Problem Solving
Similarities and Differences
Figure Classification
Visual Memory
Relationship Concepts
Non-verbal Series
Arithmetical Computation
Analytical Functions
MNS General English Syllabus
Synonyms & Antonyms
Spotting the Error
Fill in the Blanks
Detecting Misspelled Words
Idioms and Phrases
One Word Substitutions
Shuffling of Sentences Parts
Shuffling of Sentences in a Passage
Cloze Passage & Comprehension Passage
Conclusion: The MNS Exam selection process is a competitive and rigorous procedure that evaluates candidates' academic knowledge, personality, and physical fitness. Aspiring candidates must prepare diligently for the written examination and interviews while ensuring they meet the necessary medical and physical standards. A successful journey through the selection process opens doors to a rewarding and fulfilling career as a military nurse, serving the nation with dedication and commitment.
Join Major Kalshi Classes for MNS 2023 Exam Preparation . Major Kalshi Classes has a strong track record of producing successful candidates in defense-related exams, including the MNS Exam. With their experienced faculty, comprehensive study material, and focused approach, joining Major Kalshi Classes can significantly enhance your chances of cracking the MNS Exam 2023 and achieving your dream of becoming a military nurse.
Download MKC Learning App – https://bit.ly/3yFHZM9
Good Luck !!