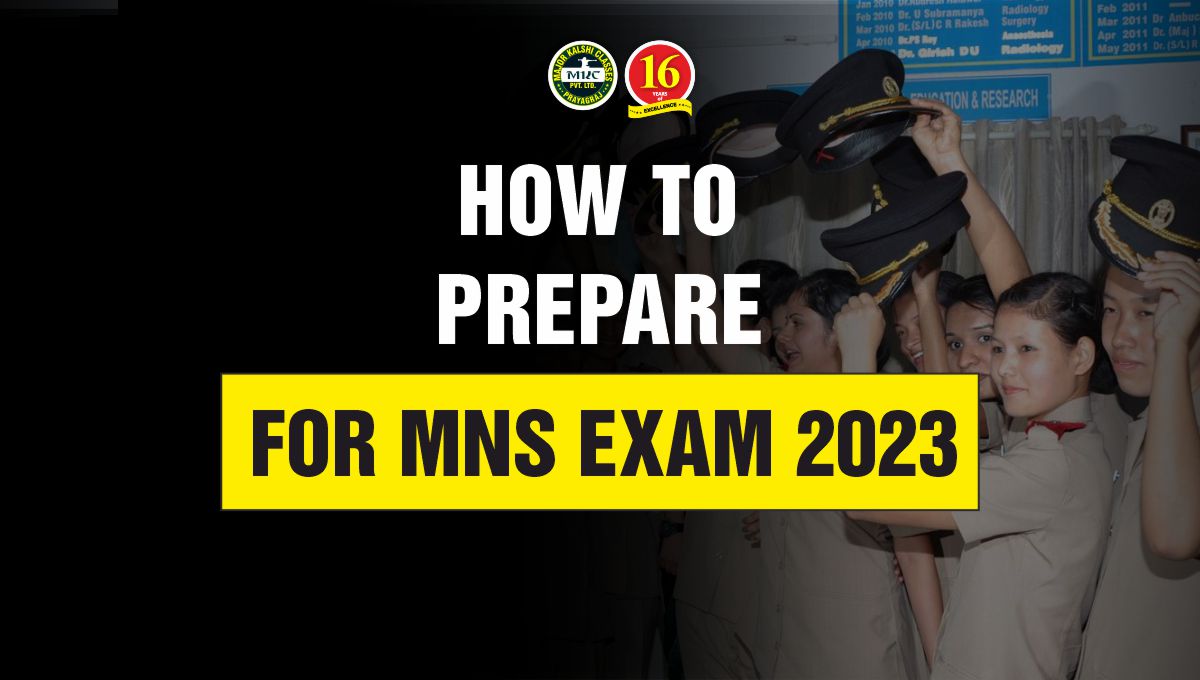 How to Prepare for MNS Exam 2023
The Military Nursing Service (MNS) exam is a prestigious opportunity for aspiring nurses to serve their nation while pursuing a rewarding career in the military. To crack the MNS exam, it is essential to have a strategic and focused approach towards preparation. In this blog, we will share tips to prepare for MNS Exam 2023 and provide syllabus-wise preparation tips to help you ace the MNS exam.
How to Prepare for MNS Exam 2023:
In order to start preparing for the exam, it is important to understand the syllabus and exam pattern. The MNS Written Exam is marked as simple there is nothing much difficult to prepare. All you need is better guidance to prepare for MNS Exam 2023.
Before we move into the preparation tips, here are the syllabus and Exam Pattern of the MNS Examination that one has to cover for the Written Exam preparation.
MNS Written Exam Pattern:
There are basically four subjects in the Examination that one has to prepare for the Written Examination. Here is the Written Exam Pattern of the MNS 2023:
| | | | |
| --- | --- | --- | --- |
| S.No | Subject | Number of Question | Marks |
| 1. | General English | 50 | 50 |
| 2. | General Intelligence | 50 | 50 |
| 3. | Science (Physics, Chemistry, Biology) | 50 | 50 |
| | Total | 150 | 150 |
MNS Exam Syllabus 2023:
English:
Synonyms/ Homonyms.
Antonyms.
Spot the error.
Fill in the blanks.
Spellings.
Detecting Mis-spelt words.
Idioms and phrases.
One-word substitutions.
Shuffling of sentence parts.
Shuffling of Sentences in a passage.
Improvement.
Cloze passage.
Comprehension passage.
Biology:
Taxonomy.
Cell and Molecular Biology.
Reproduction.
Genetics and evolution.
Human health and diseases.
Biochemistry.
Plant physiology.
Human physiology.
Biotechnology and its applications.
Biodiversity, ecology, and environment.
Physics:
Laws of Motion & Work, Energy, and Power.
Properties of Matter.
Electrostatics.
Current Electricity.
Magnetic Effects of Electric Current.
Electromagnetic Induction and Alternating Current.
Optics.
Dual Nature of Radiation and Atomic Physics.
Nuclear Physics.
Semiconductor Devices and their Applications.
Chemistry:
Atomic Structure.
p,d, and f – Block Elements.
Coordination Chemistry and Solid State Chemistry.
Thermodynamics, Chemical Equilibrium, and Chemical Kinetics.
Electrochemistry.
Isomerism in Organic Compounds.
Alcohols and Ethers.
Carbonyl Compounds.
Carboxylic Acids and their derivatives.
Organic Nitrogen Compounds and Biomolecules.
General Intelligence:
Analysis.
Number Series.
Observation.
Judgment.
Space Visualization.
Decision Making.
Problem-Solving.
Similarities and Differences.
Figure Classification.
Visual Memory.
Relationship Concepts.
Non-Verbal Series.
Arithmetical Computation.
Analytical Functions etc.
How to prepare for MNS 2023: Subject-Wise Preparation Tips
Once you understand the syllabus better, start with the preparation using some of the best study materials. You can also MKC Study Material for MNS to get better preparation for the exam with that one single book.
General English:
Enhance Vocabulary: Improve your vocabulary by regularly reading English newspapers, magazines, and books. Make a habit of learning new words and their meanings.
Grammar and Comprehension: Brush up on grammar rules and practice comprehension exercises to improve your understanding of the English language.
Mock Tests: Take online mock tests and previous years' question papers to familiarize yourself with the exam pattern and improve your time management skills.
Physics:
Understand Concepts: Thoroughly understand the fundamental concepts of physics. Focus on topics like mechanics, electricity, magnetism, optics, and modern physics.
Solve Numerical Problems: Practice solving numerical problems based on different physics concepts. This will enhance your problem-solving skills and numerical aptitude.
Refer to Standard Textbooks: Refer to standard physics textbooks used in higher secondary education. Understand the theory and solve the practice questions at the end of each chapter.
Chemistry:
Basic Concepts: Gain a clear understanding of basic concepts in chemistry, such as atomic structure, chemical bonding, the periodic table, and states of matter.
Organic and Inorganic Chemistry: Focus on organic and inorganic chemistry topics. Practice reactions, mechanisms, and equations to strengthen your understanding.
Solve Sample Papers: Solve sample papers and previous years' question papers to familiarize yourself with the types of questions asked and to improve your speed and accuracy.
Biology:
Anatomy and Physiology: Focus on human anatomy and physiology, including various body systems such as circulatory, respiratory, nervous, and digestive systems.
Microbiology and Biochemistry: Understand the basics of microbiology and biochemistry, including the study of microorganisms, enzymes, and biochemical reactions.
Practice Diagrams: Practice drawing and labelling diagrams of various biological processes, organs, and systems. This will help you understand and memorize the subject better.
Read More: MNS Biology Book Pdf Download by Major Kalshi Classes
General Intelligence:
Reasoning Ability: Strengthen your logical and analytical reasoning skills. Solve puzzles, coding-decoding problems, and series completion exercises to enhance your reasoning abilities.
Verbal and Non-Verbal Reasoning: Practice questions related to verbal and non-verbal reasoning, including analogy, classification, figure series, and spatial visualization.
Time Management: Develop good time management skills to allocate the appropriate time to each section during the exam. Regular practice will help you improve your speed and accuracy.
Stay updated with current national and international events, especially those related to the defence sector and healthcare. Read newspapers and magazines regularly. Join the Major Kalshi Classes to get guided and prepare for MNS Exam 2023 in a better manner.
Conclusion on How to Prepare for MNS Exam 2023:
Preparing for the MNS exam requires a disciplined and systematic approach. By following the syllabus-wise preparation tips provided in this blog, you can strengthen your knowledge base and improve your chances of success. Remember to create a study schedule, practice regularly, and stay focused.