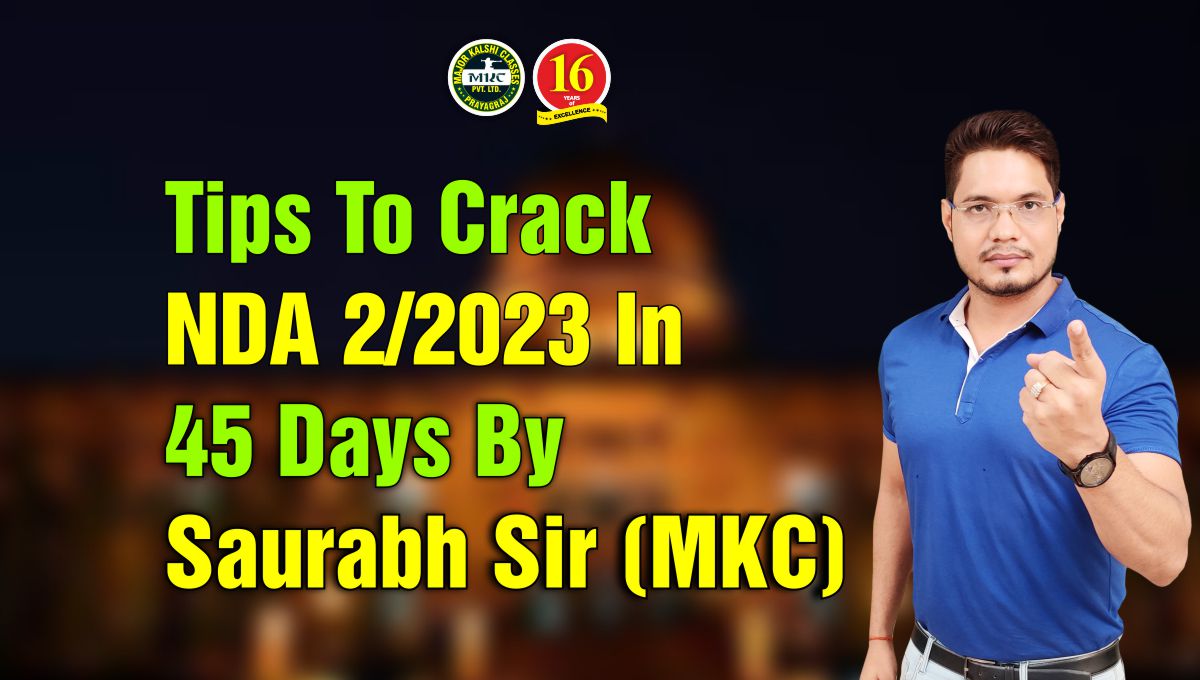 Tips to Crack NDA 2/2023 in 45 Days by Saurabh Sir (MKC)
Tips to Crack NDA 2/2023:- The National Defence Academy (NDA) is an esteemed institution that prepares young individuals for a rewarding career in the Indian Armed Forces. With the NDA 2/2023 examination scheduled for September 3, 2023, it's crucial to have a well-structured preparation strategy to crack the exam within a limited timeframe. In this article, we will provide you with valuable tips from Saurabh Sir, a highly respected mentor from Major Kalshi Classes (MKC), to help you prepare effectively and maximize your chances of success within 45 days.
Tips to Crack NDA 2/2023 in 45 Days by Saurabh Sir (MKC)
Understand the Exam Pattern and Syllabus: Begin your preparation by thoroughly understanding the NDA exam pattern and syllabus. Familiarize yourself with the sections, marks distribution, and time allocated for each section. Obtain the latest syllabus and create a study plan that covers all the essential topics within the given timeframe.
Create a Realistic Study Schedule: With only 45 days remaining, it's crucial to manage your time efficiently. Create a realistic study schedule that allows for dedicated time slots for each subject. Prioritize the topics that you find challenging and allocate sufficient time for revision and practice. Remember to take short breaks to refresh your mind and maintain productivity.
Strengthen Your General Knowledge: General Knowledge plays a vital role in the NDA examination. Stay updated with current affairs by reading newspapers, magazines, and online resources. Follow reliable news sources and make notes of important events and developments. MKC's study materials can also be invaluable for enhancing your General Knowledge. Regularly revise and practice GK questions to improve your knowledge retention.
Master Mathematics: The mathematics section of the NDA exam demands a strong foundation in concepts and regular practice. Begin by revising the fundamental concepts, formulas, and theorems. Solve previous years' question papers and take mock tests to improve your speed and accuracy. Focus on practicing different types of questions and develop problem-solving skills. Saurabh Sir recommends dedicating ample time to daily math practice.
Polish Your English Language Skills: English language skills are crucial for the NDA exam's English section. Enhance your vocabulary by reading English newspapers, books, and magazines. Focus on grammar rules and practice sentence formation and error detection exercises. Regularly solve comprehension passages to improve your reading and comprehension abilities. Saurabh Sir advises working on English language skills consistently to achieve proficiency.
Develop Logical Reasoning Skills: Logical Reasoning is an important aspect of the NDA examination. Practice solving various types of reasoning questions, including coding-decoding, analogy, series, and puzzles. Solve previous years' question papers and take mock tests to enhance your logical reasoning abilities. Saurabh Sir recommends practicing regularly to improve speed and accuracy in this section.
Mock Tests and Time Management: Regularly attempt mock tests and solve previous years' question papers to assess your progress and identify areas for improvement. Time management is crucial during the actual exam, so practice solving questions within the allotted time frame. Analyze your performance in mock tests, identify weak areas, and work on them to enhance your overall performance. Saurabh Sir suggests using MKC's mock test series to simulate the real exam environment and improve your time management skills.
Physical Fitness and Personality Development: Apart from academics, the NDA examination emphasizes physical fitness and personality development. Engage in regular exercise to improve your stamina and endurance. Practice running, engage in sports, and maintain a healthy lifestyle. Develop leadership qualities, interpersonal skills, and effective communication abilities to excel in the SSB interview. Saurabh Sir recommends participating in group activities, joining physical training programs, and focusing on personality development to enhance these aspects.
Cracking the NDA 2/2023 examination within a 45-day timeframe requires disciplined preparation and focused efforts. Follow the valuable tips provided by Saurabh Sir from Major Kalshi Classes (MKC) to enhance your preparation strategy and maximize your chances of success. Remember to stay dedicated, maintain a positive mindset, and consistently put in the effort required to achieve your goal of joining the prestigious National Defence Academy. Best of luck on your journey!